Subscribe Now
Keep up with the latest news with our magazine and e-newsletter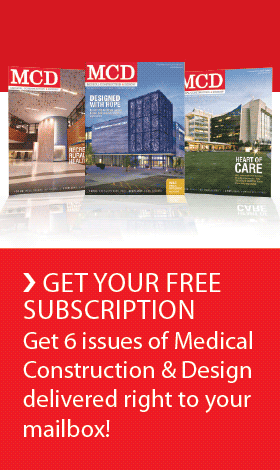 Subscribe to our E‑Newsletter
By John Klopsch & David Vollmer
Begin with the end in mind, as recommended by Stephen R. Covey in his book on personal development, "The 7 Habits of Highly Effective People." This concept also applies to the capital facility planning process. Aligning the guiding principles of design with the implementation of construction and the long-term effectiveness of operations will produce a highly effective facility. By defining the broad parameters and measurable metrics for success at the inception of the project, the owner can better control the end product. 
As healthcare owners move to consider a value-based approach, review of existing service lines and identification for areas of improvement is crucial. Design and new construction can provide a catalyst to these improvements and future flexibility when thoughtfully considered and methodically planned.
The maxim "form follows function" is commonly espoused in modern architectural circles. And, while typically appropriate, the rapid advancement of healthcare technology and medical science dictates that new construction, and its related form, may be required to accommodate several functions, while at the same time remaining flexible for continued evolution. The crux, then, is finding the balance between present needs and future demands.
Painting clear pictures with full-scale mock-ups
With the inclusion of an integrated-design process founded on Lean principles, the project team should strive to expose outdated concepts and update operational adjacencies to work toward improving the established baseline metrics.
To best conceptualize new elements in operational design and coordinate important adjacencies, a full-scale mock-up and logistics work session should be organized very early in design. Evidence-Based Design and future technology strategies must be reviewed in lieu of reproducing current user practices.
Both staffing ratios and selecting a care delivery model will be integral in incorporating patient satisfaction and turnover metrics into the design. Patient and staff satisfaction can also be directly attributed to the efficiency of the building systems and materials.
The most cost-effective way to design these elements is to do so in tandem with the early design, fully understanding demands for such items as natural light, sound transmission, renewable resources and any planned future expansion.
Two areas with significant positive impact on maintainable facilities and operational efficiency are full-service commissioning and comprehensive facility activation planning. While both are most effective when initiated during design, a commissioning agent's value will be maximized if selected before design requirements are fully defined for the project. In fact, the definition of these requirements can be led by, or developed with, the commissioning agent. Facility activation planning, often called transition planning, can begin during design after key operational relationships have properly informed schematic design.
Involving a commissioning agent during design fosters critical thinking while engineering project requirements are developed. In the context of recently established project goals, the design team will proceed while considering functional capabilities, reliability and appropriate cost metrics of engineering systems and major equipment. This may include initial cost, lifecycle cost and other project goals such as green or sustainable design. The project team should find the right balance of these considerations early during schematic design.
In addition, the owner should investigate any cost incentives that may be available from the local utility. Design elements such as design-based lighting, HVAC systems, building automation controls and kitchen equipment may have an opportunity for reimbursement if properly coordinated with the utility during design. Cost incentives can go so far as to involve continued education for operations and maintenance staff, employee green initiatives and educational events following occupancy. As the major mechanical systems and building envelope are defined, the team should leverage computational fluid dynamics modeling to examine and eliminate any potential trouble areas associated with airflow and heat gain/loss; for example, cold spots near the windows of a patient room or dramatic pressure changes through building transitions. The ability to analyze and control areas of patient/visitor comfort contributes directly to both satisfaction ratings and economic efficiencies in energy usage.
During the course of design and construction, as the facilities are developed in functional detail, some divergence from original design parameters is to be expected. When construction is significantly underway, including major mechanical and electrical systems, commissioning pulls together operational intent (from design) and actual system and equipment operations to ensure a complete and usable facility. This leads to quality training with the facility staff, including operations and maintenance documentation and accurate system expectations.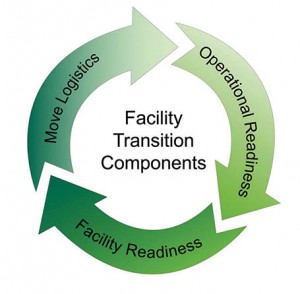 Leveraging technology for facility management
As the design progresses, populating and refining the building information modeling becomes the next step to leverage technology to both improve the efficiency and coordination of construction, and also develop an interactive resource for facility maintenance. BIM, when run on an appropriate platform, has become sophisticated enough that it is often referenced as 6-D software – the dimensions of time, cost and lifecycle/facility management are added. The BIM for the project should define parameters and project elements that can be populated with manufacturer, submittal and as-built data for future reference. These components can then be referenced through the software for warranty, preventive maintenance and replacement coordination, as well as life safety information and direct reporting for accreditation compliance.
Facility activation planning has three major components: operational planning, facility/occupancy planning and move management. Operational planning is the component with the most benefit arising from a start during design. Revisiting operational relationships defined early in the process is crucial to the success of the new facility. Although the departments affected were involved with planning, they were still functioning in their "old facility" environment and therefore still immersed in that operational paradigm. Continued use of mock-ups during design development, walk throughs during construction and practice runs of key procedures and activities late in construction are important parts of operational planning prior to activating a new facility. These activities will ensure that the new processes become routine and that old habits are not carried over. Rather than leading to physical project changes, a well-managed process may cause operational/staffing adjustments with time to implement them properly before opening.
Facility/occupancy planning is also a major part of activating a new building, and includes all of the logistics of setting up operations in the new facility. Ensuring the physical space is completed and ready for occupancy — utilization, installation and calibration of new and existing materials and equipment; necessary certifications for varying departments; stocking supplies and personnel arrangements are all elements of this phase of planning. A major difference between hospital and other facility moves is planning for patient care leading up to, during and immediately after the move. Since this will be the top priority, and there is naturally some overlap with the earlier operational planning, the facility activation function will encompass all aspects either with a single consultant or consultants that can work well together.
Last but not least is coordinating the safe and successful transport of all patients from the old facility to the new. Well thought-out planning, coordinated logistics and a fully organized command center will be critical to successfully managing the move. By this point, new processes should be familiar, mock move sessions completed and schedules finalized. The value of the time and effort spent during design will be made abundantly apparent at this stage of the activation. Good planning will ensure a better transition, the final step toward realizing project goals.
The ability to leverage design and communication early in a project is integral in determining a project's success. Project goals for operations, patient satisfaction and revenue targets rightly determine the parameters in a building project's scope and budget. With proper involvement, appropriate analysis and including the right team members, a project will also address considerations for safe, maintainable and efficiently operating facilities well into the future.
Author: John Klopsch & David Vollmer
John Klopsch is a principal consultant at CBRE Healthcare. He can be reached at John.klopsch@cbre.com. David Vollmer is a principal consultant at CBRE Healthcare. He can be reached at David.vollmer@cbre.com.
Posted August 19, 2014
More Articles: