Subscribe Now
Keep up with the latest news with our magazine and e-newsletter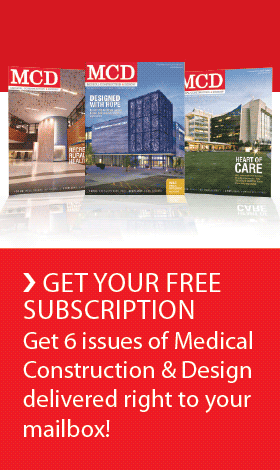 Subscribe to our E‑Newsletter
WASHINGTON, D.C. — The American Institute of Architects has selected the recipients of the AIA National Healthcare Design Awards program. The AIA Healthcare Awards program showcases the best of healthcare building design and healthcare design-oriented research. Projects exhibit conceptual strengths that solve aesthetic, civic, urban and social concerns, as well as the requisite functional and sustainability concerns of a hospital.
Recipients were selected in four categories:
Category A: Built, Less than $25 million in construction cost
Category B: Built, More than $25 million in construction cost
Category C: Unbuilt, Must be commissioned for compensation by a client with the authority and intention to build
Category D: Innovations in planning and design research, built and unbuilt
Category A
Legacy ER – Allen; Allen, Texas
5G Studio Collaborative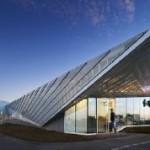 Legacy ER operates a hybrid program offering urgent and 24/7 state-licensed emergency care services within a freestanding building. Conceptualized as a potent reflection of the organization's identity, the architecture captured the duality of the emergency medical professionals' character, projecting outwardly the knowledge, skill, precision and decisiveness necessary for the competent practice of emergency medicine and expressing inwardly the gentle, empathic and humanistic qualities of the persons beneath the robe, realized through montaging sharply folded exterior robe of zinc and softly sculpted interior plastered planes. Points of admission of natural daylight and views create apertures that elucidate intersecting tectonic moments.
Lightwell: Greater Boston Orthodontics; Waltham, Massachusetts
Merge Architects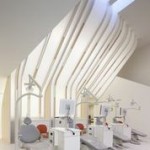 An 100-year-old storefront and warehouse on Main Street in Waltham was gutted, creating an open plan orthodontic clinic – including reception and treatment areas flanked by semi-private offices, toothbrushing stations, exam rooms and a staff coffee area. The double-height treatment space is framed by an 18-foot-tall backlit translucent wall curving down in section to frame and light the open treatment area. CNC-cut plywood ribs skinned with thin polycarbonate panels funnel light from skylights above. The front waiting space is defined by a custom seating area and digital media bar, wool felt applied to walls, a custom light pendant and bright custom wall graphics to provide wayfinding.
Category B
Lancaster General Health Ann B. Barshinger Cancer Institute; Lancaster, Pennsylvania
Ballinger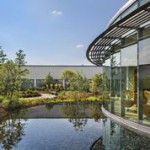 The new 100,000-square-foot Ann B. Barshinger Cancer Institute is developed around a progressive model for cancer care and employs an interdisciplinary and patient-centric approach. Focused on regeneration and reconnection to living systems, the building's radial form derives from an existing elevated, curvilinear arrival / parking court, which has become a central courtyard healing garden. The expanded oncology program is arrayed around the garden on two levels. Glazed skins and multiple points of access provide a continuous dialogue between interior and exterior, creating a visually open environment that reduces anxiety and stress for patients and their families.
Mount Sinai Hess Center for Science and Medicine; New York City
Skidmore, Owings & Merrill LLP
Envisioned as a place of discovery and healing, the striking Mount Sinai Hess Center for Science and Medicine is shaped by its translational research mission and urban context. Located in Upper Manhattan, the center places researchers, clinicians, educators and patients in an integrated environment with state-of-the-art technology. The 420,000-square-foot facility is designed to foster multi-disciplinary interaction through a network of formal and informal settings. The primary design objective was to craft a flexible environment that would be inspiring and supportive for employees, while gracious and dignified for patients and their families. Inside, natural light and a warm, simple material palette puts cancer patients at ease.
Rush University Medical Center New Hospital Tower; Chicago, Illinois
Perkins+Will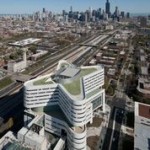 As part of Rush University Medical Center's 10-year, $1-billion Campus Transformation Project, Perkins+Will planned and designed a new 840,000-square-foot, state-of-the-art hospital building. Crowned by a butterfly-shaped bed tower designed to minimize steps between staff and patients, the new hospital is comprised of 304 acute and critical care beds, 72 neonatal intensive care beds and 10 labor and delivery beds. The emergency department contains one of the country's few bioterrorism preparedness facilities, and is designed to handle large-scale health emergencies. The hospital is one of the largest in the world to be certified LEED Gold.
Category C
Children's Hospital of Richmond Pavilion; Richmond, Virginia
HKS, Inc.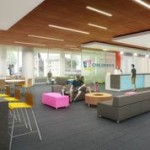 At the gateway to the medical campus, the Children's Hospital of Richmond Pavilion consolidates existing pediatric clinics into a compact vertical urban pavilion. The facility is dedicated to providing comprehensive healthcare for children and adolescents and contains a surgery level, three levels of pediatric clinics, a faculty/research floor and seven levels of parking. Adjacent to some of the city's most important civic structures, the design establishes a signature identity that embodies VCU's objective of becoming the region's premier pediatric academic medical institution. Drawing inspiration from natural elements unique to the city of Richmond, the design is intrinsically tied to its location. Themes of sky, water and forest bring nature to the heart of this urban campus.
Category D
Cincinnati Children's Family Pet Center; Cincinnati, Ohio
GBBN Architects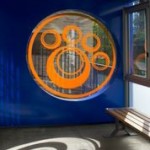 The Family Pet Center expands the hospital's pet therapy program with a 250-square-foot pavilion and lawn areas that accommodate patients whether on foot, in a wheelchair or on a stretcher. In this 8-by-10 enclosure, children reunite with their own pets. Positive effects begin with anticipation days in advance, the visit itself and the lingering effects of memories or storytelling afterward. Based on research on the healing benefits of Animal Assisted Therapy, this pavilion addresses the medical needs of the children and the physical dynamics of pets. Especially for cancer patients, who deal with high levels of stress, pain and long hospital stays, AAT contributes to recovery by improving the quality of life for patients.
GHESKIO Cholera Treatment Center (CTC); Port-au-Prince, Haiti
MASS Design Group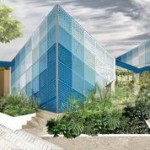 The first permanent facility in Port-au-Prince, the CTC provides an aggressive model for cholera treatment, while creating a healing space that promotes a dignified patient experience. Both the CTC's layout and placement of amenities optimize staff and patient flow. The design tackles unique site conditions, including the lack of reliable piped water and lack of sewer system connection, by providing off-the-grid services. The roof collects rainwater, which is stored in cisterns, chlorinated and then used for showers and sinks. The facility also decontaminates waste onsite and is designed to achieve 99.99 percent removal and inactivation of Cholera vibrio and other pathogenic organisms. The façade blends the use of the most advanced technology, using parametric modeling to optimize apertures for daylighting, ventilation and privacy, with deploying analog techniques for local fabrication. The CTC will not only establish new standards for cholera treatment, but also new standards for quality construction in Haiti.
Jurors for the 2014 National Healthcare Design Awards include: Eric Goodfriend, AIA (Chair), Mahlum; Roger Call, AIA, Herman Miller for Healthcare; Jim Lennon, Lennon Associates; James C. Lord II, AIA, KGA Architecture; Mark Patterson, AIA, SmithGroupJJR; Mark Tortorich, FAIA, Stanford University and Shane Williams, AIA, Array Architects.
Photos courtesy of AIA.
Tags: AIA, Architecture, National Healthcare Design Awards
Posted August 13, 2014
More Articles: