Subscribe Now
Keep up with the latest news with our magazine and e-newsletter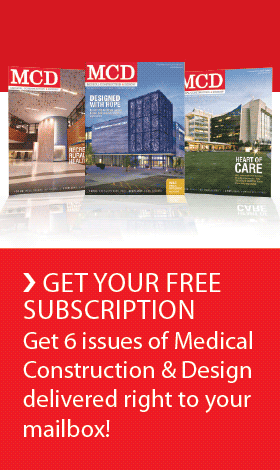 Subscribe to our E‑Newsletter
WASHINGTON, D.C. — The need for greater public awareness and education about the impact of building design on health and well-being is confirmed by a new benchmark attitudinal study. According to "The Drive Toward Healthier Buildings: The Market Drivers and Impact of Building Design and Construction on Occupant Health, Well-Being and Productivity," the latest SmartMarket Report by McGraw Hill Construction, nearly two-thirds of homeowners (63 percent) believe the products and practices they use in their homes affect their health. Yet for more homeowners energy savings (79 percent) and aesthetics (65 percent) come before the effect of buildings on their health (59 percent) when they make design and construction decisions.
In fact, architects and designers (63 percent) currently consider the impact of buildings on occupants' health more important to incorporate into their design than do building owners (59 percent). Over the next two years, health is expected to become more consequential in each group's decisions. However, research predicts many more architects and designers (79 percent) than owners (67 percent) will base decisions on health concerns.
"There is a fundamental connection between our health and the design of places where we live, work, play and heal," said Randy Fiser, executive vice president and of the American Society of Interior Designers. "This research, which ASID helped to fund, indicates that designers and architects can encourage the adoption of healthy design practices and products by making the benefits clear and measurable to building owners."
ASID and McGraw Hill Construction created an "Interior Design Data Excerpt" from the full report to highlight information of greatest interest to the design community among the comprehensive research findings.
According to the study, home and facility owners need more comprehensive data to support investments in healthier building practices and products. So it's not surprising that credible information is the third most critical factor in design and building professionals emphasizing design's effects on health impacts, as reported by 38 percent of those surveyed in both the residential and nonresidential building sectors.
In the nonresidential sector, greater public awareness, at 43 percent, and greater owner demand, at 45 percent, rank second and first, respectively. Similarly owner demand, at 63 percent, tops the list of factors prompting residential designers and architects to stress the need for healthier buildings. The second greatest factor is stricter regulations.
"The research in this report shows that interior designers and architects are leading other players in the focus they are putting on health in their work planned over the next few years," says Harvey Bernstein, vice president of Industry Insights & Alliances at McGraw Hill Construction. "However, they need these drivers to help their designs come to fruition."
Residential designers most often turn to material provided by product manufacturers for data about the connection between health and homes. Those same designers use data provided by associations at the second highest rate, with 75 percent using it at least sometimes and 30 percent using it often.
By contrast, architects and designers, 79 percent, cite television as the top source from which the general public learns about healthy design. They list consumer magazines next at 66 percent and product labels third at 30 percent.
Each source possesses its own challenges in reaching the general public. To overcome those deficits, ASID Research will expand knowledge about the impact of design on health and wellness while the society disseminates the information through its continuing education, website and conferences. Over the next few months, ASID Research will issue data on the Affordable Care Act and initiatives pursued through ASID Transform grants.
"The Drive Toward Healthier Buildings" was produced by McGraw Hill Construction in partnership with the American Institute of Architects and other research partners including ASID. The report is the first research project to unite the five key stakeholders — physicians, construction industry professionals in both residential and nonresidential sectors, human resources executives and homeowners — who influence the prevalence of healthy design and construction practices in buildings.
Download the ASID Interior Designer Data Excerpt of "The Drive Toward Healthier Buildings" and learn more. Access the full, comprehensive SmartMarket Report here.
Posted July 25, 2014
More Articles: