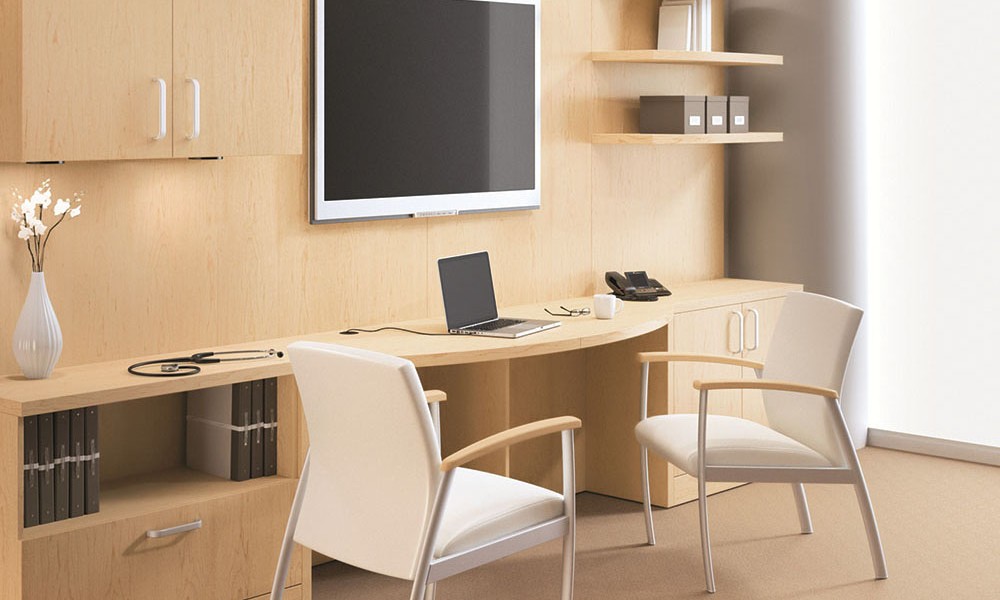 Technology allows for increased collaborative workspaces for hospital employees across the care spectrum.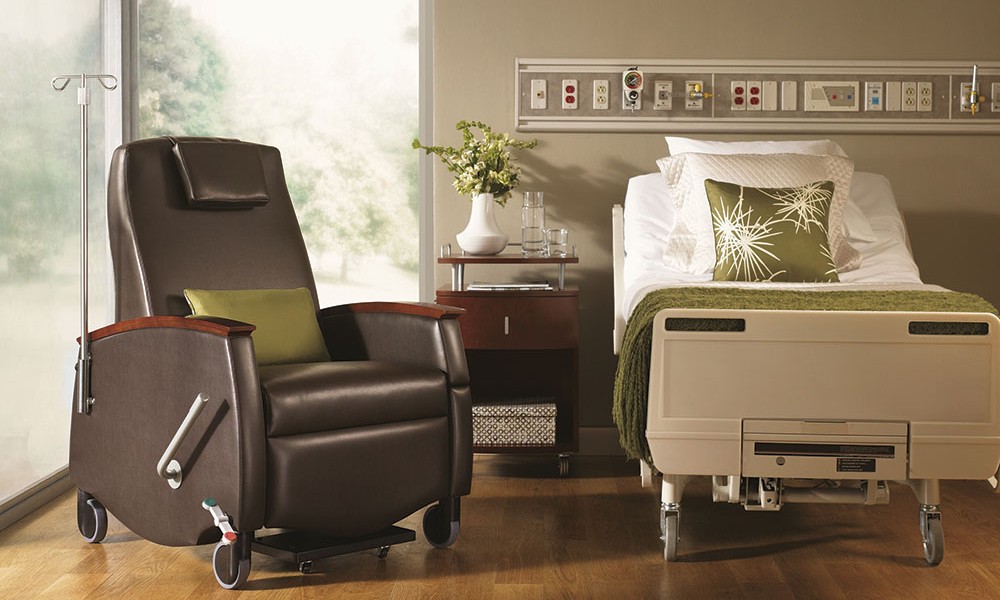 Patient rooms should include a variety of furniture options so staff can provide proper treatment.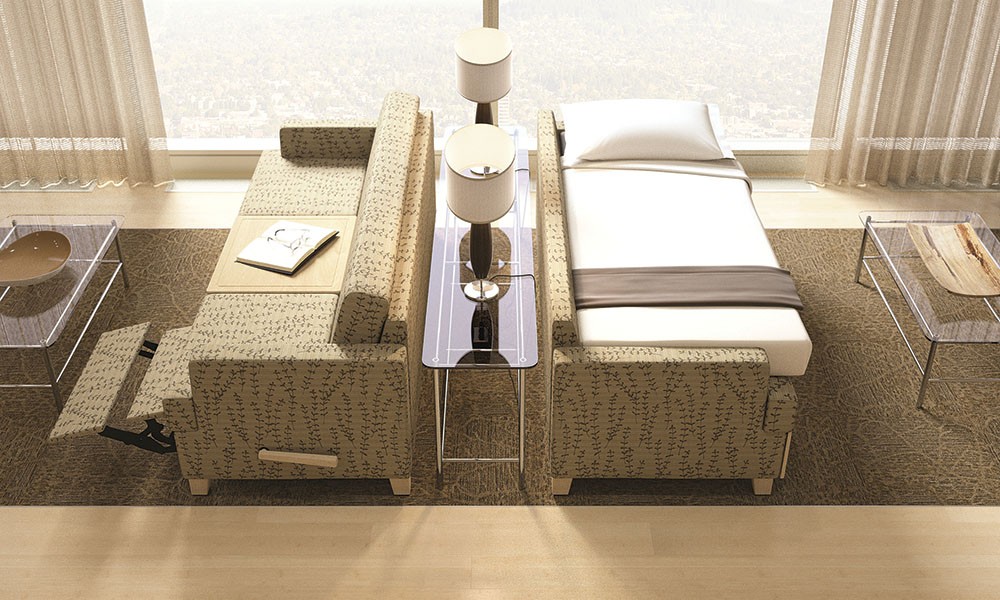 To accommodate overnight family visitors while allowing staff to perform their jobs, update waiting rooms with comfortable furniture options.
◀
▶
Subscribe Now
Keep up with the latest news with our magazine and e-newsletter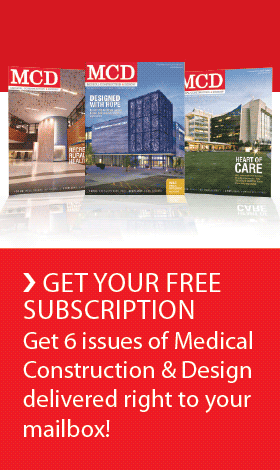 Subscribe to our E‑Newsletter
Societal shifts, technology developments and the political landscape have greatly changed the way we live and the way we work within the past five years alone, and it's often difficult to keep up with this ever-evolving nature — especially in the healthcare industry.
Healthcare organizations are tasked with catering to the multiple and diverse needs of patients while delivering quality care amidst these constant shifts. In effect, much of the consideration is put on the patient, which has left hospital employee needs largely out of the mix.
However, quality care is achieved largely through the hospital staff's ability to deliver on this goal. That said, it's time for healthcare organizations to prioritize the needs of the caregivers (as well as patients), and one of the key means of catering to employees is through hospital design elements. By exploring the specific trends that have driven the need for more of a staff-centric design focus, such as technology advances, societal considerations and Obamacare, we can tap into areas where design can be configured to meet the needs of healthcare employees across various job functions.
Technological advancements 
Technology has truly bridged the communication gap in healthcare across disciplines to allow for greater collaboration between physicians, specialists, nurses and administrative staff, and this should in turn affect interior design choices. Healthcare providers throughout the care spectrum are now able to work in the same environment versus being siloed into specific areas like physician offices, nurse stations and specialty areas of the hospital. With technology advancements that allow for mobility and electronic health records versus paper medical records, hospitals should incorporate collaborative areas technologically equipped with multiple monitors where teams of caregivers can work together to deliver top patient care.
Another example of how technological advancements influence employee-centric healthcare design can be seen in the nurse station. Traditional nurse stations are mostly equipped for single-person usage. However, with a greater focus on technology-enabled collaboration, incorporating decentralized, mobile nurse stations can place caregivers closer to the patient and reduce the number of steps needed to take during long, tiring shifts. The best solution is to incorporate small, pod-like, mobile nurse stations while having a centralized area for sharing information with multiple caregivers. 
In addition to incorporating collaborative spaces and technology into healthcare design to meet employee needs, hospitals should also consider how these advances can aid in the caregiving process. For many caregivers, there is an element of physicality that comes along with their job, such as moving immobile patients. Utilizing technologies available, hospitals should incorporate lifts into patient rooms to eliminate the physical strain associated with moving patients.
Societal considerations
Not only do hospitals need to reconfigure interiors to keep up with technology, but societal shifts have also altered healthcare design in relation to employee needs. In today's healthcare system, there is a larger focus on family being present for medical procedures and ER visits, and this trend brings multiple implications for employees. On one hand, the increased presence of family means hospitals have become more dependent on family members to act as an extension of the care team while their loved one is in the hospital. For this reason, patient rooms should be equipped with furniture that will allow loved ones to stay the night and help monitor the patient while he/she sleeps, but also provide enough space for doctors and nurses to provide care.
In addition to expanding patient rooms and including furniture and design that will accommodate larger numbers of visitors, waiting rooms must also adapt and expand. The increased number of family and people walking around asking questions puts greater stress on hospital staff, so these larger waiting rooms and common spaces must be designed with a sense of hierarchy and sensibility to alleviate stress from hospital employees.
Increased family presence has certainly impacted design elements in patient and waiting rooms, but from a societal perspective it's also important to consider the individual needs of caregivers with respect to the wide variety of personal health issues, body sizes and ergonomic requirements. Hospitals should purchase quality, flexible furniture — including sit/stand workstations —equipped to meet varying employee needs and consider the overall wellness of hospital staff.
Obamacare
While society as a whole has been impacted by changes to the U.S. healthcare system through the Affordable Care Act, it's crucial to understand the effects on healthcare design related to employee needs. One of the major changes brought on by this new operating model is the shift toward integrated delivery networks that create holistic healthcare systems encompassing acute care, specialties, outpatient, rehab, etc. From a design standpoint, the result has meant healthcare systems expanding through the acquisition of physician practices, thus putting a new focus on staff-centric design.
With physicians now entering healthcare systems from various acquired practices, these IDNs must be designed to facilitate lounge areas that seek to foster collaboration, team building, friendships and related work activities. As healthcare systems expand, doctors and caregivers need to become part of the larger team, so there should be interior spaces to accommodate this trend in order to improve communication and encourage the continued exchange of ideas and information.
As the healthcare landscape continues to change due to a variety of influencing factors, hospital staff is expected to keep up with the changes while continuing to deliver quality care for patients. To make the already challenging lives and jobs of healthcare staff easier, it's important that design facilitates the use of technology, incorporates collaborative and familial areas and meets the needs of growing healthcare systems under Obamacare so employee environments provide convenient, effective spaces that also consider overall well-being of the staff.
Now, more than ever, healthcare design must put the employee and patient on a level playing field. By understanding these elements influencing hospital design the most, we can truly create healthcare interiors that allow for optimal job performance, which in turn promotes optimal care.
Posted June 10, 2014
More Articles: