Subscribe Now
Keep up with the latest news with our magazine and e-newsletter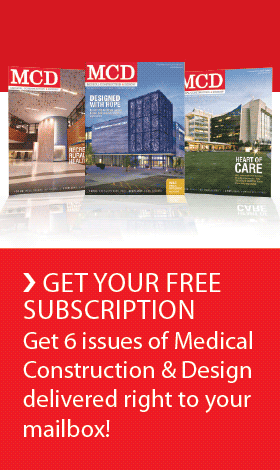 Subscribe to our E‑Newsletter
ST. LOUIS, Mo. — Clayco broke ground on the nation's first virtual care center in Chesterfield, Missouri. Mercy's virtual care center will be a four-story, 120,000-square-foot facility that will house approximately 300 co-workers consisting of physicians, nurses, specialists, researchers and support staff. Forum Studio, Clayco's architectural subsidiary, is the designer. The project is expected to be completed in 2015.
Clayco met with Mercy to understand their goals for the care center and was given an ambitious request for an impactful landmark that was both practical and environmentally friendly, all within a strict budget. The Clayco team met the challenge by incorporating glass and studying the angles of the sun to help with energy efficiency. The end result will be LEED certification.
To protect the wooded area around the site, Clayco project managers worked with an arborist who conducted an extensive survey to determine which trees needed to be saved and which were safe to cut down. The goal is to make people feel like they are in a natural environment. With that in mind, the Clayco team studied a philosophy called biomimicry that draws a parallel between how nature develops and how man-made structures are created.
"Virtual care is a new endeavor for Mercy but the organization expressed a desire to be at the forefront of healthcare with a future focus on how people will communicate with their doctors," said Kirk Warden, executive vice president at Clayco. "We are thrilled to be a part of this developing sector of healthcare and to encourage Mercy as they continue to flourish and expand. The Mercy team has been wonderful to work with and we've enjoyed collaborating on such an exciting project."
The facility will function as a hub for telehealth services including clinical areas, a data center, and research and development with infrastructure that goes beyond the typical office building. Stations will house multiple screens for providers to view charts, files and other types of information needed to work with patients.
Because this type of care is still relatively unheard of, the facility will be designed with guests in mind as well. Mercy anticipates visitors coming to learn more about the type of care they offer. Virtual care is particularly useful in reaching rural communities or individuals who have difficulty with mobility or making the trip into the doctor's office.
Care will be delivered 24/7 via audio, video and data connections to locations across Mercy, as well as outside of Mercy through partnerships with other healthcare providers and employers. Mercy estimates that the center will manage more than 3 million telehealth visits in the next five years and will also be a hub for advancing telemedicine through research and training.
Posted June 3, 2014
More Articles: