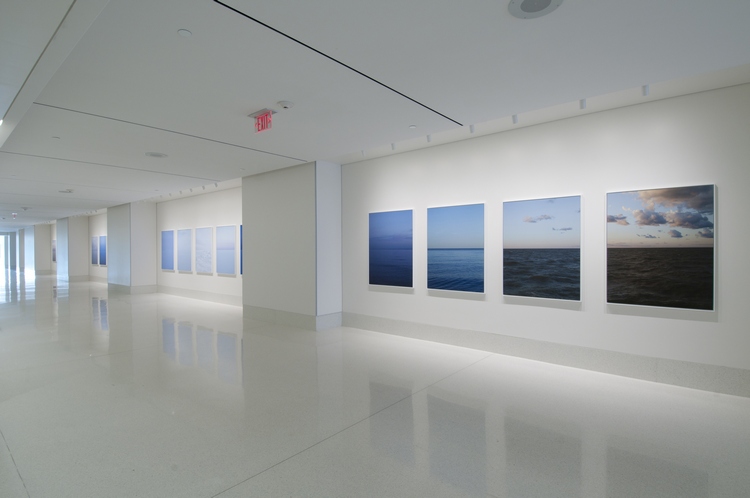 Catherine Opie, Somewhere in the Middle, 2010-2011, 22 photographs, site-specific commission.
Subscribe Now
Keep up with the latest news with our magazine and e-newsletter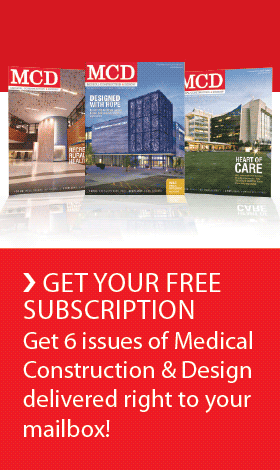 Subscribe to our E‑Newsletter
Hospitals may seem far removed from an art museum, however, that may soon be changing. On Wednesday, April 23, the "Contemporary Art in Healthcare Environments" lecture, held at the New York School of Interior Design, looked at the connection between art, design and healing. The event was led by Diane Brown, founder and executive director of RxArt, a nonprofit organization that transforms pediatric hospital facilities through site-specific art installations,
and Jennifer Finkel, curator of the Cleveland Clinic Art Program, which also has a collection of more than 5,400 artworks, reflecting a commitment to supporting the local, national and international arts communities. The lecture followed previous talks on art, design and healthcare design given by architect Michael Graves and Charles Jencks, landscape architect and co-founder of Maggie's Centres, the focus of NYSID's spring exhibition "Maggie's Centres: A Blueprint for Cancer Care," which closed on April 25. Today, much to the delight of children, their families and staff,  RxArt commissions artists such as Jeff Koons, Kenny Scharf, Ryan McGuiness and Rob Pruitt to create original art works in hospital rooms, waiting areas, stairwells, exam rooms and, in one instance, they convinced Jeff Koons to transform a CT scanner with paintings, including 2-D copies of his iconic "Balloon Dog" and "Hanging Heart" pieces at Advocate Hope Children's Hospital in Oak Lawn, Illinois, just outside Chicago.
"This is a long way from posters of pastoral Provence haystacks," Brown noted. "Based on earlier studies of what patients might want to see on the walls, nature paintings are well meaning, but they have minimal interest for children. However, elements that inspire creativity and humor—such as Terry Richardson's photographs of children giving the thumbs-up sign, which RxArt installed at the Kings County Hospital– these images directly generate positive experiences for kids." One of the most popular RxArt installations is artist Dominik Lejman's glowing, projected videos of animals appearing and disappearing.
Brown shared stories of how the introduction of engaging and fun art has impacted everyone. Harold S. Koplewicz, M.D., founder and director of the NYU Child Study Center, has said, "These wonderful artists have helped create a warmer, more welcoming and inspiring environment for children and their families at the NYU Child Study Center. RxArt has fostered a creative, playful and fun atmosphere for our patients and clinicians." The artists must consider aspects such as longevity and safe materials, often requiring intensive research and time to realize the installations, however, all the artists consider the projects very rewarding. Beyond gallery walls, these healthcare environments have "played host to some of the most significant artists of the time and that, in turn, has set the standard for the artistic aims of RxArt: a belief in art's ability to not only transcend but transform its settings and viewers."
Jennifer Finkel, curator of the Cleveland Clinic Art Program spoke next of their "patient-centered curatorial practice"—meaning the clinic aims to create a visual culture that serves patients and their families, and ensures that the art collection is an integral part of the patient experience. The collection includes works by local, national and international artists in all media. The collection of fine art is dispersed throughout Cleveland Clinic in public spaces, hallways and patient rooms. Included are major site-specific commissions and a diverse collection of modern and contemporary art. Cleveland Clinic has 5.1 million visits per year in their various locations, including satellite clinics in Florida, Toronto, Las Vegas, Nevada and one being built in Abu Dhabi.
While incorporating art in their interiors has been a part of the Cleveland Clinic since the 1920s, the art program was officially established in 2006. Finkel is responsible for procuring artwork for the hospital, overseeing art installations and site-specific commissions and curating their rotating exhibitions. The program is extensive and  includes an audio art tour showcasing 35 works from the collection with commentary; Art Ambassador tours that give patients, visitors and staff a personal guide to the artwork; Art in the Afternoon tours specially designed for individuals with memory loss and their care partners and even live music performances.
Finkel related that they receive thousands of letters each year mentioning the artwork and its value to the healthcare experience. One piece is particularly beloved, a video projection of a whirling tree by Jennifer Steinkamp, which reflects the seasons through the changing colors of the leaves. By bringing the landscape into a previously static lobby space, the piece connects patients and visitors to life outside the clinic.
The clinic is concluding a new research study looking at the correlation between the level of stress, and the effect on moods associated with viewing artwork. In addition to studies that substantiate the benefit of art and design in healthcare environments, both presenters stressed that having support from the administration of facilities, support of the local arts community and the local schools were important. NYSID thanked both Brown and Finkel for their ongoing work and talk at NYSID. The audience was filled with many students from the MPS in Healthcare Interior Design program.
For more information, visit www.nysid.edu.
Images courtesy of Cleveland Clinic.
Tags: Architecture
Posted May 13, 2014
More Articles: