Subscribe Now
Keep up with the latest news with our magazine and e-newsletter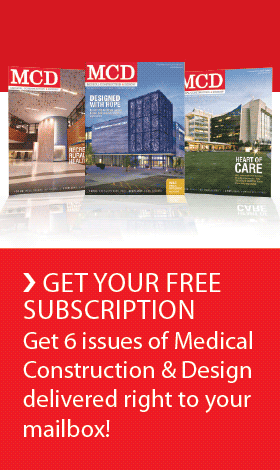 Subscribe to our E‑Newsletter
LOS ANGELES, Calif. — Backed by a drum roll and the enthusiastic cheers of physicians, city and hospital leaders, and one special 7-year-old patient, Children's Hospital Los Angeles recently unveiled the newly named Joyce and Stanley Black Family Building in honor of the family's $15-million gift to CHLA.
"Throughout our 57-year marriage, Joyce would always tell me the story of how Children's Hospital Los Angeles saved her hearing when she was a 7-year-old patient here," philanthropist and real estate developer Stanley Black told the crowd, referring to his wife's surgery to treat mastoiditis, an extremely severe ear infection that almost left her permanently deaf and years ago was a leading cause of child mortality. "She always said we needed to help Children's Hospital Los Angeles, because they helped her."
The Joyce and Stanley Black Family Building, formerly the Gateway Building, is the entry point to the entire hospital campus and houses the Burtie Green Bettingen Surgery Center, the Blood Donor Center and Patient Admitting. It also welcomes more than 1.3 million visitors with a beautiful interior that was designed by Walt Disney Imagineers. The building overlooks the Joyce and Stanley Black and Family Healing and Meditation Garden — made possible by another generous donation made by the Blacks in 2004.
"Because of the Black Family's generosity in making one of the largest individual gifts in our history, we will continue to provide world-class care to everyone who enters our doors," says Cathy Siegel Weiss, co-chair of the CHLA Board of Trustees. "The family's gift will enable us to continue to search for cures that are plaguing far too many children and train the next generation of caregivers who are partnering with us to improve the health of children here and around the world."
The family name is now prominently displayed in two new areas of the hospital: The top of the former Gateway Building that overlooks the healing garden and Sunset Boulevard, and indoors nearby the information desk, the official entrance to the Joyce and Stanley Black Family Building. The occasion was recognized by Los Angeles County Supervisor Zev Yaroslavsky, who attended the dedication, and an aide for Los Angeles Mayor Eric Garcetti, who delivered a proclamation from the city.
The event also was marked by the attendance of another special guest of the hospital, Maximo Bautista, a 7-year-old from Oxnard, Calif. who, like Joyce Stanley, was treated for mastoiditis at CHLA. While most cases of mastoiditis today can be treated with antibiotics, Max had a severe case, but he didn't exhibit an ear infection when he fell ill in early December and was hospitalized nearby his home. On Dec. 17, he was airlifted to CHLA and underwent a successful mastoidectomy surgery the next morning by Pediatric Otolaryngologist Ankur Patel, D.O., MPH.
Maximo remained in the hospital two months and underwent several of procedures and surgeries to deal with complications from the mastoiditis. In all, physicians and surgeons from five CHLA divisions – otolaryngology, ophthalmology, infectious diseases, hematology and neurosurgery – have provided care for Max. "I was grateful that CHLA had all the doctors under one roof who could help my son," says mom Graciela. "Everyone – from the doctors, nurses and to the Child Life team – did a wonderful job with Maximo."
Photo courtesy of Photo: Business Wire.
Posted April 8, 2014
More Articles: