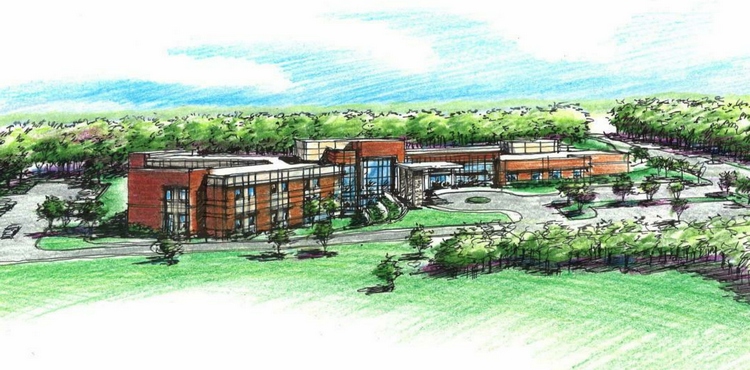 The 63,000-square foot, 60-bed Mercy Rehabilitation Hospital Springfield, which is being developed by Duke Realty in Springfield, Mo., is an example of the growing trend of investing in and developing post-acute care facilities.
Subscribe Now
Keep up with the latest news with our magazine and e-newsletter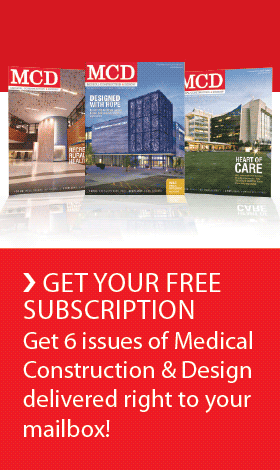 Subscribe to our E‑Newsletter
INDIANAPOLIS, Ind. –When discussing the future of hospitals and healthcare systems, it is common to hear the observation: "There will be winners and losers." Like most clichés, this one contains some truth. The healthcare industry is being transformed, and some competitors will succeed while others fail.
So what will it take to be a winner in the "new" healthcare industry?
Seeking answers to that question, Duke Realty recently hosted an invitation-only gathering of industry thought leaders, hospital and health system executives and its own team of healthcare real estate experts. Guest speakers included Ken Leonczyk of The Advisory Board Co.; Dr. Brett Spencer, formerly of Booz & Co. and now with Boston Consulting Group and Vince Caponi of St.Vincent Health and Ascension Health.
Their insights on how providers can succeed in the rapidly changing healthcare industry are featured in a comprehensive new whitepaper written by Deeni Taylor, Duke Realty executive vice president. According to that article, here are some of the emerging strategic options hospitals and health system executives might want to consider:
Focus on growth, not just cost-cutting. Healthcare executives have been focusing on cost-cutting in light of the lower incomes and increased expenses they will face as a result of the Patient Protection and Affordable Care Act. But you can't cut your way to success. We are entering a new era of patient choice with new decision makers and a new healthcare delivery system that will present growth opportunities for savvy health systems. So when it comes to healthcare in this new era of choice, the most successful hospitals and health systems will not only focus on cost cutting; they will also have a customer/patient-focused, productive, growth strategy. Real estate implications: Real estate can play a key role in health systems' growth strategies, particularly with consumers who appreciate convenience. For example, more consumers are visiting outpatient medical office buildings rather than inpatient facilities because they've been built close to where they live and they don't have to worry about a long commute or having to navigate a large, unfamiliar hospital campus.
Pursue "smart" mergers. Size and scale will be more important than ever to take advantage of the new opportunities in healthcare. This is why so many hospitals and health systems have been pursuing mergers and acquisitions, as well as acquiring or affiliating with physician practices. However, the most successful M&As are "smart" mergers, such as when the merging companies can create a regional footprint. A good example is the recent Baylor-Scott & White Health merger. There was very little overlap between the merging systems and it united two adjacent but geographically distinct systems to create one of the nation's largest integrated delivery systems. Real estate implications: Don Dunbar, executive vice president of Duke Realty, notes, "As health systems merge, assessing the need for more or less medical office space is an important consideration."
Invest in post-acute care. As part of the PPACA, or healthcare reform, hospitals now face financial penalties for above-average rates of readmissions for certain "preventable" conditions covered by Medicare. Because studies suggest that patients who receive post-acute or home care are less likely to be readmitted to acute care hospitals, many providers have been pursuing the possibility of acquiring, partnering with or developing alliances with post-acute and home care providers. Real estate implications: More healthcare real estate developers and investors are expanding into third-party development, financing and ownership of post-acute facilities. An example is the $28-million, 60-bed Mercy Rehabilitation Hospital Springfield that Duke Realty is developing in Springfield, Mo.
Expand access with new care models. One of the most exciting trends in the healthcare industry is the emergence of a whole range of online and home care models. These new models provide a number of potential benefits, including cost savings, convenience, higher clinical quality and an improved patient experience. Real estate implications: These new models can provide significant cost savings for employers and a number of benefits for consumers, yet they often aren't a substitute for hands-on healthcare. The industry will continue to need high-quality facilities that can complement these new models. Some experts say the growing popularity of outpatient facilities is leading the movement toward  more "consumer-centric, retail-oriented care." Taylor notes, "Convenient, consumer-centric, retail-oriented care is a major characteristic of new medical office developments for our clients. Whether the facility is a freestanding emergency department at a retail location or a multi-specialty practice MOB on or off campus, the focus on the patient experience in our buildings is critical."
Emphasize convenience. Convenience-oriented, price-sensitive consumers are increasingly seeking alternatives to the standard healthcare office visit. That has given rise to clinics in drug and discount stores. In addition, while inpatient use is declining, there's a growing trend of opening smaller, convenient outpatient facilities in strategic locations close to consumers' homes for retail-like services. Real estate implications: To compete today, health systems and hospitals need to be more nimble and look for convenient clinic locations near consumers' homes.
Don't try to be all things to all people. Many hospitals and health systems try to offer a comprehensive range of services in every geographic market, thinking that makes them more competitive. But they might not be skilled at every specialty, or every service might not be needed in every market. Some experts say that health systems might get more of a competitive edge in some geographic markets by differentiating themselves and becoming the leader in certain, selected services. Real estate implications: Dunbar says, "Medical real estate can be the end result of health system strategies. The medical office building is not a strategy. Market research, planning clinical services and establishing a brand should be completed before putting up a building."
To obtain a copy of the complete whitepaper, which includes a more detailed analysis of these growth strategies and other industry trends, contact Cynthia Shepard at 317-808-6900 or Cynthia.Shepard@dukerealty.com.
Tags: Facilities Management
Posted March 12, 2014
More Articles: