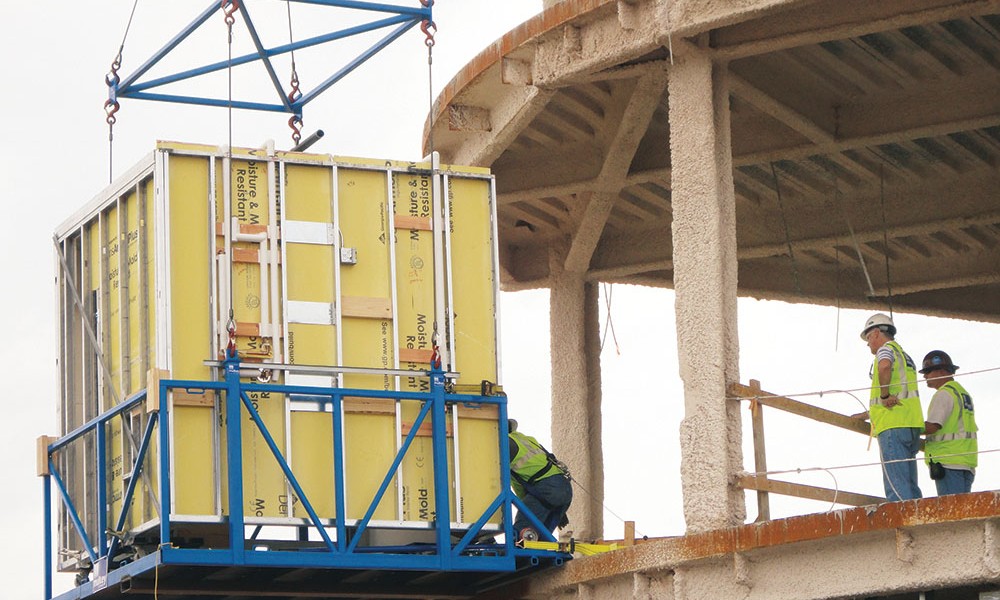 One of the 36 prefabricated bathroom pods is moved into place at the Eastside Medical Center Tower in Snellville, Ga.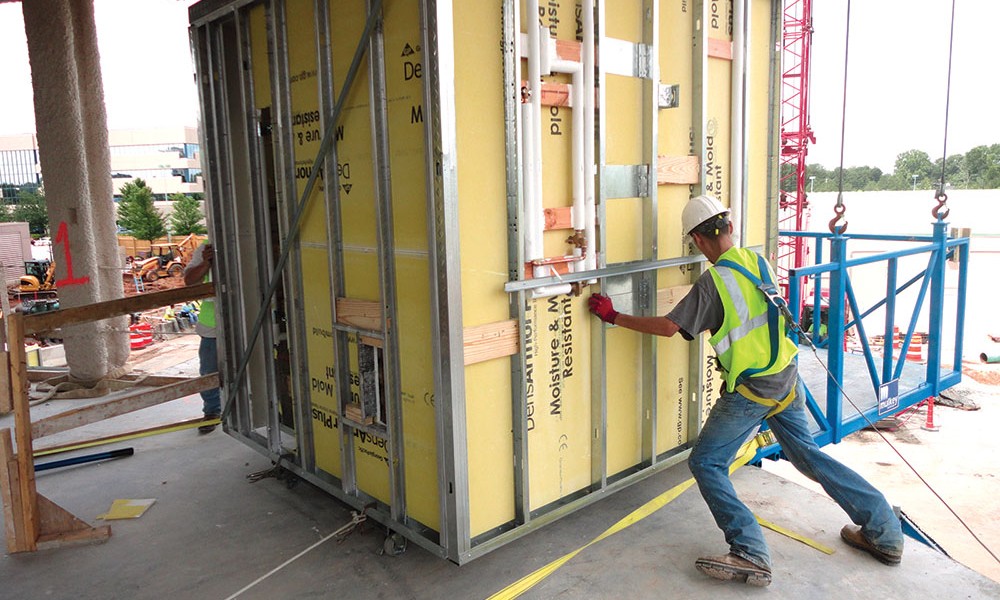 To minimize potential damage, drywall finishing was not performed prior to onsite delivery.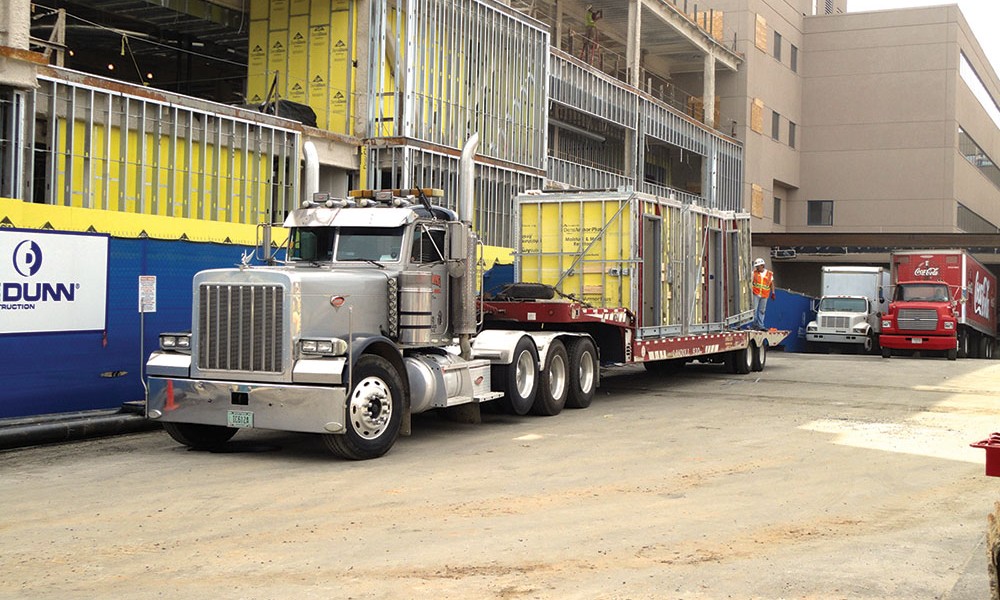 Pre-fabricated bathroom pods being delivered to the Eastside Medical Center Tower in Snellville, Ga.
◀
▶
Subscribe Now
Keep up with the latest news with our magazine and e-newsletter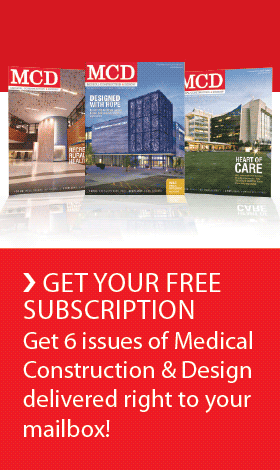 Subscribe to our E‑Newsletter
By Chris Hermreck
Today's contractors have to improve project delivery methods through increased collaboration with design teams to remain competitive. Many are exploring opportunities in the multi-trade prefabrication and modularization approach to building. In the healthcare sector, there are a significant number of projects successfully using prefabrication for bathroom pods, headwalls and MEP racks.
One of the first multi-trade prefab projects contractor JE Dunn executed was the Eastside Medical Center Tower expansion in Snellville, Ga. The tower expansion consisted of approximately 91,000 square feet and included patient rooms, operating rooms, administration, facilities management and support spaces. In an attempt to expedite the schedule and provide consistent quality throughout the project, JE Dunn and its subcontractors prefabricated entire patient bathrooms and headwalls. A total of 36 bathroom pods were prefabricated, along with 48 headwall assemblies.
Maximizing productivity, limiting waste
The prefabrication of bathroom pods included framing of all walls and hard-lid ceilings, in-wall plumbing and electrical rough-in and hanging of drywall. In order to minimize potential damage from moisture and shipping/handling, drywall finishing was not performed prior to the bathroom pods being delivered onsite. Additionally, high-performance gypsum panels were used in lieu of standard gypsum board to prevent potential mold growth and moisture issues. This allowed pod installation to commence prior to building dry-in, which in turn enabled additional efficiencies in the overall sequence of the project. Wall assemblies also had panels installed on one side, allowing inspectors to review all plumbing/electrical rough-in, blocking and framing during the delivery and installation.
"There are distinct advantages to prefabrication in a controlled environment, including being able to pre-bend all the conduit and transporting bulk materials from room to room," said Jody Borne, Excel Electric, one of the subcontractors at the Eastside site. "All work can be performed by one individual versus separate crews. All of this maximizes production and limits waste."
Utilizing a crane, the pod assemblies were hoisted to each floor in a special cage/basket that was designed for safe, but efficient, installation. Workers used piano-style lifts and carts to move pods around the floors to their final destination. This method lifted the pods a couple inches off the floors, making it easier to move and eliminating the possibility of damage. It took approximately one day per floor to deliver and stage an entire floor of bathroom pods. After staging, it took roughly one week to set an entire floor of pods and complete all the plumbing, electrical, fire sprinkler and HVAC connections. By fabricating the bathroom pods and headwalls, approximately 10 percent of total patient floor construction and 40 percent of each patient room was prefabricated. The project team estimates prefabrication saved more than 230 man hours during the course of the project.
Eastside is not the only healthcare project where JE Dunn is employing multi-trade prefabrication. Three projects under construction are using multi-trade prefabrication with great success. A women's center and surgery addition at Sky Ridge Medical Center in Denver, Colo.; Overland Park Regional Medical Center in Overland Park, Kan. and the OHSU/OUS Collaborative Life Sciences Building in Portland, Ore., are all realizing benefits, and experiencing challenges, with prefabrication.
Prefabrication challenges and solutions
The main challenges for utilizing multi-trade prefabrication for the Sky Ridge Medical Center included figuring out how many different configurations of prefabricated bathroom pods there would be, coordinating all trades for precise placement in each different pod and aligning all of the different bathroom accessories within the pods. Facing these challenges early in the process, though, empowered all the trades to collaborate and coordinate early on before the prototypes were physically built onsite. Because prefab has to be precise, building information modeling was used to create a dimensionally accurate model and finalize details in advance. As part of the construction coordination, JE Dunn blocked out a clearance zone for the pods traveling through the building to their final destination to ensure the pods sitting on its travel cart with casters would fit within the floor-to-structure plenum.
JE Dunn is implementing prefabricated patient room bathrooms and headwalls at Overland Park Regional Medical Center as a case study in the Kansas City market. The entire bathrooms and headwalls are being constructed offsite in a warehouse space concurrent to the site work and tower structure activities taking place. This will allow the team to plug-and-play these units once the structure is complete and the traditional overhead rough-in and stud framing is just beginning. Everything needs to be measured in order to validate efforts and help determine if prefabrication adds value to the construction process in terms of schedule, safety, quality and dollars — items that benefit all stakeholders in a construction project.
In Portland, Ore., the OHSU/OUS Collaborative Life Sciences team worked together extensively with the design team to develop thousands of linear feet of prefabricated mechanical and electrical piping assemblies. The team has noticed that with the significant amount of offsite mechanical and electrical prefabrication, the project site has experienced reduced manpower, is quieter, cleaner and, ultimately, safer.
Overall, by working collaboratively with the client, design team and subcontractors, prefab opportunities are more likely to be identified and effectively carried out. This results in cost savings, schedule efficiencies and greater overall project value.
Important points when considering prefabrication
1) Collaboration and planning for prefabrication early in the design phase is key to an effective outcome.
2) Obtain buy-in from the owner, architect, engineer and subcontractors on the approach early in the project. Early discussions about prefabrication will highlight whether or not all project stakeholders are on the same page. Concurrently, the contractor should strive to partner with as many prefab-experienced subcontractors as possible.
3) The use of BIM is critical for prefab projects. Without BIM, it is almost impossible to be effective and efficient.
4) Mockups are crucial to getting everyone on the same page early, thus minimizing late changes in the field that negatively impact project cost and schedule. All mockups should be verified by the end user.
5) Prefab is an especially attractive option for fast-paced projects or sites that have logistical or storage challenges.
6) The likelihood of cost and schedule savings increases with repetition of prefabricated components. In other words, do not give up on prefab if it did not work on one project. Chances are the lessons learned on the first project will help obtain increased efficiencies after more projects are initiated.
7) Weather conditions can be more easily controlled in some instances when prefab is occurring offsite in a controlled environment.
8) Consider avoiding prefabrication of ADA bathrooms to reduce risk of not achieving dimensional code compliance. The minimal repeatability of required ADA bathrooms, relative to the entire project, may not drive much efficiency in the prefab process.
Author: Chris Hermreck
Chris Hermreck is a project manager at JE Dunn Construction. He has co-written several articles on sustainable construction management and quantification modeling, and is the co-founder of the International Conference on Sustainable Design & Construction.
Posted March 26, 2014
More Articles: