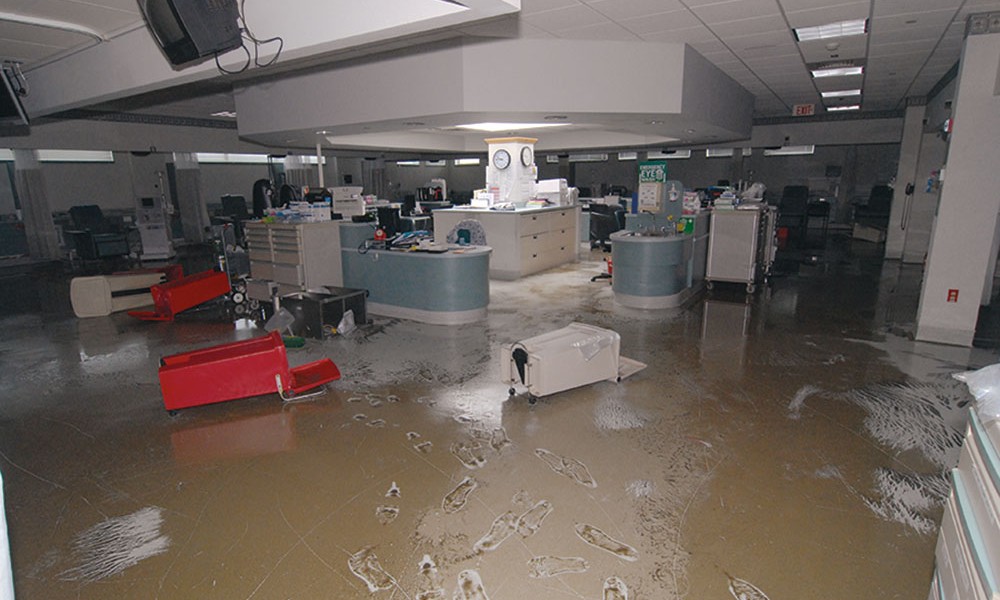 Damage done to South Nassau Communities Hospital's Outpatient Dialysis Center in New Jersey after being hit by Superstorm Sandy in October of 2012.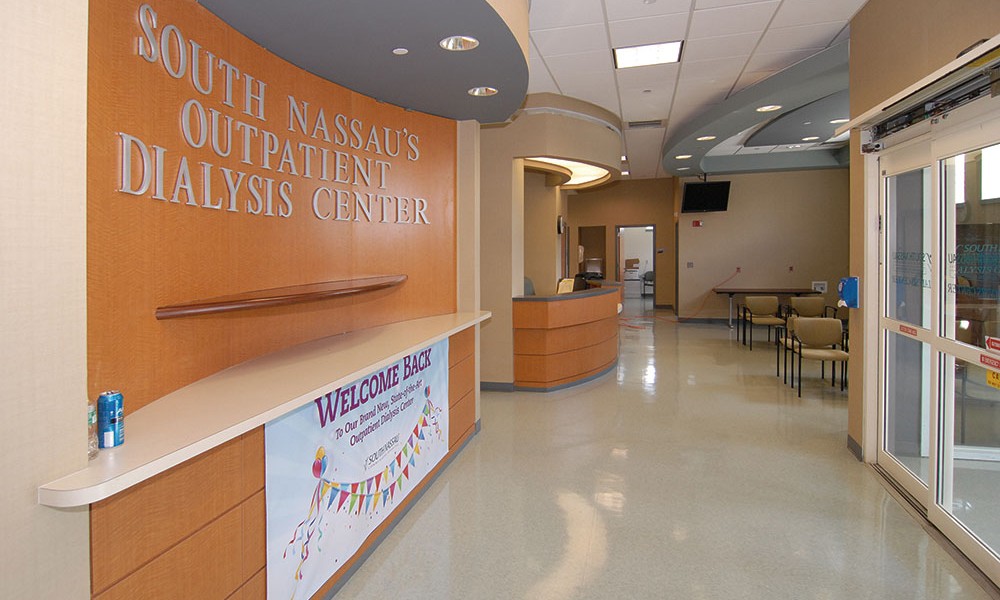 Renovation was completed via an integrated project team and delivered under an aggressive five-month schedule in April 2013.
◀
▶
Subscribe Now
Keep up with the latest news with our magazine and e-newsletter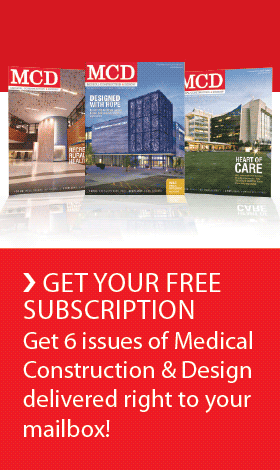 Subscribe to our E‑Newsletter
By Barry Clyde & Neil Wright
The use of Integrated Project Delivery continues to gain momentum with several large healthcare projects in recent years having been completed under this delivery model, and some national healthcare systems adopting IPD as the preferred delivery method for all projects. Continued requests from hospital administrators for literature and more formal educational sessions to introduce IPD to their organizations is another sign of this growing interest. 
Whether or not a proponent of IPD, it is difficult to argue that the principles behind it do not have tremendous value. Involving key participants from the earliest stages of a project delivers great value from a broad range of expertise, consistent and open-minded sharing of information, clearly defined project and team goals, reducing wasteful processes within the design and continued operational analysis throughout. However, the primary challenge for many healthcare organizations is the multi-party agreement, which contractually binds all key project participants to the principles of IPD.
Many will argue that there cannot be a truly integrated and collaborative project team in the absence of the contractual agreement to ensue these roles. This may be true, but it is difficult to argue that all project outcomes can be greatly improved by taking whatever measures are available short of the multi-party agreement to set a standard for the team to follow. In the absence of the agreement, it is essential to build a project team that possesses the fundamental tools that will provide the best chance for an integrated and collaborative team. The selection committee must focus on the potential team's strengths in these areas during all interactions throughout the selection process. This includes:
Clear communication abilities and communication style
A focus on the frontline communication individuals
Reaction of team when ideas are initially challenged
Strong standard processes within the organizations
A truly customer-focused company culture
Creativity derived from prior project experiences
Team selection 
Proposing team evaluations and selections must be made by a collective group represented by those that will have regular interaction with the awarded team. Technical abilities and a comfort level with those individuals on the team combine to ensure collaboration. Hospital personnel that will have regular interaction with the project team must attempt to participate in as many interactions as possible with the respondents in an effort to evaluate which team they feel they can engage with most comfortably.
Selection that matches project size and scope
Though it seems obvious, selection teams do not consistently compare submitting firms' past project experience with the size and scope of the project being awarded. This happens most frequently when awarding renovation projects that may be of smaller value, but can have significant complexity when in an existing facility adjacent to functioning clinical environments.
The biggest mistake is to become vexed by the huge replacement hospital and expansion projects those firms tout. These projects are certainly impressive. However, the successful execution of a tower expansion in excess of $200 million does not necessarily speak to the ability of that same firm or team to renovate an existing operating room in multiple phases while the unit remains fully functional. The project may cost $20 million, but is every bit as challenging or more so than the $200-million tower. Be sure to match the firms' representative projects with that of your own and ensure those individual team members being presented have been involved in these projects.
Detailed evaluation of references 
Requesting past project references is typical. Representative past projects coupled with a contactable reference may by less typical. Insisting all projects presented in proposals as past relevant experience are coupled with multiple references from varied owner representatives (i.e., facilities representative, administrative representative and a clinical representative) is unique. These extensive and varied references can provide confirmation of a firm's ability to integrate and collaborate with the hospital's entire team.

Joint submission 
Perhaps the most critical interaction to ensure a collaborative overall team is that of architect and construction manager. Even in the absence of a multi-party agreement and with smaller to mid-size projects, the concept of requesting a joint proposal from an architect/CM team is being utilized. Through the development and makeup of the written proposal, one can gain an initial glimpse as to how these two teammates are going to integrate. The inherent teamwork and collaboration of this newly formed entity will show more clearly as they present together to the selection committee.
Prequalify a list of CMs and architectural firms appropriate for the project. These are the firms that will receive the request for an integrated team proposal. Leave it to these candidates to pair as they see most appropriate. Through each interaction with the selection committee, one or two teams will surface as clearly understanding and demonstrating a true collaborative nature.
Focus on the day-to-day
Many large, long-established firms with excellent reputations have performed projects with great results and some with poor results. Many smaller, lesser-known firms with a less than stellar reputation have also performed some projects with great success and some with poor results. Regardless of the firm, the projects completed most successfully had one thing in common: The immediate day-to-day leadership team of project architect, architect's construction administrator and project manager and superintendent, was comprised primarily of strong personnel. These participants are the key to the success of any project.
Think of it as a simple grading system. In all large organizations some personnel are "A players" and some would be considered "B" or "C players." Firms will assign resources to projects for any number of reasons. Fit for the specific project scope, availability, geography and importance of a particular project to the firm, amongst others, all play a factor. If a combination of these considerations has somehow led to the project being assigned anything less than a firm's "A players," it should be identified during the interview process.
Presentations are often dominated by senior managers, vice presidents or other higher-level executives that will have limited involvement in the day-to-day happenings on the project. Even if accessible and available upon demand, the reality is if these executives are needed, the project has likely already suffered greatly. Frontline project participants should be an integral part or, ideally, the primary leaders of any interview or presentation-type interaction. One could even consider conducting presentations with only the three or four proposed team members that would be considered the day-to-day leadership. A firm's history, reputation and the careful evaluation of past projects and references will provide a sufficient representation of that company's strength of leadership.
Work sessions
The ability to evaluate a respondent's team and gain some comfort with how that group will interact with the hospital team can be difficult in a traditional presentation setting. To better test this interaction, consider substituting the stale presentation style with an interactive work session lead by the architect/CM team. Task the proposed teams with a project specific challenge (i.e., logistics associated with a challenging phased renovation or inclusion of observation beds within an ED project) and require them to lead a work session which evaluates the circumstances surrounding the issue, successfully draw out of the selection committee what their experiences offer with regard to the issue, and end with a solution to the problem. The work session can provide great insight not only into how and if the proposing firms will successfully interact with the hospital team, but will also prove the combined architect/CM can be a cohesive team.
The selection committee was carefully chosen and engaged; the focus during all interactions was on a collaborative group, experience was well aligned with the specific project scope, references were evaluated and all this has led to a carefully considered project award. Now, trust the work that has been done. The personal preferences of individuals within hospital leadership, individual board member influences and hospital donors can sometimes deter the process. Do not be swayed by these influences, and always trust the process and its results.
Collaborating to reconstruct after Superstorm Sandy
On Oct. 29, 2012, Superstorm Sandy made its way ashore just northeast of Atlantic City, N.J. Prior to landfall, this storm was the largest Atlantic hurricane on record, as well as the second costliest in U.S. history. Just a few hours after Sandy hit the coast, its impact became evident to the New York communities of South Nassau. Because many of South Nassau Communities Hospital's 3,000 staff members were residents of the local area, they were also displaced, losing homes, cars and other valuables to the storm surge.
The Outpatient Dialysis Center was seriously impacted by the event, with much of its interior and medical equipment destroyed. This freestanding, 10,000-square-foot facility had to be remediated and rebuilt as quickly as possible. South Nassau's OPD Center was refinished to match its pre-Sandy floorplan in five months.
The project team, which consisted of McGuire Group Architects and Axis Construction Corporation, embraced an integrated and collaborative approach, and engaged in an open exchange of ideas on a daily basis. This led to a general respect for what each group brought to the project and a true commitment to a successful outcome. The strong interaction was not brought about by binding contract language, but rather by the combination of firms and team members that believe in the value of collaboration.
Author: Barry Clyde & Neil Wright
Barry Clyde, principal consultant with CBRE Healthcare, has been providing clients with project management, project delivery advice and assistance for over 16 years. Neil Wright, consultant with CBRE Healthcare, aids clients in improving capital facility processes through the successful application of Lean tools and techniques.
Posted March 26, 2014
More Articles: