Subscribe Now
Keep up with the latest news with our magazine and e-newsletter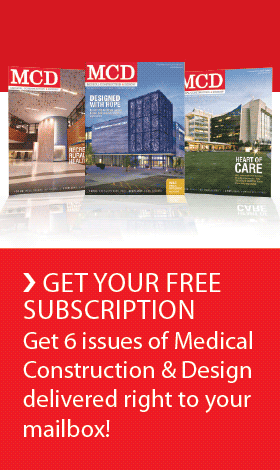 Subscribe to our E‑Newsletter
SANTA MONICA, Calif. — Swisslog Healthcare Solutions highlighted the disruptive drivers shaping healthcare and the hospital of the future in a keynote presentation at the Next Generation Healthcare Facilities Summit. The presentation, "meeting tomorrow's challenges through facility design," reviewed the demographics expected to impact hospitals and caregivers, while providing guidance on ways to reduce risk in designing and constructing facilities that deliver the best outcomes now and in the future.
The keynote stressed that providers, payers and government entities have embraced a patient-centered care paradigm. That shift in quality and performance measurements from "inputs" to "outputs" is a permanent change. Successful hospitals of the future must realign their care delivery models and operational infrastructures to meet this new standard, adopting strategies that increase the hours caregivers devote to hands-on, patient-centric activities by leveraging efficient, automated material transport solutions.
"The implementation of automated solutions, in particular automated material transport solutions, is a foundational design element of all hospitals of the future," said Swisslog HCS North America President Mike Hoganson. "We're witnessing this trend as leading hospitals prepare themselves for the patients of tomorrow."Today's patient-centric care model is driving full automation of all non-value-added activities; meaning anything not directly related to the patient will be automated and optimized."
For more information, visit swisslog.com/thoughtleadership.
To see a live demonstration of the latest material handling solutions, visit the Intelligent Hospital Pavilion at the 2014 HIMSS Conference & Exhibition Feb. 23-26 in Orlando, Fla. For more information on the conference, visit www.himssconference.org.
Posted February 12, 2014
More Articles: