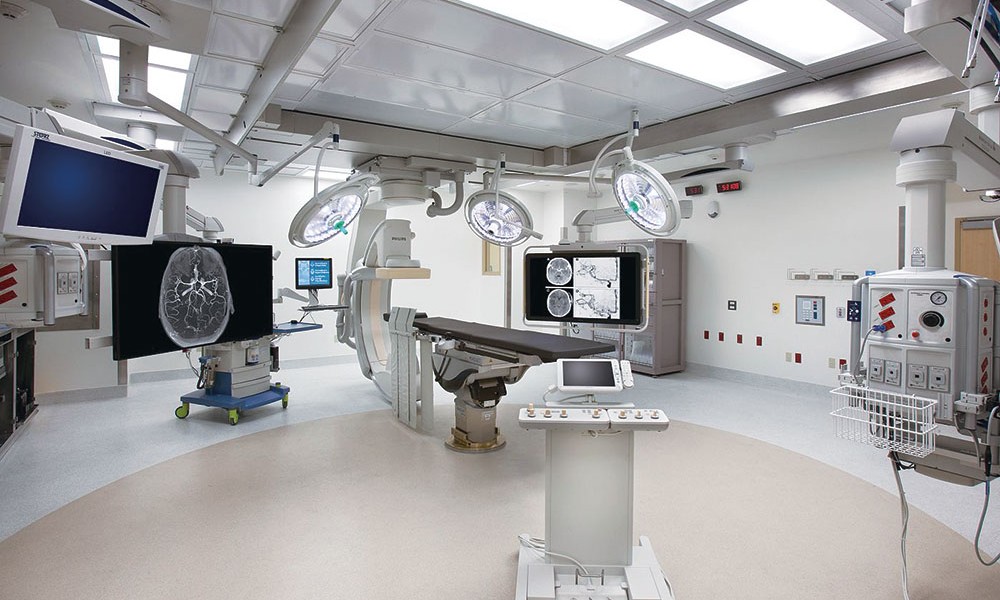 View of the procedure room in a hybrid operating room showing the myriad ceiling components provided by different vendors.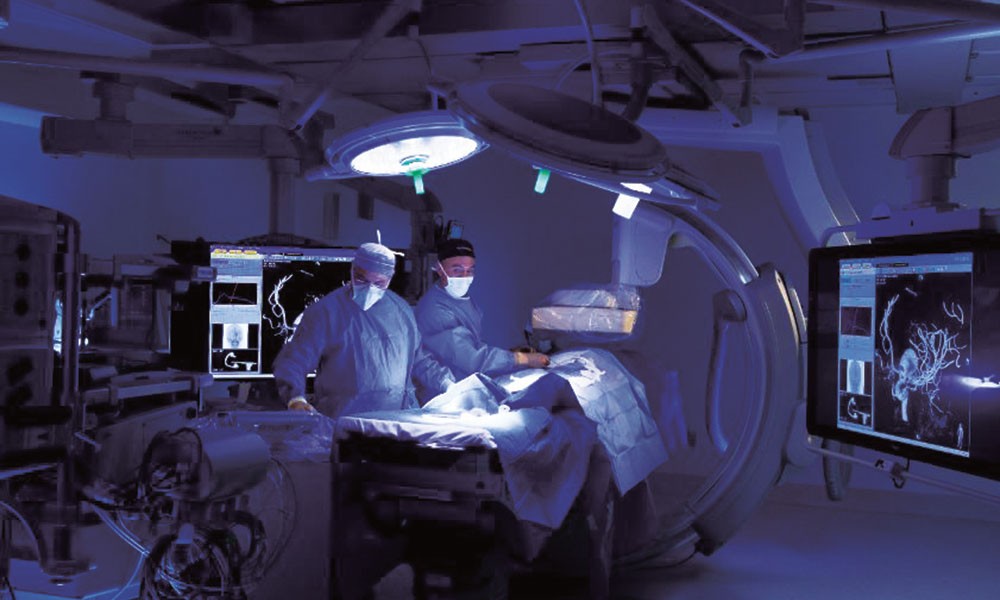 Preparation for a procedure utilizing the surgical lights placed within the sterile field.
A touch panel is used to control the hybrid operating room integration video images, hemodynamic monitoring dual display and three-panel system control console.
◀
▶
Subscribe Now
Keep up with the latest news with our magazine and e-newsletter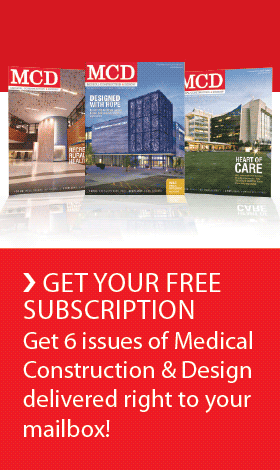 Subscribe to our E‑Newsletter
By Bill Hinton
A hybrid OR is on the wish list for many facilities, as a way to attract physicians, expand services and provide hope for patients. Whether the hybrid project is a renovation or part of a larger replacement or addition project, facilities doing a hybrid for the first time are in for a challenging new experience. The perfect recipe for a successful hybrid OR project includes involving the right clinical stakeholders, determining actual procedures to be provided, coordinating multiple vendors and integrating timely decision-making into the design.
The reality is, oftentimes, project stakeholders change or are overlooked, technology and business plans change and timely decisions are difficult to achieve. But construction can't stop. Unique and proactive strategies are required to keep the project on track and ensure a successful outcome.
Begin programmatic planning efforts early
Frequently overlooked in design, early programming efforts are paramount to the successful implementation of a hybrid OR. Each room is unique — incorporating specific design elements to support the combination of a specific set of procedures with the diverse set of practitioners who will utilize the room.
"Hybrid OR" is a term defined differently by facilities, architects and users. Understanding the facility's unique requirements is the most critical first step in understanding the vision for the room. To this end, the facility and design team must identify and assemble the key players who will utilize this space, including physician stakeholders, nursing staff, imaging staff and other clinical team members.
Early efforts should include identifying the type of procedures that will be performed within this space. This review includes recognizing procedures that will be performed initially, in addition to projecting future procedure types. It is vital to identify procedures which will lead to the need for more invasive surgical procedures, subsequently requiring additional support equipment.
The facility should designate pre-qualifying light/boom and imaging vendors that will both meet the clinical needs and have demonstrated a proven track record of clinical and product support. Site visits should be considered. Visiting other facilities where hybrid ORs have been successfully built and put into operation can provide opportunities to review imaging and light installations, and to provide valuable insight into the challenges and opportunities that should be considered during planning.
The type of table required will be driven by the type of procedures that will be performed. The table, typically provided through the imaging vendor, is configured with a tabletop that is not interchangeable and is therefore suitable for limited types of surgical procedures. A more suitable option may be a table with a fixed base with an interchangeable tabletop. These tables can be utilized as an imaging table while at the same time provide the full functionality of a surgical table. An added benefit is that the room can also be utilized as a general OR suite when procedures requiring image guidance are not scheduled.
The requirement for OR video integration should be identified early in the planning phase. These systems will provide the ability to display images with the ORs, video conferencing and in-room audio (music), etc. Room turnover status, video archiving and interfaces with the EMR are options that should be carefully considered.
The type of power (e.g., UPS, emergency generator backup) required to support the system should be reviewed. This is to ensure that emergency power capacity is available and sufficient to support the room and to address any design issues related to UPS capacity, spatial requirements and location of power systems.
Through these early discussions, the design team will be able to identify key equipment elements, which will lead to a solid preliminary design. This will provide the necessary basis for establishing an accurate cost estimate for the project.
Build flexibility into the design to reduce construction issues
Several design aspects can be incorporated into the design, which allow for delayed owner decisions regarding major equipment selections, and provide a means to cope with last-minute technology changes during construction. Flexible elements include:
Universal support grid system: The implementation of a universal medical equipment support system may offer significant cost savings and versatility, compared to red iron/structural steel supports. The system can be easily modified to accommodate new equipment and offers further cost-saving advantages when it's time to replace equipment with upgraded models.
Downtime is significantly reduced. Welding and airborne contaminants associated with installation of new red iron supports is eliminated, therefore reducing suspension of activities in adjacent operational rooms. In addition, grid systems provide the owner with more time to make the final equipment selection.
Slab design: The type of structural slab incorporated into the design can drive immediate flexibility in the new design and future upgrades. The recessing of the structural slab can, in many cases, expedite the design of the space and provide more time to make final vendor selection.
Ongoing meetings with the contractor: Delays in final vendor selection and final design may be avoided in some cases through ongoing discussions with the selected contractor. While each construction project is unique, the contractor should work closely with the team and assist in identifying key decision milestones so as not to impact the construction schedule and to minimize change orders.
Best practice: Integrate medical equipment into the final design.
In order to effectively finalize design and support construction, all of the technologies must at some point be selected, captured and coordinated into a single set of documents. More than developing a single equipment placement drawing —  a daunting challenge in itself — required equipment clearances and movements, as well as the myriad supporting conduits, power and data connectivity requirements be captured. Assigning a single point of responsibility such as an equipment planner for capture and coordination of this information will streamline the field coordination process. Merely providing the contractor with multiple vendors' site-specific shop drawings, and hoping they can field coordinate all of the technologies can be risky.
Final vendor selection by the owner of the major modalities must occur in order to provide a cohesive set of construction documents that can be utilized by the design team, and ultimately be provided to the construction team. Final coordinated shop drawings will need to be produced by the imaging system vendor, boom and light vendor, OR integration vendor and hemodynamic vendors. Other systems that will require conduits and MEP coordination include contrast injector and intravascular ultrasound systems, among others.
For many hospitals, a hybrid OR will be the largest single investment ever made for a procedural suite within a facility. In order to maximize this investment, shortcuts in the design must be avoided. Formulating a clear vision and strategy and following the prescribed steps outlined above should result in a successful project.
Photos Courtesy Tucson Medical Center
Tucson Medical Center's Hybrid OR 
Tucson Medical Center planned a standard vascular imaging room and, in the midst of construction, converted it to a hybrid OR designed to support multiple services. Teamwork resulted in a successful solution for this hybrid OR, which was completed in May 2013.
Original programming: The spaces were initially programmed to support the vascular service line only. Procedures planned included only minimally invasive and peripheral vascular open cases.
New programming and room design change: During construction, the facility reexamined the clinical utilization of this space. It was determined that changes would most likely be required to support new procedures and disciplines. New key physicians were identified who would be stakeholders in these two rooms and redesign meetings were initiated. After the revised clinical utilization of this space was determined, it was discovered that a different type of imaging system was required. The factors led to a significant redesign of the space, which included: enlarging the procedure room space, relocation of the equipment closets and re-coordination of the ceiling-mounted equipment.
End result: In order to meet the construction schedule, the redesign efforts had to be accelerated, including additional meetings with mandatory participation of all team members to expedite resolution of building coordination issues. A quick turnaround of revised shop drawings with focused review and approval ensured that deadlines were met. Weekly onsite reviews by the vendors ensured required field changes were correct. Cooperation and active communication between all parties delivered the project on time and within budget.
Author: Bill Hinton
Bill Hinton, CNMT, is vice president at GBA, a healthcare technology consulting firm based in Franklin, Tenn.
Posted February 1, 2014
More Articles: