Subscribe Now
Keep up with the latest news with our magazine and e-newsletter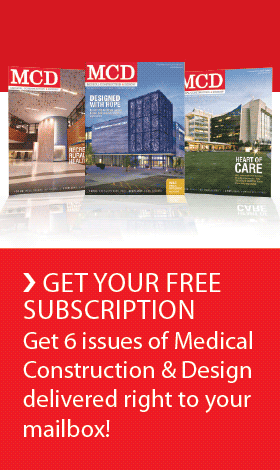 Subscribe to our E‑Newsletter
New York, N.Y. — New York School of Interior Design will present an exhibition on Maggie's Centres, an organization that offers free practical, emotional and social support to people with cancer and their family and friends.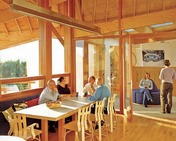 Built on the grounds of cancer hospitals, the Centres are warm and welcoming places designed by architects like Frank Gehry, Rem Koolhaas, Steven Holl and Zaha Hadid. The exhibition will be on view from March 7-April 25 at the NYSID Gallery, 161 East 69th Street, New York City. Gallery hours are 11 a.m.-6 p.m. Tuesday-Saturday.
Maggie's Centres were conceived by the late Maggie Keswick Jencks, along with her husband Charles Jencks, as a direct response to her own experience with cancer. She was determined that people should not "lose the joy of living in the fear of dying." In order to live more positively with cancer, she believed you needed information that would allow you to be an informed participant in your medical treatment, and have access to stress-reducing strategies, psychological support and the opportunity to meet others in similar circumstances in a relaxed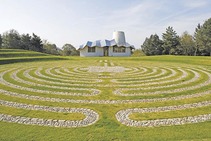 atmosphere. During the last 18 months of her life, she worked closely with her medical team to develop a new approach to cancer care. The first Maggie's Centre opened in 1996 in Edinburgh, Scotland, a year after her death.
Since then, Maggie's has grown to 17 Centres across the United Kingdom and beyond, with many more to follow. "Maggie's offers an essential service to those with cancer, and we wanted to shine a light on the important work they do and bring it to a US audience," said NYSID President David Sprouls. "NYSID also offers a Master's program in Healthcare Interior Design, so the two institutions share the belief that one's environment can promote healing."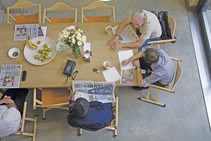 This exhibition will focus in depth on five Centres and demonstrate how each one combines aspects of practical, emotional and social support that are often separate in to a single hybrid building type; a space that is part-hospital, part-church, part-museum and part-home.
Related Lectures:
Charles Jencks: Can Architecture Affect Your Health?
6 p.m. Thursday, March 6
Followed by the opening reception for the exhibition
Charles Jencks—an architectural theorist, landscape architect, designer and co-founder of Maggie's Centres, discusses the connection between an environment, feeling good, and good health.
Michael Graves: A Case for Humanistic Solutions in Healthcare Design
6:30 p.m. Wednesday, March 26
Michael Graves will speak about the foundation of his design philosophy and how a personal healthcare tragedy focused his attention on improving healthcare experiences by design.
Contemporary Art in Healthcare Environments
6:30 p.m. Wednesday, April 23
Jennifer Finkel, curator of the Cleveland Clinic Art Program, and Diane Brown, founder and president of RxArt, will discuss their work to integrate contemporary into healthcare environments and the affect it has on patients and their families.
Posted February 25, 2014
More Articles: