Subscribe Now
Keep up with the latest news with our magazine and e-newsletter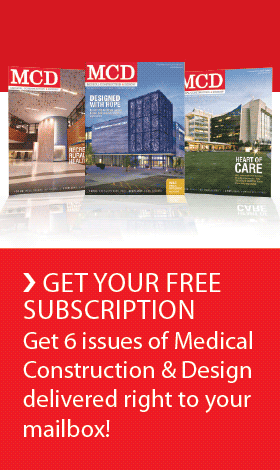 Subscribe to our E‑Newsletter
NEW YORK, N.Y. — Lend Lease will be participating in the groundbreaking ceremony for the Department of Veterans Affairs' new Health Care Center in Kernersville, N.C. on Friday, Jan. 24.  Lend Lease is serving as the project developer, design-builder and long-term property manager.  Completion of the center is targeted for fall of 2015.
The 375,000-gross-square-foot, four-story healthcare center is designed to obtain LEED Gold status upon project completion and incorporates a holistic approach to sustainability into the design, such as the use of natural light throughout the center to promote healing and a connection to the outdoors.  A key unique feature of the center will be a green roof allowing, allowing veterans to utilize the outdoor space and to socialize between appointments.  The facility will provide primary and mental healthcare to veterans; clinics will include dental, diagnostic, laboratory, cardiology, pulmonary, audiology, ophthalmology, pathology, radiology and pharmacy.
"My colleagues and I take great pride and are honored to be part of the creation of a healing place for our veterans; a place that will provide vital services long after their service to our nation is complete", said Gary Buechler, president & managing director of development, Lend Lease. "At Lend Lease our vision is to create the best places, and I believe this healthcare center will live up to our vision and that of the VA."
Once operational, the healthcare center will serve an estimated 30,000 veterans annually. In addition, the facility will spur long-term economic development for the surrounding communities of Greensboro, High Point and Winston-Salem. Lend Lease will be working with local sub-contractors throughout project construction, incorporating its diversity program goals and, upon completion, the facility will support approximately 300 jobs providing an additional economic stimulus to the surrounding communities.
Salisbury VA Medical Center Director Kaye Green added that she's proud of the strides the VA is making in the delivery of healthcare for local veterans. "We are dedicated to providing the best care anywhere. Our veterans deserve nothing less," she said. "The Kernersville Health Care Center will no doubt help us deliver on that promise through state-of-the-art equipment, an expanded range of services and dedicated, caring staff in a convenient location for our veterans."
Posted January 23, 2014
More Articles: