Subscribe Now
Keep up with the latest news with our magazine and e-newsletter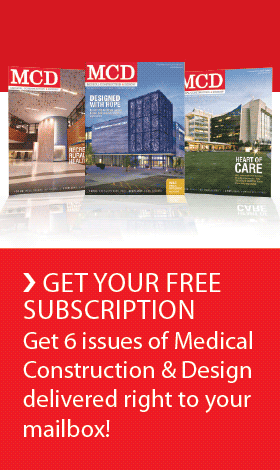 Subscribe to our E‑Newsletter
BURLINGTON, Vt. — Fletcher Allen Health Care named MorrisSwitzer~Environments for Health as project architect for design work on the new inpatient bed replacement building, which is in the Certificate of Need-approved conceptual development phase. 
The inpatient bed replacement project will allow Fletcher Allen to make a major investment in healthcare for the people of Vermont and northern New York, by creating new facilities that are consistent with today's hospital design standards and match the high quality of healthcare that Fletcher Allen provides its patients.
"It's the right time to invest in renewing our facilities, some of which are 50 years old," said John Brumsted, M.D., president and chief executive officer of Fletcher Allen. "They have served us well and we've gotten great use out of them.  However, they were constructed during a different era in healthcare. We have remodeled where we can, but new inpatient facilities are clearly needed."
During this conceptual planning phase, MorrisSwitzer will help determine the building's final design including specifics, such as room and floor layout.  They will take a patient- and family-centered approach to the building's design, using information gained from its patient-centered design team, detailed inpatient interviews, patient surveys and the patient experience steering committee.
"Fletcher Allen is very pleased to be working with MorrisSwitzer to create a modern, patient-focused inpatient healthcare facility for Vermonters and the people of upstate New York," said Dr. Brumsted. "Both organizations have similar environment of care philosophies and MorrisSwitzer has a proven track record of designing these types of facilities for other medical centers across the country.  We are pleased to include this long-time partner in our effort to create a facility to match the high-quality care our people deliver every day."
MorrisSwitzer is one of the few architectural firms in the country devoted exclusively to healthcare.  They have provided architectural expertise for over 2,000 healthcare construction projects, including The Vermont Children's Hospital inpatient unit, as well as major projects for Eastern Maine Medical Center in Maine, the Steve & Alexandra Cohen Children's Medical Center on Long Island, N.Y. and the Rabin Medical Center in Tel Aviv. The company has worked with Fletcher Allen since 1990 on multiple projects.
Timeline/Next Steps
Fletcher Allen received approval for its Conceptual Development Phase CON from the Green Mountain Care Board to design the new inpatient building in August 2013.
The architectural design work and pre-construction planning information that is developed over the next year will form the basis for the CON application that will seek approval to construct the building.
The design phase of the project is expected to be complete by the fall of 2014, when Fletcher Allen will submit a CON seeking approval from the Green Mountain Care Board to proceed with construction. That document will contain building details and cost. Pending approval, construction should take three years.
Posted January 30, 2014
More Articles: