Subscribe Now
Keep up with the latest news with our magazine and e-newsletter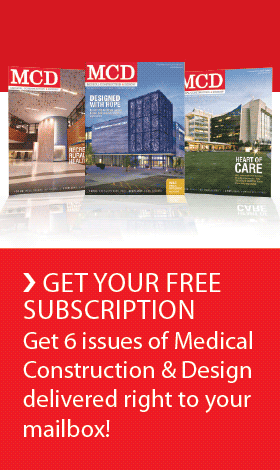 Subscribe to our E‑Newsletter
ASHE recently named the latest Vista Award winners in Texas, Colorado and Georgia — all used teamwork to overcome challenges in three hospital projects. The awards, which will be presented at the International Summit & Exhibition on Health Facility Planning, Design & Construction in March, recognize the importance of working together to optimize the healthcare physical environment.
The winners of the 2014 Vista Awards are the teams involved with constructing a new tower expansion at the University of Texas MD Anderson Cancer Center in Houston, Texas; the renovation of the Penrose Hospital Emergency Department in Colorado Springs, Colo. and the operating suite HVAC upgrade project at the South Georgia Medical Center in Valdosta, Ga. The teams won in the categories of new construction, renovation and infrastructure, respectively.
The University of Texas MD Anderson Cancer Center in Houston won the award for new construction for its Alkek Tower expansion. The 500,000-square foot, $208-million project added 10 stories to an existing hospital. The team working on the project overcame a multitude of challenges, including using a constrained footprint, building over a working hospital and weathering Hurricane Ike. The center has reported an increase in patient satisfaction scores since the expansion.
Penrose St. Francis Health Services won the Vista Award for its renovation of the Penrose Hospital emergency department in Colorado Springs, Colo. The $4-million project came in ahead of schedule and under budget. The remodeling had to be accomplished during a small window of time while allowing the Level 2 Trauma emergency department to function as usual. Waiting room times have decreased since the renovation.
The team upgrading the HVAC systems in the South Georgia Medical Center operating suite worked to provide proper temperature and humidity levels despite the humid southern Georgia climate. The team had limited access and a tight timeline for the project, but created a new HVAC system with setbacks for unoccupied periods. Staff can change temperatures from 72 degrees to 62 degrees in 15 minutes while maintaining humidity below 40 percent. The new system is projected to result in a 25 percent energy reduction while providing the required environment for the operating suite.
Posted January 22, 2014
More Articles: