Subscribe Now
Keep up with the latest news with our magazine and e-newsletter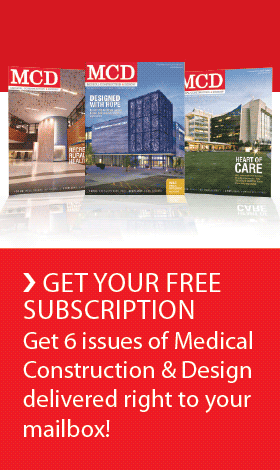 Subscribe to our E‑Newsletter
BIRMINGHAM, Ala. — Brasfield & Gorrie is utilizing numerous innovative tools and techniques in construction of Grandview Medical Center in Birmingham, Ala., in a fitting nod to the hospital's future as a center of innovation.
Brasfield & Gorrie first began construction in 2002 on the 12-story hospital building on Highway 280, completing the infrastructure and exterior shell, as well five floors of interior space, when prior owners of the hospital shuttered the project. A decade later, as Trinity Medical Center won a long-fought battle to complete the hospital and relocate its services there, Brasfield & Gorrie is now finishing the work it started and creating a home for Trinity when it becomes Grandview Medical Center and relocates to Highway 280 in early 2016.
Brasfield & Gorrie and strategic partner A.G. Gaston are serving as construction managers for the $280-million project. The scope includes the build-out of the unfinished 1-million-square-foot Grandview Medical Center, as well as related construction for Daniel Corporation of a 220,000 square foot medical office building and 2,900-space parking deck.
To fulfill the need for paperless processes, efficient project delivery and teleconferencing abilities, Brasfield & Gorrie's information technology team set out to solve the challenge of jobsite connectivity at the project's outset. To accomplish this, the team achieved a first: they Wi-Fi-enabled the entire 15-acre jobsite. To overcome challenges presented by dust, the elements and the heavy-duty activities of an active construction site, the IT team developed a weatherproof, self-healing network coupled with a powerful fiber connection.
"You can go to the top floor of this soon-to-be-completed hospital, start a FaceTime video conversation with remote team members, ride down the elevator, walk around the jobsite and never lose connection," said Brasfield & Gorrie Chief Technology Officer Jim Purcell.
In addition to powerful connectivity, the jobsite features a range of technology to support paperless project delivery, including digital plan tables and Apple TVs. The need for printed blueprints is further reduced by the project team's use of PlanGrid, an application that enables all team members to access up-to-date plans on their iPads and other devices and easily share markups, photos and reports. The project team is also using FaceTime to easily connect with the design team, Earl Swensson Associates in Nashville, Tenn., via video calls.
With all of this technology in place, this project is nearly 100 percent paperless, and the results are impressive. When the project was halted in 2003, the team had spent nearly $1 million printing blueprints; today, the team expects to spend less than $75,000 on technology and printing combined.
As the Grandview project progresses, the team will continue deploying innovative tools and techniques. For instance, the project team is using a robot crawler to conduct an exterior skin inspection of the existing facility, promoting safety and generating cost savings.
The use of technology to reduce paper consumption and improve efficiency greatly advances the project's goal to earn Green Globe certifications in accordance with Grandview Medical Center's green building initiative.
The Grandview Medical Center hospital, MOB and parking deck are expected to be complete in early 2016.
Posted December 17, 2013
More Articles: