Subscribe Now
Keep up with the latest news with our magazine and e-newsletter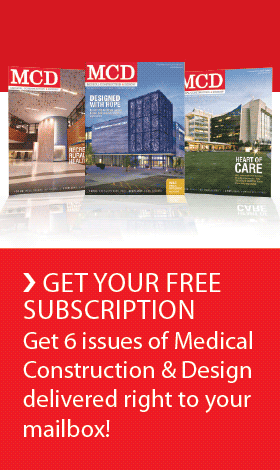 Subscribe to our E‑Newsletter
Renovations on the final phase of Blythedale Children's Hospital's modernization project are complete. MorrisSwitzer~Environments for Health and Blythedale Children's Hospital have worked together for the past 10 years to upgrade and improve New York's only specialty children's hospital. Blythedale Children's Hospital treats more than 300 children daily through its inpatient and day hospital programs, making it one of the largest children's services in New York. Blythedale is also the only hospital in New York with its own onsite public school district, comprising grades pre-K through 12, and is specifically designed to meet the unique needs of its inpatients and day hospital patients.
Earlier phase projects with Blythedale included a new children's inpatient wing, newly renovated Early Childhood Center with four new classrooms, and a Speech Therapy and Assistive Technology Center. The ribbon cutting on Dec. 3 celebrated the final phase, a new Day Hospital, and additional therapy areas. At the completion of these projects, MorrisSwitzer will have designed 56,000 square feet of new space, and approximately 52,000 square feet of renovated space.
"While today marks the successful conclusion of our decade-long building program, we look at today not as an end, but as a beginning," said Blythedale President & CEO Larry Levine during the ribbon cutting ceremony. "Today we begin a new journey that will take us to serving more patients, developing new programs and creating new services to meet the critical needs of infants, children and adolescents who desperately need Blythedale."
The Day Hospital serves an array of patients from infants to teens with a broad range of acuity and medical needs. The facility functions not only as an outpatient treatment center for rehabilitating children, but also as a nursing center for the on-site school.  The architects worked with staff, using patient-flow analysis and patient-centered care principles to respond to the complex programmatic needs of these medically sensitive children. The resulting layout expands therapy options, improves access for children in wheelchairs, and increases flexibility to accommodate the wide range of treatments and technology needed by patients. Renovations included new exam and treatment areas, Feeding Therapy rooms, a new multi-purpose room, and a new outpatient registration area, as well as a new Audiology Diagnosis and Treatment area.
This modernization project dramatically strengthens Blythedale's capacity to provide the most advanced care to medically fragile children in the New York metropolitan region. MorrisSwitzer~Environments for Health worked closely with the construction management firm Lend Lease to deliver this project on schedule and within projected costs.
Project Team:
Architecture: MorrisSwitzer~Environments for Health
Construction Management: Lend Lease
MEP/FP: WSP Flack + Kurtz
Structural Engineering: Thornton Thomasetti
Posted December 10, 2013
More Articles: