Subscribe Now
Keep up with the latest news with our magazine and e-newsletter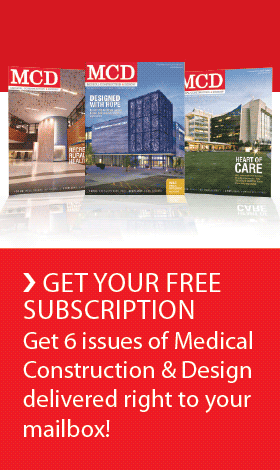 Subscribe to our E‑Newsletter
By Carolyn BaRoss | Photos by Halkin Mason
Many institutions are faced with aging infrastructure and inefficient buildings. To expand and improve revenue-generating space, in some instances, networks look to alternate sources to fund construction of projects. Options available include government financing and partnering with a developer to obtain expansion without capital investment for initial construction.
How institutions view the facility design processes is becoming increasingly more holistic. There is a growing understanding of the value of the built environment's ability to convey brand, to attract and positively impact patients and clinicians, to provide care in safe and comfortable surroundings, to influence outcomes, to operate more efficiently and to use resources more economically. Incorporation of Evidence-Based Design approaches to help ensure long-term success is common. There is significant interest in reducing operating costs, such as through reduced consumption of water and energy. In addition, more networks are making formalized commitments to the environment, resulting in the development of safer and healthier buildings.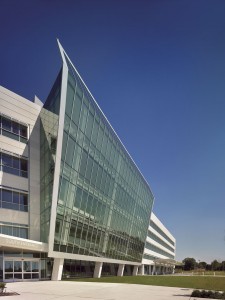 Located just over 20 miles from Philadelphia in East Norriton, Pa., Einstein Medical Center Montgomery reflects all of these industry-wide developments. The replacement facility is the first new hospital built in southeastern Pennsylvania in more than a decade. Widely recognized for a strong design vision that celebrates the site's natural beauty and prioritizes human and environmental wellness, the center opened in September 2012 and recently achieved LEED-NC Silver certification.
Meeting green goals
The sustainable aspects of Einstein Medical Center Montgomery are seen as a logical extension of the Einstein Network's mission to care for people — to "First Do No Harm," and long-term, multi-faceted thinking is seen in the sustainable planning of the facility. While the formal project goal was to achieve LEED Silver certification, the team strove to not let the LEED scorecard inform the design. Instead, the approach was to incorporate components that met the goals of the client, including operational excellence that could then also be used to achieve a LEED credit.
A primary goal was to support the use of nature as an instrument of health in response to the field of emerging research, which has demonstrated its beneficial impact on the healing process. In addition to being aesthetically pleasing, the site's landscaping design restores the natural ecology through the introduction of irrigation-free native and adapted vegetation and a comprehensive stormwater management approach with a series of connected bioswales and culverts. A recent visitor to the campus noted that the sight of butterflies was complemented by the pleasing sounds of chirping birds and breezes rustling through the parking lot plantings. It was a notably different sensory experience compared to many hospital parking lots.
Within the building, the use of highly efficient water fixtures and controls will reduce domestic potable water use by at least 30 percent. Besides the environmental benefits, water conservation efforts save real dollars for the duration of building use as water supply and sewer rates are quickly escalating across the country. The building is orientated on the site to effectively address issues of solar gain and reduce mechanical loads while concurrently providing opportunities for enhanced natural daylighting and direct views to nature from patient rooms.
The selection of energy-efficient glazing helps reduce heat gain in the building, a benefit augmented by roofing that helps to decrease heat island effect and solar heat gain. The indoor healing environment is further enhanced through the use of low-VOC finishes and sustainably sourced materials, which include substantial recycled content to reduce resource extraction and regional content to support the local manufacturing economy.
While long-term environmental impact was of critical importance to the team, patient experience remained central to every decision. This is one of the main reasons behind the unique offering of a convenient outpatient-like facility within the industry-leading inpatient facility. Specifically, a dedicated entrance with its own reception and waiting area is located at the north side, adjacent to the Medical Arts Building and separate from the main entrance, and with adjacency to the interventional platform. This allows for a "non-hospital" patient experience that maintains the efficiency of combined inpatient and outpatient clinical operations but offers an environment more like standalone surgical centers.
Bringing vision to reality
From the inception of the project, the leadership's vision was to bring a technologically advanced, full-service, acute-care hospital to the region's residents, all with an eye on the future. Achieving this required the team design to the highest standards of function and also with the goal of fully integrated aesthetic excellence.
In bringing Einstein Medical Center Montgomery to life, partnership was central to success. For convenience, the hospital was co-located with a 75,000-square-foot developer-funded and managed Medical Art Building, which was built using an accelerated design process between Perkins+Will, Einstein and Alter+Care, a healthcare real estate developer. The 363,000-square-foot inpatient hospital was built utilizing Federal Housing Authority financing. Being eligible for this financing required that the team comply with the schedule, which was achieved through a deep commitment to collaboration and a common sense of rigor throughout. The project was completed on time and under budget.
This spirit of collaboration was also integral to fundamental aspects of the design process and informed the shape and configuration of patient rooms and units. The project's owner, caregivers, planners and designers participated in an ongoing exchange of ideas, resulting in a building that integrates efficient function with pleasing aesthetics, with priority given to both. As a result, a successful balance can be seen throughout the facility. Vistas to daylight and views are accessible throughout. The location of nursing support areas was carefully coordinated. Supply and utility rooms were placed in ways to afford the highest levels of convenience for staff, without compromise to the patient's sensory experience.
Benefits correlate specifically with increased patient comfort: these areas were planned to enhance acoustical and visual comfort. Since support room doorways open into cross corridors, there is a reduction of excess noise in patient rooms that would otherwise interfere with patient rest. By using glass with integral blinds at patient room charting alcoves, caregivers can inconspicuously observe sleeping patients. Reduced noise can provide benefit to caregivers as well, to allow focus and avoid noise-induced stress and fatigue. All solutions were derived from the multi-disciplinary visioning and ensuing work sessions that identified goals and tested ideas before drawing conclusions.
These conversations also led to the application of several strategies to benefit Einstein in the long term. For example, the master plan allows for future growth and other fluctuations in services. The hospital's early success has resulted in expansion one year after opening: a wing planned for expansion, but initially built for administration of demountable partitions, has been deconstructed and the future unit is being built into necessary beds.
In addition, the project's integrated interventional platform co-locates surgical operating rooms, interventional radiology treatment rooms and catheterization laboratories, along with shared pre- and post-treatment spaces. The integration of surgical and interventional spaces in the same suite provides the versatility needed to seamlessly change the mix of volumes. All procedure rooms have been designed to a common level of sterility to maximize flexibility of hybrid procedures in the future.
Overall, Einstein Medical Center Montgomery is a contemporary and welcoming facility accessible and easily navigated with bountiful access to nature. This result depended on a collaborative approach that incorporated financing, planning, design and operations, and which placed holistic wellness as the top priority.
Project Team
Architect: Perkins+Will
Art Consultant: Health Environment Art Services
Civil Engineer: Bohler Engineering
Construction Manager: Gilbane Building Co.
Graphics and Signage: Exit
Landscape Design: Wells Appel
Lighting: HDLC
MEP Engineer: PWI Engineering
Structural Engineer: O'Donnell and Naccarato, Inc.
Project Management (Hospital): Hammes Company
Author: Carolyn BaRoss | Photos by Halkin Mason
Carolyn BaRoss, LEED AP, IIDA, ASID, is interior design principal at Perkins+Will New York and has more than 20 years of experience creating a range of award-winning environments for healthcare clients and beyond.
Posted November 8, 2013
More Articles: