Subscribe Now
Keep up with the latest news with our magazine and e-newsletter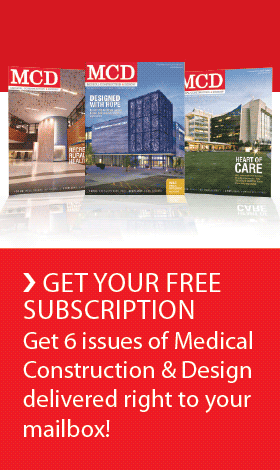 Subscribe to our E‑Newsletter
The University of California, San Diego celebrated the "topping out" of UC San Diego Jacobs Medical Center, the largest hospital project in southern California.  UC San Diego Chancellor Pradeep Khosla also announced a $25-million challenge gift for the project from an anonymous donor.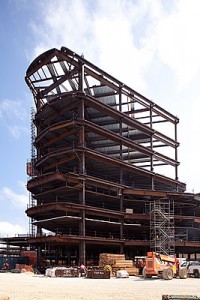 "Thanks to the generosity of an anonymous supporter, new donations and pledges to the Jacobs Medical Center project will be matched, dollar for dollar, up to $25 million – doubling the impact of every contribution made and helping UC San Diego to building the future of healthcare," said Khosla.
Slated for opening in 2016, the $839-million Jacobs Medical Center will include three specialized hospitals: the Hospital for Advanced Surgery, the Hospital for Cancer Care and the Hospital for Women and Infants. Today's topping out ceremony celebrated the building reaching the midpoint between groundbreaking and completion. Speakers at the event included Khosla, vice chancellor for Health Sciences, David Brenner, M.D., and Paul Viviano, CEO of UC San Diego Health System.
Joan and Irwin Jacobs, whose transformative lead gift of $75 million was announced in 2010, also attended the ceremony, along with elected officials, community leaders and university officials.  At the event, special guests signed a steel construction beam, which was then hoisted to the top of the 10-story, 509,500-square-foot structure.
Jacobs Medical Center, part of UC San Diego Health System, will house 245 patient beds when it opens in 2016 and is part of a multi-billion dollar university investment in the future of healthcare for the region. The facility will anchor the La Jolla medical campus, which comprises Thornton Hospital, Sulpizio Cardiovascular Center, Moores Cancer Center, Shiley Eye Center and the under-construction Altman Clinical and Translational Research Institute building, also slated to open in 2016.
"More than 400 donors have already contributed to Jacobs Medical Center, supporting our efforts to redefine medicine here in San Diego," said Brenner. Donors recognized for their support at the event included Carol Vassiliadis, Miriam and Jerry Katzin, and Rita and Dick Atkinson. The Katzins and Atkinsons are the first to participate in the $25-million challenge.
"Today is a high point for UC San Diego, the community and for patients who travel here from around the world," said Viviano. "Soon we will have the largest, most technologically advanced hospital in the region, dedicated to offering specialized care for every kind of patient, in every phase of life."
The $25-million matching gift is predicated on UC San Diego raising $25 million for the Jacobs Medical Center project over the next 12 months. For more information, visit jacobschallenge.org.
Additional building facts and image galleries for Jacobs Medical Center are available here.
Photo courtesy of Paul Turang.
Posted October 25, 2013
More Articles: