Subscribe Now
Keep up with the latest news with our magazine and e-newsletter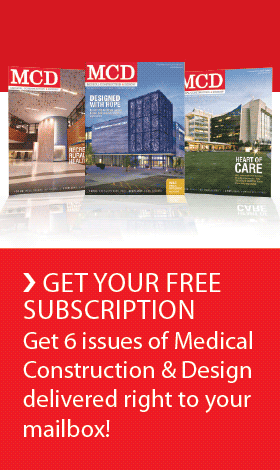 Subscribe to our E‑Newsletter
FORT WAYNE, Ind. — Administrators, employees, physicians and board members from Lutheran Hospital and Lutheran Children's Hospital joined community leaders and youngsters to celebrate the newly completed LCH emergency department. The group gathered to reveal creative, kid-friendly lobby elements during a ceremony that included the cutting of a paper chain made by children. The $2.4-million project spanning 7,108 square feet is located next to Lutheran's adult emergency department.
"Not all emergency rooms are the same; Lutheran's is now vastly different," said Brian Bauer, CEO, Lutheran Hospital and interim CEO, Lutheran Health Network. "Most hospitals have some dedicated pediatric patient exam rooms, but those young patients are sometimes exposed to the unsettling sights and sounds of adult ER situations. We wanted to change that experience. This new pediatric ER immediately establishes an environment that defines a child-friendly zone where children are the priority."
The pediatric emergency department will be staffed during every shift 24/7 by two pediatrics-trained nurses and it will be covered by physicians, nurse practitioners and physician assistants experienced with pediatric patients. The LCH ER also has a dedicated pediatric medical director.
"We are committed to very efficient care for every family who enters our doors," said Susan Frayer, MD, medical director of pediatric emergency services, Lutheran Children's Hospital. "I have been working closely with the LCH ER staff since I arrived in July and we are prepared to provide expanded, high-level service to the community. We love working with children—that's why we're here and I am confident that dedication will show in the care we give."
A key factor for initiating the LCH ER project was the hospital's awareness that children and adults often have different concerns and reactions when receiving emergency care.
"With more than 8,500 visits from patients under the age of 18 during 2012, and since we have the children's hospital here with dozens of specialties, it makes sense that Lutheran houses the community's pediatric ER as well," said Bauer.
The LCH ER is a secured department accessible only by special badge access.
Amenities include a separate waiting area, nursing station and seven private exam rooms. All exam rooms will have televisions and DVD players, access to video games, a rocker recliner and size-appropriate equipment for pediatric patients.
Children who are currently seen in the emergency department at Lutheran already benefit from the involvement of a child life specialist who strives to help make visits more pleasant by reducing the number of stressors a pediatric patient may face. And when medical imaging is required, such as an X-ray or CT scan, Lutheran utilizes protocols endorsed by the national Image Gently Campaign that was established to help hospitals promote safety and raise awareness of opportunities to lower radiation doses when imaging children.
Once the LCH ER opens Oct. 23, most pediatric trauma patients, specifically those transported by ambulance or air medical helicopter to Lutheran's Level II verified pediatric trauma center, will continue to receive care in the main emergency department upon arrival. Regardless of age, all low-acuity emergency patients who travel to the Lutheran campus on their own will use the same emergency walk-up entrance—located on the hospital's front circle drive—that they do now.
Even before the opening of LCH in July 1999, Lutheran was already building a reputation regionwide for providing families easy access to specialized pediatric care that had historically only been available in larger metropolitan areas such as Indianapolis, Ind. and Chicago, Ill. Today, LCH teams with 68 pediatricians from across the region and state practice in 20 areas of pediatric specialty. This "hospital within a hospital" offers an environment filled with imagination and color. The award-winning design of the tree house elevator, specially decorated rooms, hallways and waiting areas invite children and their families to focus on something other than the often unpleasant purpose of their visit.
Architecture and design services for the LCH ER were handled by MKM architecture + design. The general contractor was Weigand Construction. The project began in mid-April.
Posted October 21, 2013
More Articles: