Subscribe Now
Keep up with the latest news with our magazine and e-newsletter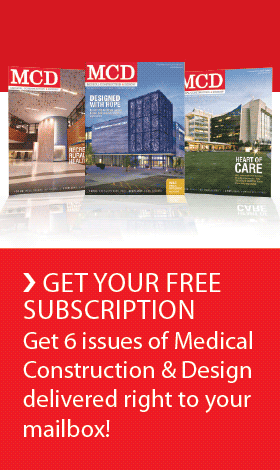 Subscribe to our E‑Newsletter
ASTORIA, N.Y. — Community representatives, elected officials and leaders of the Mount Sinai Health System today broke ground on the $125-million new building expansion and modernization project at Mount Sinai Queens to significantly improve healthcare delivery for local residents.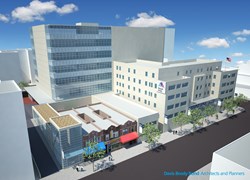 The new building will include a larger emergency department, to be named in recognition of a generous gift from The Stavros Niarchos Foundation; new operating suites; a multispecialty medical practice offering primary care, specialty care and urgent care and additional diagnostic and laboratory services. Mount Sinai conducted an extensive planning process for the new building, involving community groups, local leaders and elected officials.
The rebuilding process began in August 2013 and is expected to be complete in 2016. NK Architects and Davis Brody Bond served as architects. The builder is Skanska USA. Mount Sinai estimates that the expansion project will generate at least 460 construction-related jobs, 340 additional related jobs and add approximately $166 million to the local economy. About 160 staff jobs are also expected to be created at Mount Sinai Queens once the project is completed.
"Several of our hospitals—including Mount Sinai Queens—were founded well over a century ago, and all of our institutions are instilled with the same mission: to care for people of all ages and from across the socioeconomic spectrum," said Peter W. May, chairman of the boards of trustees of the Mount Sinai Health System. "Our new building and modernization project epitomizes our goals of giving patients the highly personalized care of a community hospital, with easy access to world-class specialists."
Overview of services to be expanded at Mount Sinai Queens:
Emergency department to feature 36 bays, eight observation beds, an off-street "drive-through" ambulance bay, separate walk-in entrance and a new imaging suite, including MRI, CT, bone density, mammography, X-ray and ultrasound.
Seven new operating rooms.
New primary care physicians in internal medicine, family practice, ob/gyn and pediatrics.
New specialists; e.g.,  cardiology, endocrinology, gastroenterology, general surgery, pulmonary, orthopedics, thoracic and vascular surgery.
Integrated laboratory services, allowing physicians to view blood test results before seeing patients, thus eliminating unnecessary return visits.
In addition, the new building will have new boilers, chillers and emergency generators which will supply the entire campus. In the existing facility, central air conditioning is being provided to all patient rooms, new windows are being installed and new cladding is being applied to the existing facade to match the exterior of the new facility.
Posted October 22, 2013
More Articles: