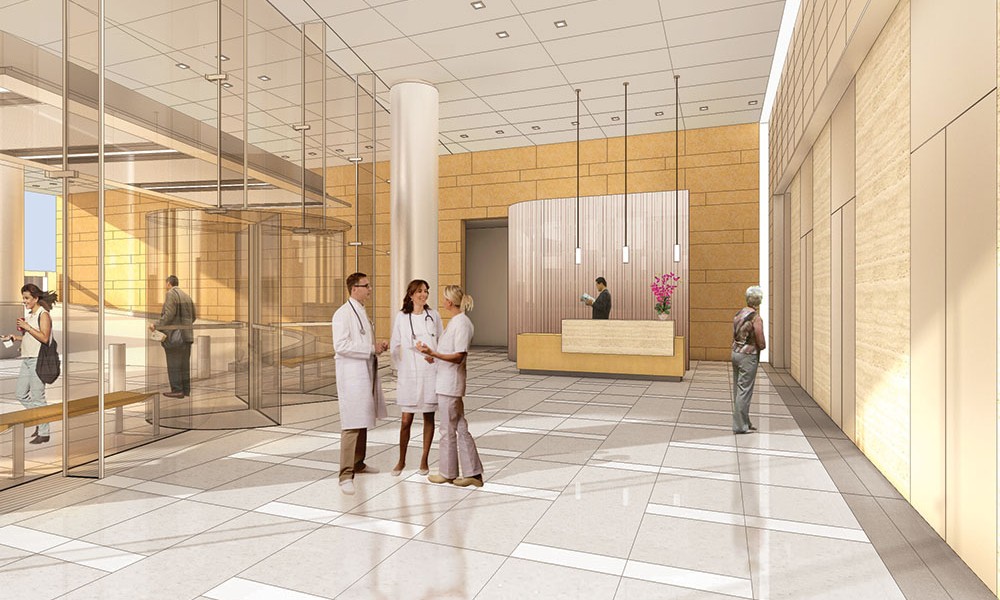 A concierge-style lobby created as a hospitality environment is located adjacent to a convenient drop-off/pickup drive.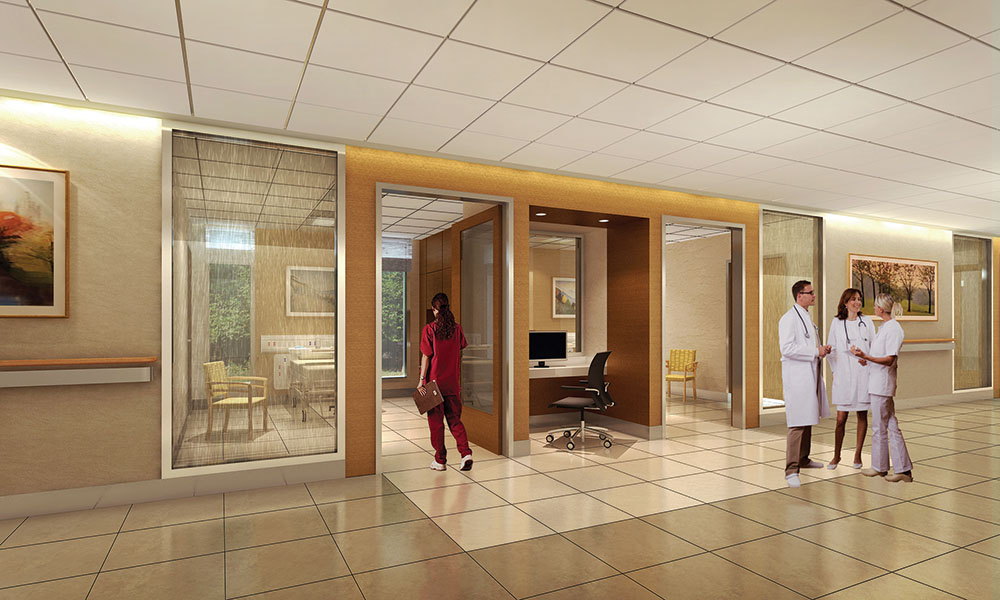 These private prep/PACU rooms offer views to the outside and an abundance of natural light. The surrounding areas are easily monitored by staff and provide space for patients to ambulate during a recovery period.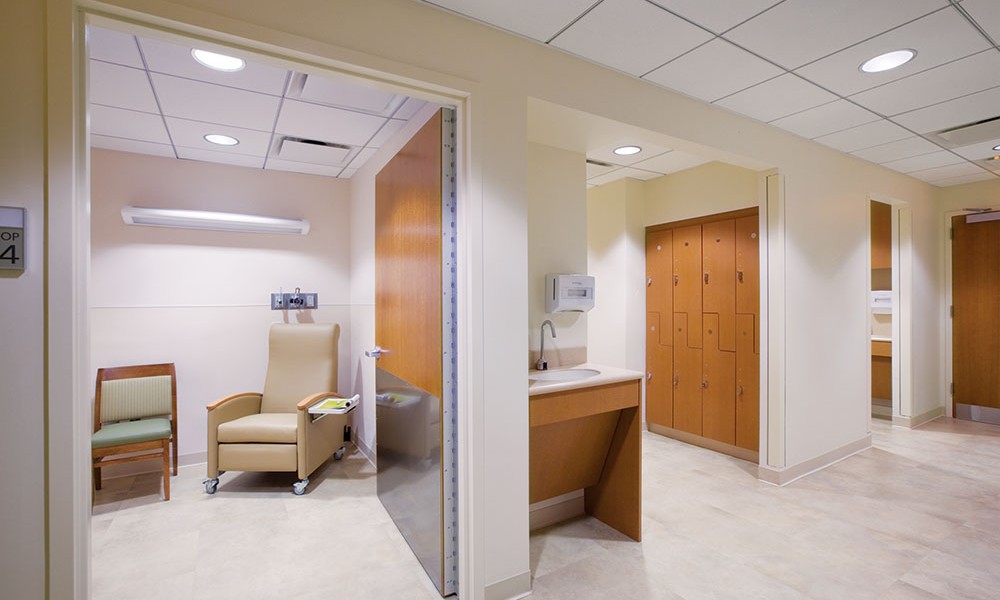 Individual prep/recovery rooms allow for private conversation and space for family members.
◀
▶
Subscribe Now
Keep up with the latest news with our magazine and e-newsletter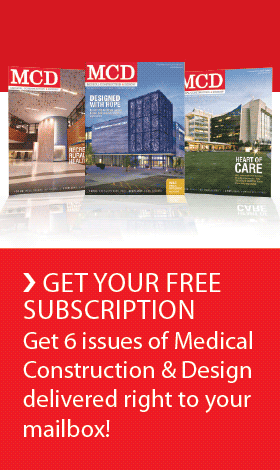 Subscribe to our E‑Newsletter
In recent years there has been a consistent trend to create easily accessible and efficiently planned ambulatory surgery facilities for healthcare systems. Following this development is the emergence of new alternatives to provide care for more specialized emergency, surgery and oncology patients within the parameters of an expanded outpatient setting. How is it that these clearly defined service areas — once considered primarily as inpatient care — have become integrated into an ambulatory center? Much of this new approach is driven by advancements in surgery and diagnostic treatment, which create less invasive procedures and minimize recovery time. By pushing the envelope of what can be considered a hospital setting, as opposed to a purely primary care environment, institutions can explore the grey area between the old, defining lines.
The vast difference between a traditional inpatient setting and an ambulatory setting is one term: admittance. Once one is admitted to a hospital and occupies a bed, one becomes an inpatient. Instead, the term "day surgery" — a minor procedure that will allow one to check in and out of the medical center in a matter of hours — is gaining in popularity.
Applying new medical practice and technology, this area of service has changed dramatically due in large part to robotic surgery, minimal-access laparoscopic surgery, advances in procedures and provisions for extended recovery times and recent changes in codes and zoning. This type of patient is referred to as the "23-hour patient," one who may use all of the services found in a traditional hospital setting but never be actually admitted to a bed overnight.
New protocols in surgery
Facilities are being designed now to deliver high-tech robotic surgical services for cases that previously were typically complicated inpatient procedures, but can now be done in separate outpatient facilities away from the main hospital campus. These procedures may require an extended length of stay of about 23 hours in post-surgery time in order to allow the patient to stabilize in a more relaxed timeframe and in a specialized healing environment and then sent home to fully recover. Some health officials now acknowledge these new methods as acceptable and remain in accordance with the stated guidelines. The process to reach approval for this variation requires a detailed discussion of how patient care will be provided.
Innovative recovery areas
The key to an extended-stay ambulatory surgery facility, which can handle a wider range of surgical cases, is to provide highly flexible prep/PACU areas beyond the usual minimums. Private recovery spaces allow more room for family members and caretakers in the patient space than curtained cubicles do and allow family to become part of the care team and assist with some services typically administered by nursing staff. Ambulation zones within the recovery area allow space for patients to get out of bed as soon as possible post-surgery and to walk with their caregivers in a secure and private area. Amenities in this area can include small lounge spaces, availability of refreshments, entertainment areas, quiet resting spaces and conveniently accessible dressing and toilet facilities. The goal is to encourage patients to return to a home-like condition as soon as they are able, rather than keep them admitted for bed and continued care.
Technology advances overall facility design
A "smart building" is one that utilizes available technology to identify patients and staff and then assists in the daily experience and supports work. As an example, an iPhone can interact with a "smart" system in a parking garage upon one's entrance to the facility and then direct the visitor to the most convenient parking area with available spaces, ideally closest to the appointment location. The iPhone continues to interact as the user exits the car, recognizing one has entered the lobby and receives easy-to-follow directions to a room or the department for an appointment. A visitor may receive a message, for example, stating the day's activities in the building, or a message announcing the availability of a healthy menu item in the café; or receive personal information, such as a positive blood test result. A smart building can even book future appointments, while also providing detailed pre-appointment instructive.
The medical staff working in the building may have a home base elsewhere on campus; the smart building interacts with staff in a similar manner, recognizing their entry and directing them to an available workspace on a particular day or providing a list of the day's patients along with the assisting clinicians or nurses. Test results and patient monitors are available via tablet or laptop, providing physicians with easy-to-access patient information, vitals and history and also an easy medium to update and share this data. Security and access is another positive feature of today's smart buildings, permitting only staff to specific areas, redirecting patients when necessary and advising on the best use of corridors or elevators to reduce travel time.
Institutional profitability
This new movement to create off-campus, extended-stay ambulatory surgery facilities as "hospitals without beds" presents multiple advantages to the health system. The construction of an ambulatory facility costs far less than a conventional hospital building. Since these structures are not required to provide the same safety standards for incapacitated patients restricted to bed care, ambulatory facilities are governed by less restrictive guidelines and code requirements. The construction type can be lighter and less protected and building systems — from lighting and ventilation to fire protection, medical gases, emergency power and communications — can be scaled back and made less complex. Both initial construction cost and ongoing maintenance costs are significantly less.
More critically, ambulatory surgery facilities can be planned as a business operation from the beginning, rather than beginning from a hospital model and trying to simplify processes and reduce costs. The new generation of ambulatory facilities is being designed with full patient amenities, making them a more desirable facility for patients and families to visit. A location away from the hospital campus can be more accessible and more attractive to patients. Staffing is the largest cost for any healthcare facility. Eliminating inpatient care greatly reduces the need for nursing, housekeeping and extensive support staff and offers the benefits of Lean design. This results in an operating model that is planned from the beginning in terms of generating revenue and turning profit and does not duplicate the support services provided on the main campus of the hospital. The ambulatory surgery program is focused and efficient, saving time and money for the healthcare system.
Taking the next step
Looking forward, many of the recent developments in Evidence-Based Design can be applied to enhanced ambulatory care facilities with improved effect. Hospital design standards worldwide have moved away from a focus on institutional care and the procedures of a large bureaucracy toward a more hospitality-like environment adapted to meet the needs of patients, families and staff. Many of the lessons learned, such as providing closer links to the outside world, creating healing gardens, using standard room types to encourage best practices in care, and providing positive distractions, all can be applied with more ease within an ambulatory care setting. Future facilities will offer not just convenient surgery and recovery services, but also will incorporate garden spaces, quality food service options, clear and intuitive wayfinding and useful amenities for patients and caregivers. Future technologies, such as improved imaging modalities, more extensive use of robotic surgery and procedures, and the use of new technology and communication systems will lead to further improved facility design and planning methods shaping the ambulatory care environment as the new standard for the future.
Author: Jeffrey Brand AIA, EDAC, is principal and a board member of Perkins Eastman.
Posted October 1, 2013
More Articles: