Subscribe Now
Keep up with the latest news with our magazine and e-newsletter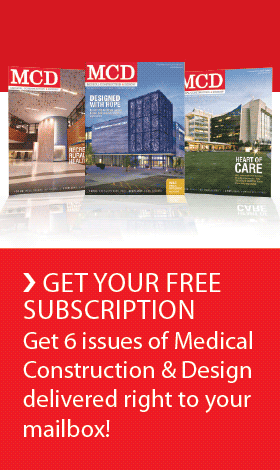 Subscribe to our E‑Newsletter
SANTA CLARITA, Calif. — McCarthy Building Companies, Inc. was recently awarded its second parking structure project at Henry Mayo Newhall Memorial Hospital.  Located on the hospital's medical campus in Santa Clarita, Calif., the $8-million parking facility is being built along McBean Parkway adjacent to the campus' main entry.
"The new parking structure will provide much improved access to the front entrance of the hospital for our patients and visitors.  It will also support the additional parking needs of our soon-to-be-built inpatient bed expansion to meet the needs of our growing community," said Roger Seaver, president and CEO of Henry Mayo Newhall Memorial Hospital.  "We are happy to partner once again with McCarthy, certainly the best in the field."
McCarthy is serving as design-build contractor and SHP Project Development is the construction manager for the 116,544-square-foot structure. With 351 parking stalls, the new parking facility is being built to serve the main hospital with secondary service to a new Medical Office Building currently under construction.  The project is scheduled to begin construction in March 2014 once the new MOB1 is completed.
Designed by Choate Parking Consultants, the four-level design-build parking structure will be built with one level at grade and three levels underground in order to maintain an unobstructed view of the main hospital.  The elevator and ventilation shaft core at the corner of the structure will mimic the color palette of the adjacent MOB1 creating a unified appearance.
"Construction of subterranean parking structures always creates some interesting challenges," says McCarthy Preconstruction Director Joseph Chung.  "In order to build the underground parking facility, McCarthy will need to provide temporary shoring and lagging, as well as waterproofing on all sides of the perimeter retaining walls. To reduce costs, McCarthy was able to eliminate the shoring on one side by excavating a temporary slope along that particular side of the structure."
Furthermore, Chung says the project requires substantial structural design coordination with the sequence of the cast-in-place concrete construction to minimize the post-tensioning forces (i.e., "pull-in effect") on the perimeter concrete retaining walls which will be connected to the superstructure.  "An abundance of different options were evaluated to determine the best structural design solution," says Chung. "We spent a considerable amount of time collaborating with our structural engineers and coordinating our schedule with the construction sequence. We also needed to accommodate the necessary delays required to properly cure the walls in order to minimize the shrinkage."
McCarthy plans to build this complex parking structure within an aggressive schedule of approximately eight months.
"To help ensure the project timeline and build it as efficiently as possible, McCarthy will use its own concrete crews experienced in using a pre-engineered Cunningham Deck and Beam Forming System to construct the structure," explains Chung.  "The deck and beam structural design, which features long span, post-tensioned, cast-in-place concrete beams and decks, will allow us to re-use our formwork system from level to level, and we can construct the facility without the use of a crane and hoisting of materials. This process helps to maximize labor productivity and shortens the overall duration of the elevated deck pours."
Chung says other project complexities include working on a live hospital campus while minimizing interruption to existing operations and keeping all access roads open throughout the project. "Our plan is to remain as invisible as possible while working on the Henry Mayo Newhall Memorial Hospital campus, just as we did when we built their first parking structure a few years back," says Chung.
The parking structure is scheduled to complete construction by November 2014 and open a month later. Some of the other major project team consultants involved in the Henry Mayo Newhall Memorial Hospital parking structure project include: Ficcadenti, Waggoner and Castle – Structural Engineer; Alliance Land Planning and Engineering, Inc.– Civil Engineer; Bergelectric Corporation – Electrical Engineer/design-build subcontractor; Thermalair, Inc.-Mechanical Engineer/design-build subcontractor and IDLA Landscape Architecture, Inc. – Landscape Architect.
Posted October 16, 2013
More Articles: