Subscribe Now
Keep up with the latest news with our magazine and e-newsletter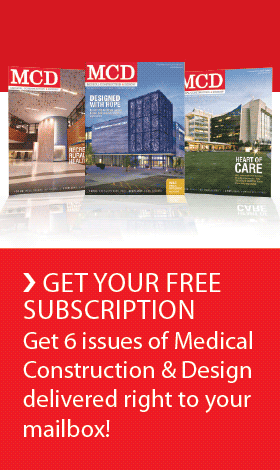 Subscribe to our E‑Newsletter
By Dane Taival
Most hospitals and medical centers have contingency plans in place to help manage the consequences of natural disasters and building system failures that could impact normal operations and affect the healthcare organization's ability to provide its normal high standard of patient care. A heating, ventilation and air conditioning or power system failure could have potentially devastating effects on the physical environment of care and — in the most severe cases — create life and death situations.
Comprehensive facility contingency plans need to include well-thought-out, up-to-date HVAC and power recovery plans that both reduce risks and prepare the facility to accommodate the temporary systems often needed to get the hospital back in business.
Healthcare organizations rely on construction and design partners to help ensure that facilities are set up to enable the rapid deployment of the temporary systems needed to sustain critical operations in the event of an emergency.
HVAC rental service companies offer temporary solutions
An HVAC rental service company can help healthcare organizations develop and implement plans to effectively meet heating, cooling and power needs when permanent systems go down, regardless of the reason. Larger rental companies have solutions staged at various locations nationwide to respond quickly to their customers' needs.
Rental systems are usually modified with special framing, piping and electrical features that make delivery, installation and startup fast and efficient. For their part, construction and design professionals can help customers by making it quick, easy and cost-effective to connect temporary solutions to the facility.
An effective contingency plan identifies the best place to position temporary systems on the site and how the systems will be connected to the building. This includes determining whether current electrical service is sufficient to operate temporary solutions, such as a chilled water system or supplementary HVAC units. There is no substitute for having the right connections for electrical, water and air ducts when it comes to speeding response time during a crisis situation.
For example, last hurricane season administrators at a regional hospital in Louisiana did not have to worry about whether Hurricane Isaac would knock their facility off the power grid because hospital officials planned ahead. As the storm approached, a rental generator was onsite to keep the lights burning, the HVAC running and life-saving medical systems working.
Because the hospital had a proactive power and HVAC contingency plan in place, the facility management team was able to contact its temporary power and HVAC solutions partner and have the generator installed and ready to power the facility in about 24 hours.
Another large hospital in North Carolina suffered through a major outage during a citywide power failure, convincing the administrators and facility leaders of the need to develop and implement an HVAC and power contingency plan. The plan included installation of external power connections for a temporary generator and pipe connections to tie a temporary chilled water system into the existing system. These access points will allow for much quicker installation of temporary rental systems in the event of an unplanned system failure.
A nursing home in South Carolina developed a plan to reduce risk and prepare for rapid deployment of temporary systems if needed. The building's chiller was nearing the end of its operational life, so the facility team installed additional connections to the chilled water system in the event the old chiller failed completely. Work was completed about three months before the chiller broke down.
Rental HVAC systems can also be used to handle heating and cooling needs while scheduled maintenance is performed on a hospital's permanent system. With proper preparation, temporary solutions can be installed quickly and efficiently, giving technicians the time needed to service permanent systems without disrupting healthcare operations. Rental solutions can also be useful for short-term dehumidification needs — after painting, drywalling or hardwood floor refinishing, for example.
Contingency plans essential to crisis response
Every healthcare organization needs to include a power and HVAC contingency plan as part of its comprehensive crisis-response plan. An effective power and HVAC contingency plan reduces financial risk, protects the health and safety of patients and staff, and provides peace of mind for the administrators and the community.
Steps hospitals can use to evaluate, analyze, create and implement a contingency plan that meets specific needs include:
Assess the financial, operational and patient impact of a disruption in power or HVAC service. Experienced contingency service providers can help hospitals estimate the true costs of unplanned downtime, which go far beyond the cost of repairing systems in a crisis mode.
Identify potential causes of system failure — including natural disasters, power outages, equipment failures or even sabotage — and rank them based on probability, potential to disrupt normal hospital operations and financial cost.
Commission a critical system audit to identify mission-essential power and HVAC systems and evaluate their current operating condition. Address performance problems and document potential failure points. Many hospitals will engage a third-party expert to help with the audit.
Identify areas within the hospital that would have the greatest impact on mission-essential operations and the bottom line were an unplanned service interruption to occur.
Develop and implement the HVAC and power contingency plan. Provide training and conduct drills to verify the process and identify areas for improvement. Make required building modifications. Review and update the plan each year or whenever there is a significant change in the facility, such as a building modification or expansion.
Identify reliable, experienced contingency planning consultants and temporary solutions providers. Leading contingency planning consultants have proven tools to ensure that the hospital develops a complete, effective and useful contingency plan that does not just gather dust.
Hospital construction and design professionals can play a key role in helping customers prepare for potential crisis situations, so it is important to understand the thinking behind HVAC and power contingency planning. An effective, well-understood and broadly shared contingency plan enables a hospital to minimize service interruptions, reduce capital loss, maintain or restore normal operations sooner and create peace of mind for staff, patients and other stakeholders in the community.
Author: Dane Taival
Dane Taival is leader of the North America service, supply and contracting business for Trane, a global provider of indoor comfort solutions and services. In this role, Taival is responsible for developing and delivering commercial building modernization and improvement services and solutions.
Posted October 1, 2013
More Articles: