Subscribe Now
Keep up with the latest news with our magazine and e-newsletter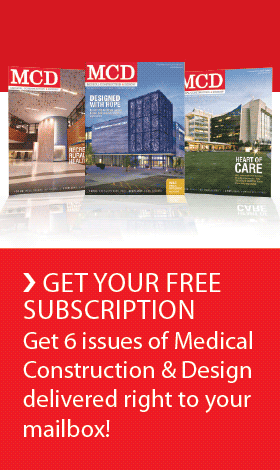 Subscribe to our E‑Newsletter
PHOENIX, Ariz. — The Phoenix VA Health Care System of Arizona has opened its new 37,000-square-foot new Rehabilitation Medicine Building.  Located at Indian School Road and Seventh Street in Phoenix, the new addition co-locates physical medicine and rehabilitation services with prosthetics services.
Westlake Reed Leskosky of Phoenix, Ariz. is serving as architects, engineers and technology designers for the $8.5-million project.  Westlake Reed Leskosky provided medical programming and planning, architecture, mechanical, electrical and plumbing engineering, structural engineering and interior design services.  RCDS Contractors, Inc. of Glendale, Ariz., is general contractor.
The rehabilitation program is located on the 13,500-square-foot first floor of the new addition.  The rehabilitation programs include physical therapy, occupational therapy, kinesiotherapy, acts of daily living and driver training.  The area also includes four electromyography rooms and administrative offices. Prosthetics services occupies the 13,500-square-foot second floor of the addition, and includes exam rooms, amputee evaluation, wheel chair repair, shoe modification, administrative offices and prosthesis laboratory work areas. In addition to bringing physical medicine, rehabilitation and prosthetics services under one roof, the new addition is constructed with a partial basement and is designed to accommodate expansion in a third floor.
Sharon Helman, medical center director said, "The Phoenix VA Health Care System is committed to delivering healthcare to veterans with physical medicine and prosthetic needs.  As we honor our commitment to our nation's heroes, we are proud to announce the grand opening of a new rehabilitation medicine building."  She continued, "These services are key to expanding services to veterans in Phoenix, which has seen long-term growth over the last ten years."
Rebecca C. Olson, AIA, LEED AP, principal and director of the Phoenix studio of Westlake Reed Leskosky, explains the design solution of building in flexibility from the start. "Another goal of the VA is to be able to build a third floor for storage initially, and as a future surgery suite expansion.  As a part of this design effort, the VA requested that Westlake Reed Leskosky investigate, program and plan the relocation of their current surgery suite to the third floor.  We also looked at how this addition could be expanded to the west for additional clinic space as part of the master plan for the facility." Experienced in leading integrated project delivery and healthcare facilities, Ms. Olson is currently serving on multiple projects with multiple design teams and hospitals for the Veterans Administration Healthcare Systems in Arizona, California, New Mexico and West Texas.
As part of the design services for the Rehabilitation Medicine Building, Westlake Reed Leskosky modeled the existing chilled water distribution system using the PipeFlo software to identify capacities at different areas of the loop, and to evaluate the necessity of another chilled water loop.  This design optimizes the funding available and provides more efficient and functional co-located programs.
Per federal mandate, the new rehabilitation medicine addition was designed to LEED Silver criteria, but will not seek certification.  The new addition was documented in BIM with all disciplines except civil engineering and landscape.
Rick Cordova, president, RCDS Contractors, Inc. says, "This particular project was challenging because of confined work area and the task of building adjacent to and connecting to a fully operational healthcare facility.  Our staff worked hand in hand with WRL and the Phoenix VA to minimize impacts to patients and employees who visit and work here every day.  Being a service-disabled veteran, who also receives care at this facility, I am proud to deliver this state-of-the-art facility to the Phoenix VA and to fellow veterans."
Posted September 23, 2013
More Articles: