Subscribe Now
Keep up with the latest news with our magazine and e-newsletter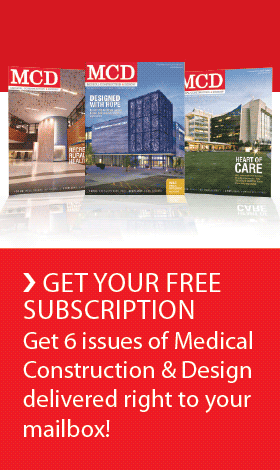 Subscribe to our E‑Newsletter
The Healthcare Facilities Symposium & Expo is where industry leaders, from design firms to healthcare owners, come together for three days to hear best practices, collaborate, share research and gain fresh perspectives.  The mission of the symposium is to create a multi-disciplinary environment that inspires attendees to evoke change and the advancement of a better delivery of healthcare through the physical space.  The symposium will take place Oct. 1 – 3 in Chicago with pre-conference events on Sept. 30.
The symposium's conference program will feature over 80 sessions that will address the relevant trends and issues facing the industry from Lean, disaster response and integrating technology, to how healthcare reform will impact the design and construction of healthcare facilities.  Case studies and instructional sessions presented at the symposium will feature representatives from all stakeholders in the healthcare and design sectors, including healthcare owners, architects, engineers and interior designers.   Breaking away from the traditional lecture format, the symposium offers attendees opportunities for group discussion and facility tours, enabling them to interact with each other and different healthcare environments.
"The symposium conference program  features speakers from a broad array of disciplines, " said Julie Barkenbush, BSN, MHA, CEO, Devenney Group Ltd., Architects. "Healthcare owners are included in most sessions and that owner's perspective is critical to understanding  the successes and lessons learned from a project."
The symposium will also feature a healing garden in the exhibit hall, designed and sponsored by Aquascape Designs, Hitchcock Design Group and Unilock. Combining therapeutic and design elements to create a garden with true healing qualities, the healing garden will be an educational and relaxing destination for attendees during their time at the event.
The 2013 symposium includes:
80+ conference sessions featuring cutting-edge case studies presented by thought leaders and industry authorities.
Exclusive networking opportunities on the show floor and off-site, including The Symposium Party with activities, music and the annual raffle which will benefit Hines Fisher House, a home for caregivers or loved ones of patients receiving medical care at major military and V.A. medical centers.
200+ exhibits showcasing the latest products and solutions for healthcare design and construction.
A specialty panel on a hosted design charette presented by The CARITAS Project and the AIA Chicago Healthcare Knowledge Community: Creative Inspiration from Students, titled: Innovative Design Solutions to "Creating Generative Space Environments for an Aging Population that Create 'A Place to Flourish' Throughout the Continuum of Experiences".
Facility tours of the Little Company of Mary Hospital Transformation Project, Alexian Brothers Women and Children's Hospital at Saint Alexius Medical Center and Medical Planning for the University of Chicago Medicine, Center for Care and Discovery.
For more information, visit www.hcarefacilities.com.
Posted September 16, 2013
More Articles: