Subscribe Now
Keep up with the latest news with our magazine and e-newsletter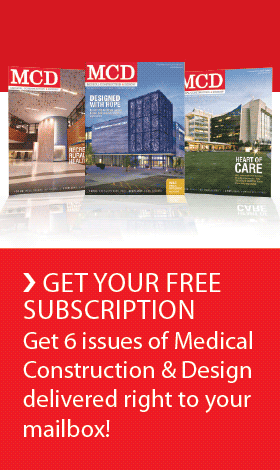 Subscribe to our E‑Newsletter
The new Kaiser Permanente Westside Medical Center in Hillsboro, Ore. opened Aug. 6, featuring 126 beds, eight operating rooms, 27 treatment rooms in the emergency department and the regional center for total joint replacement surgeries and robotic surgeries. The facility was built by Andersen Construction and designed by AECOM. 
The facility is the first new hospital in Washington County in 40 years and Kaiser Permanente's 38th hospital nationally. The hospital, just outside of Portland, Ore., is also Kaiser Permanente's first LEED Gold-certified hospital, built to be a healthful, durable, affordable and environmentally sound medical center. The medical center is part of a two-hospital system in the Northwest that provides integrated and coordinated patient-focused care to deliver increased wellness for patients.
"Patients are the heart and soul of the hospital, so we made sure that no aspect of care was overlooked," said Andy McCulloch, regional president, Kaiser Permanente Northwest. "From plenty of natural light to soothing color schemes and art, we've thoughtfully designed the facility to foster healing and deliver care that addresses the full range of patients' needs – mind, body and spirit."
Multi-lingual signs, touch-screen directories, automated check-ins and printable maps and schedules enable patients to access care quickly. Artwork and colors were specially designed to create an environment of healing throughout the campus.
Imelda Dacones, M.D., chief of staff and chief medical officer of Westside Medical Center, said advanced technology has been incorporated throughout the facility, such as bedside computers exclusively for patients to use for education and entertainment.
"We also have a patient advisory council that helps us guide our decisions in shaping the care experience for every patient," Dr. Dacones said.
Patients also have access to an electronic care board that informs their families and care teams of essential information, all on the same page, updated in real time. In addition, primary care physicians and specialists can view each other's treatment notes in real time through the member's electronic medical record. This allows for a thorough and accurate exchange of information, which can help keep members healthier.
Posted August 13, 2013
More Articles: