Subscribe Now
Keep up with the latest news with our magazine and e-newsletter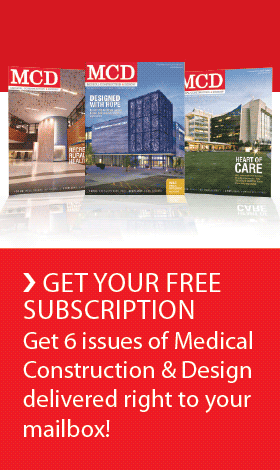 Subscribe to our E‑Newsletter
Joint venture construction manager Korte & Luitjohan Contractors, Inc. and McCarthy Building Companies, Inc., worked closely with representatives from St. Joseph's Hospital (Highland, Ill.) and Springfield, Ill.-based Hospital Sisters Health System, of which St. Joseph's Hospital is an affiliate, to build a new $63-million hospital campus on a 14-month schedule.

The project broke ground April 1, 2012 on a greenfield site about a mile north of the existing 63-year-old hospital and was substantially complete May 31 of this year.  The hospital will be open to the public August 22.
The new St. Joseph's Hospital campus – which encompasses more than 125,000 square feet – includes a single-floor hospital built with a steel frame, brick, stone and glass exterior and a mansard roof over the patient wings. The hospital is connected to a new three-story medical office building, which includes about 40,000 square feet of leased space.
Richmond, Va.-based Odell Associates served as architect and Rome, Ga.-based Adams Management Services represented the owner.
"The new hospital has been designed to emphasize healing and wellness with a focus on outpatient treatment and therapy, allowing patients to avoid unwanted overnight stays and assist healing at home," said Peggy Sebastian, CEO of St. Joseph's Hospital in Highland.
All inpatient rooms are private; each room has a "family zone" which allows guests a comfortable space to visit or even sleep. Large windows offer views of the surrounding countryside, easily observed from the patient's bed.  The facility also provides high-speed wireless access to patients and visitors throughout, as well as a Wi-Fi Café positioned near the inpatient wing that will be open 24 hours a day for the convenience of family and friends.  Outdoor spaces, such as a Franciscan healing garden, have been designed to offer destinations for relaxation and personal reflection.
"We have invested nearly $63 million to create a healing environment that provides a high-quality, Franciscan patient experience," says Sebastian. "The new state-of-the-art St. Joseph's Hospital combines technology with an efficient floor plan design to maximize patient care and resource utilization."
The project was completed using an aggressive schedule which required collaboration from the hospital, design and construction teams. This diverse group of hospital and construction personnel worked seamlessly from start to finish to complete St. Joseph's Hospital. "We had a great team working together on this project," said McCarthy Building Companies, Inc. Project Director Jeff Boyer.  "Everything went smoothly from groundbreaking to our project walk through with the Illinois Department of Health inspectors in late July." Boyer was pleased they were able to utilize subcontractors from the area, thus supporting the local economy.
"Korte & Luitjohan is pleased to be part of bringing this facility to a reality for our local community. We are happy to have been able to play a part in bringing many local contractors together in the building of this great hospital," says Gregg Korte, vice president of Korte & Luitjohan Contractors.
The construction team used Bluebeam document control for collaborative document management, and mobile kiosks located in the field enabled all jobsite staff to have access to project information in real time.  Rapid changes were tracked and documented as they were developed with the design team and implemented in the field to minimize rework and improve overall project efficiency.
Posted August 6, 2013
More Articles: