Subscribe Now
Keep up with the latest news with our magazine and e-newsletter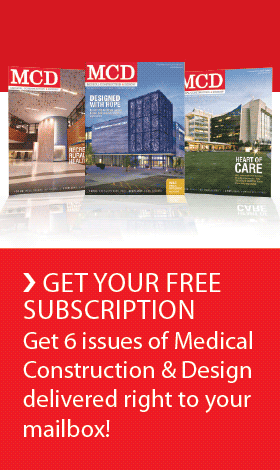 Subscribe to our E‑Newsletter
NEW YORK, N.Y. – NXT Health, a nonprofit organization dedicated to collaborative design innovation to improve the delivery of care, unveiled Patient Room 2020, an interactive healthcare living laboratory that responds to needs of doctors, nurses, patients and their families by creating a safer, more streamlined, integrated and restorative environment.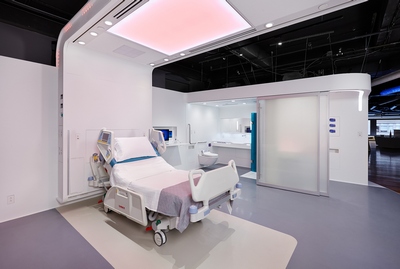 NXT Health quickly recruited more than 35 product and service partners to contribute to the creation of Patient Room 2020 through product and service donations, so that it could deliver on its promise to create an environment that could solve some of the greatest challenges facing healthcare design and delivery now and into the future. Partners range from lighting design experts and specialty glass manufacturers to custom fabricators. To see a full list of partners, click here.  The room is installed in a custom space at the DuPont Corian Design Studio in New York City, which is owned by DuPont, Evans & Paul, and Dolan & Traynor.
"Hospitals have to do more with less, medical decisions require even more analysis, and we are more dependent on specialized technologies to most effectively treat patients and create an environment in which providers can thrive," said Salley Whitman, executive director of NXT Health. "By streamlining complexities and leveraging Evidence-Based Design and innovation tools, Patient Room 2020 is a catalyst for industry leaders concerned with solutions that save lives, time and money."
The 400-square-foot patient room prototype leverages a broad collection of technologies that addresses five key aspects of design: the Patient Ribbon, Patient Companion, Open Bathroom, Caregiver Workstation and Caregiver Hub. For example, the room integrates versatile and modular elements, such as the Patient Ribbon—which allows easy access to electrical, technology and gas components — and the Patient Media Center, which helps facilitate collaboration between caregivers, patients and visitors. It also provides connectivity to entertainment, information and hospital services.
Key technologies integrated into the design of the room include:
Patient Ribbon: collects many of the disparate elements commonly found in healthcare environments into a single, streamlined, patient-centered design response that encompasses headwall to footwall.
Patient Companion: combines two ubiquitous elements, an over-bed table and a touchscreen tablet, to form a single piece of mobile furniture that could be utilized in a wide range of healthcare settings.
Open Bathroom: adaptable bathroom concept that features a sliding door system which can be reconfigured based on care needs.
Caregiver Station: entry workstation featuring integrated hand-washing indicator lights, concealed accessories and RFID enclosure.
Caregiver Hub: deployable bedside work area with embedded technology, simulated UV light sanitization and wireless device charging stations.
"We're incredibly supportive of NXT Health and their vision of creating solutions through collaborative design," said Susan Homan, commercial marketing manager, DuPont Surfaces. "The DuPont Corian Design Studio is an ideal home—and incubator—to further test the full-scale prototype and engage with architects, designers and healthcare professionals."
For more information, visit www.nxthealth.org.
Posted July 17, 2013
More Articles: