Subscribe Now
Keep up with the latest news with our magazine and e-newsletter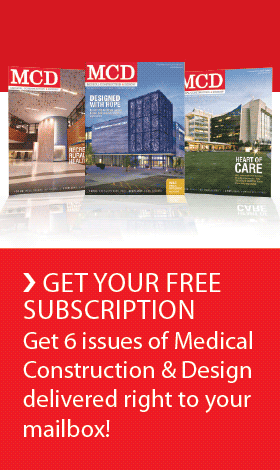 Subscribe to our E‑Newsletter
ASHEVILLE, N.C.  — Mission Health added more than 200 local jobs to the Asheville, N.C. economy during its renovation of its 1 Hospital Drive building, which will be opening its doors to patients.
Construction began in January 2013 on the six-floor structure, and included the demolition and rebuilding of all floors that Mission Health will occupy.  New finishes, air handlers, sprinklers and plumbing were added to all floors.
Contractors and subcontractors hired for the renovation include:
General contractors:  Beverly-Grant, Inc. and H&M Constructors, of Asheville
Electrical: Emory Electric, Lee Lyda Electric and MB HAYNES Corporation, of Asheville
Framing and drywall companies: Appalachian Drywall Systems, JKP Specialty Contractors, Inc. and Xtreme Drywall Services, of Asheville; and TCB Construction Services, of Marshall, N.C.
Mechanical and plumbing contractors: MB HAYNES Corporation, of Asheville; and Johnson Controls and ShoffnerKalthoff Mechanical Electrical Service, with offices in Asheville
"We made a conscious decision to hire contractors with a strong local presence to renovate 1 Hospital Drive rather than pursue large contractors from outside of North Carolina," True Morse, vice president of facilities at Mission Health, said. "By hiring these companies, we are able to impact Asheville's economy in a positive way, funneling the money back into our neighborhoods."
The building at 1 Hospital Drive will house a range of healthcare services, including care management, health education, inpatient glucose staff offices, medical weight management programs, medication assistance, nicotine dependence programs, senior services and orthopedic-trauma, trauma and wound clinics.
"We are honored to have been selected for this project by Mission Health," Brett Cannady, president of H&M Constructors, said.
Floors are now numbered 1-6 instead of the prior G-5 arrangement. The former G Floor is now the 1st Floor, for example. A tentative move-in schedule over the next two months includes:
Fourth Floor Wound Clinic: moved in and will begin seeing patients June 24
Fourth Floor Trauma and Ortho Trauma Clinic: early July
Fifth and Sixth Floors: June 27 through July 26
First, Second and Third Floors: August through early September
The exterior and deck of 1 Hospital Drive were recoated and colored to better tie in to the surrounding Mission Health facilities. The Fourth Floor connects to St. Joseph's Hospital via a bridge.
For more information, visit mission-health.org.
Posted June 20, 2013
More Articles: