Subscribe Now
Keep up with the latest news with our magazine and e-newsletter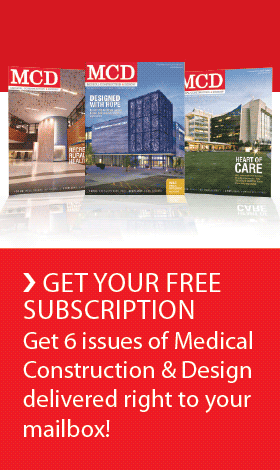 Subscribe to our E‑Newsletter
CHICAGO, Ill. – Ann & Robert H. Lurie Children's Hospital of Chicago is marking its one-year anniversary at its new location in downtown Chicago, Ill.  Formerly Children's Memorial Hospital, the facility made its historic move from its 130-year Lincoln Park home on June 9, 2012. The state-of-the-art children's hospital is now on the campus of its medical partner, Northwestern University Feinberg School of Medicine.
"Since our move to the medical campus we have been able to recruit more than 50 top pediatric specialists in areas such as plastic surgery, endocrinology and critical care," said Patrick M. Magoon, president and CEO of Lurie Children's. "Our research capabilities have doubled with a dedicated Clinical Research Unit and the transports to our critical care areas including the Regenstein Cardiac Care Unit have increased by 18 percent. Clearly this new facility is helping to further our mission to provide superior care to the region's most critically ill and injured children."
The hospital's patient satisfaction scores have continued to improve with 90 percent of its inpatient families saying they would definitely recommend the hospital and 90.7 percent saying they would recommend its outpatient services. The 36-room Regenstein Cardiac Care Unit – one of the few of its kind in the nation – boasts a patient satisfaction rate of 88 percent.
"Families couldn't be happier," said Kathie Seerup, RN and critical care administrator. "We want the patients to feel is if they are being taken care of by family – clinical staff who see them from the moment they are sick to the moment they recover."
Neonatal Intensive Care Unit families are also pleased with Lurie Children's. In the past, a baby that needed the services of its NICU would have a ten minute ambulance ride from Prentice Women's Hospital to the Lincoln Park campus. But a bridge that connects the two facilities expedites life-saving treatments and allows new mothers to be with their critically ill babies.
"The overall design of Lurie Children's was created to better integrate patient safety, quality and the overall family experience," said Maureen Mahoney, who is overseeing the hospital's newly created Center of Excellence. "As we prepare for the new healthcare environment, this facility and our expertise have put us in a position to achieve better clinical outcomes."
The hospital has won four healthcare facility design awards for its kid-friendly interiors including the Society of Critical Care Medicine's International ICU Design Citation Award for the Lefkofsky Pediatric Intensive Care Unit for its functionality and healing environment. The hospital is partnering with the internationally recognized Center for Health Design to examine the impact of hospital design on stress levels in hospitalized children and their parents.
"Lurie Children's would not have been possible without the support of the entire community and the more than 250,000 donors," said Magoon. "We have always had the most exceptional clinical staff and now we have a world-class facility to support the future of pediatric medicine."
Posted June 10, 2013
More Articles: