Subscribe Now
Keep up with the latest news with our magazine and e-newsletter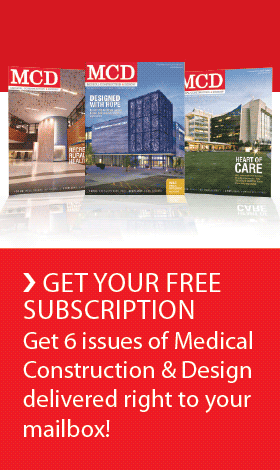 Subscribe to our E‑Newsletter
Original artwork has long been a part of the corporate environment, used to enhance common spaces, boardrooms and private workspaces. Companies have made art central to their corporate brand, building regional and national collections to support artists, create positive work environments and reach out to the community. Yet hospitals and healthcare facilities often have lagged behind the corporate world when it comes to art collection. With the increasing demand to contain costs while improving patient outcomes, hospitals often focus on operational efficiencies and new technology to deliver superior care.
Growing research points to certain intangibles just as important to the healing process and patient comfort. Such features as soothing interior color finishes, hospitality features in the patient rooms, natural light and views to the outdoors all contribute to a positive environment and patient's well-being. With this in mind, artwork is more than just an add-on. In today's well-planned hospital, artwork is part of the planning conversation from the beginning — an integral design component to meeting the medical and emotional needs of patients.
When properly integrated throughout a hospital, artwork can become a defining feature that reflects a hospital's values and brand. Yet many healthcare providers may not know how to build an art program — or fund it, for that matter — when more pressing financial needs take precedent. Taking cues from the corporate world, many hospitals have formed art advisory committees or hired an in-house curator or outside consultant to help with such crucial decisions as funding, acquisition, artist support, aesthetics, appropriateness, display and safety.
Proper planning enables a hospital to build a meaningful collection that enhances the healthcare environment and reflects the community. Ultimately, though, the question remains: Does art improve the patient experience?
Many hospitals nationally have begun to answer that question by building impressive artwork collections displayed in lobbies, reception areas, family spaces and patient rooms.
Enhancing the patient, visitor experience

At the Dana-Farber Cancer Institute's Yawkey Center for Cancer Care in Boston, Mass., for instance, the hospital displays approximately 500 collected works by regional and national artists representing contemporary, pop, abstract and representational art in diverse media. The Institute's Art and Environment Committee steers the collection. Jane B. Mayer, chair of the Art and Environment Committee, says the program is a great way to introduce patients to artists and media that they might not ordinarily encounter.
Butler Health System in Butler, Pa., took a similar approach when planning its new bed tower expansion, which was completed in summer 2010. Located approximately one hour outside Pittsburgh, Butler Hospital sits atop a hill in an established residential area lined with large sprawling trees. The entire 52-bed tower is designed to reflect the community's values and history. Area residents lobbied extensively to keep the hospital in the neighborhood when Butler first planned the new hospital, so the expansion is a testament to the community's passion.
The bed tower is part of Butler's multi-phase, long-term plan to expand and upgrade its healthcare services throughout the region. Connected to the existing hospital, the brick bed tower includes a glass vestibule that serves as the new main entrance. Abundant natural light, private spaces for patients and visitors and separation of public spaces and backstage spaces contribute to a soothing environment that emphasizes patient dignity and safety. From the lobby to the private patient rooms, interior finishes reflect regional design influences. Cherry wood, patterned floor and wall finishes, textural fabrics, natural light and various art forms reinforce the region's natural beauty. The design projects an image of high-quality care comparable to a large-city hospital.
From the early planning stages, Butler envisioned art as integral to the bed tower and included funding in the operational budget. Instead of turning to an in-house art advisory committee, Butler sent an RFP for an art consultant. Butler eventually selected Laura Domencic, director of the Pittsburgh Center for the Arts, a nonprofit visual arts center that supports emerging and established artists regionally.
An artist herself with a Bachelor of Fine Arts in painting, drawing and printmaking from Carnegie Mellon University, Domencic worked closely with the design team and Butler's leadership to develop an art acquisition plan that reflects the community heritage with commissioned art from artists within a 150-mile radius. This included developing guidelines for appropriate art and media, as well as identifying locations within the bed tower for display in the lobby, common spaces, corridors, reception room and, most importantly, patient rooms.
"We wanted accessible original art that was comforting, peaceful and promoted healing," Domencic said. "We also wanted art that reflected the region, as seen in western Pennsylvania's rolling wooded hills studded with white pine, oak, chestnut, maple, birch and other trees, the open farmlands and such architectural landmarks as Pittsburgh's many bridges."
Built-in support

The architecture itself was designed to accommodate artwork, with insets and alcoves above patient beds and in the corridors. The art is displayed strategically throughout the hospital to create visual landmarks and serve as wayfinding tools.
"Rather than dotting entire corridors with art, we chose to provide a collection, a pair or a single special piece of art in key locations such as ends of corridors and near intersections where visitors need to stop and orient themselves," Domencic added.
Most prominently is the curving wood installation suspended from the atrium ceiling of the community-focused Knowledge Center, an education center that includes 150-seat lecture hall, multiple conference rooms, simulation center, boardroom and break-out space. In the center, artist Michael Stadler crafted regional wood into a sinuous "Roots" sculpture that glides under the sunlight streaming through the skylights. Visitors' eyes are drawn upward and outward, to the sculpture and then beyond to the sky. Similar wood pieces by Stadler highlight walls above seating areas.
In other areas, regionally inspired art enhances the spaces. Photographs of Butler County by Brian Cohen line the walls of the Knowledge Center's gallery-like break-out space. A series of his three-paneled agrarian photographs — such as a bucolic barn off a country road — identify floors on the elevator lobbies. Bridge images by photographer Kaoru Tohara recall Pittsburgh's architectural heritage. And in the 52 patient rooms, a series of 26 nature-inspired photographs by Deborah Hosking are displayed above the beds.
"Every piece of art is original," Domencic noted. "This was an opportunity to contribute to both the art community and the emotional well-being of the patients."
In all, Butler commissioned multiple artists working in photography, sculpture, textile and painting for the new bed tower. Since completing the tower, Butler has retained Domencic to direct art acquisition for other spaces as the hospital continues ongoing renovations and upgrades throughout the campus.
In the recent past, catalog art was a standard interior decorator spec. But today, many healthcare institutions are taking similar directions as Butler. By turning to original art, hospitals can invest in the community itself, support the local art scene and create a positive interior experience for patients. That's a win-win situation.
Author: Christine Guzzo Vickery, CID, EDAC, is a senior interior healthcare designer with HGA Architects and Engineers in Minneapolis, Minn. 
Photos by Steve Henke
Posted May 5, 2013
More Articles: