Subscribe Now
Keep up with the latest news with our magazine and e-newsletter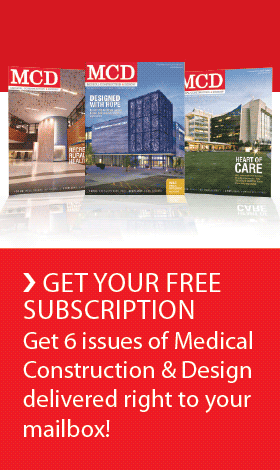 Subscribe to our E‑Newsletter
In today's healthcare environment, budgetary constraints dictate a more prudent use of hospital facility space. Wise designers and administrators are finding solutions in strategically used wall space, which eases tight corridor and floor-space burdens. Wall-mounted furnishings have some basic characteristics in common. Hanging systems, combined with mobile components, are an overall strategy to place technology and medical supplies at point-of-care. The added benefit of wall-mounted tools, of course, is freed-up floor space.
Healthcare spaces combine uniquely conflicting needs:
> Privacy and security are paramount, but interactions among strangers are necessary and plentiful.
> An ambience of repose and reassurance is in tune with good medical practice, but constant movement — of staff, equipment and patients — and flexibility are equally required.
Space is increasingly considered a key element in both new construction and renovations. The impact of using walls looms larger. Utilizing wall space well enhances a plan to meet the aforementioned needs and more. In order to maximize space, John Pierson, director of strategic development at Carstens, says it's all about balance.
"Decision-makers have to strike a perfect balance between maintaining the highest quality of care and interaction between patients and clinicians, while also maximizing the use of space," he said. "In the last decade there have been huge steps forward in developing products that help to do just that. Wall-mounted workstations and highly customizable portable solutions offer maximum flexibility, while maintaining face-to-face communication."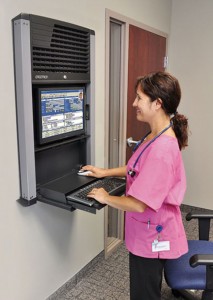 Fostering mobility
In a study published in a 2011 issue of the Centers for Disease Control's "Preventing Chronic Disease", the Take-a-Stand Project looked at employees with sedentary jobs. Tools that reduced sitting time also reduced upper back and neck pain by 54 percent, as well as improved moods.
Nobody would imply healthcare jobs are sedentary, but the study presents a basis for JustStand.org, an effort to publicize the prevalence of "sitting disease." If standing is the solution for sedentary lifestyles, flexibility is the answer to facilitating interaction among the "triangle of care" — caregivers, information and patient — in healthcare settings.
It may make fast sense to place a computer wherever power is already located, but the result could be providers with their backs turned toward patients. Sit-stand products keep the triangle in focus: increase patient interaction, increase comfort for caregivers and facilitate the use of necessary technology.
"Mobile carts work in many settings, but we're seeing broader interest in wall-mounted tools," said Steve Reinecke, a senior director with Ergotron. "Particularly those with adjustability built in."
Besides being mindful of the Triangle of Care and the importance of mobility, adjustability and flexibility, understanding the new healthcare consumer's perspective is crucial.
"Medicine may be an industry, but today it revolves around a much savvier patient," said Jeremy Goza, CEO of Proximity Systems. "Reports reflect the 'empowered patient,' a more discerning recipient of services."
Wall-mounted, retractable computer workstations offer secure, point-of-care medical records access that allow for face-to-face interactions. In addition, as long-term care continues to be impacted by the aging Baby Boom generation, more facilities are seeking to provide a home-like atmosphere.
"In both clinical and long-term-care arenas, how technology is visibly presented has a deep impact on the consumer experience," Goza said. "Families of healthcare consumers are speaking up, designers and architects are taking note and, frankly, everyone is benefiting from interfaces that humanize technology."
Goza mentions other reasons for incorporating wall-mounted workstations in patient rooms and hallways:
> Reduced risks related to mobile carts blocking hallways or doorways and resulting stumbles or falls of both people and computer equipment.
> A research-verified reduction in number of feet walked per shift by medical staff, translating to higher staff satisfaction.
Humanizing healthcare
The humanization of high-tech medical practice is also where many manufacturers are excelling. The result: subtly noticeable — but still practical and space-saving — touches of hospitality in settings that can be otherwise anxiety filled.
Arriving at the right mix of positive aesthetic impact and medical practicality requires direct, ongoing input from consumers, something that Kip Pepper, a vice president with Peter Pepper Products, said is important.
Pepper emphasized, "It is an absolute must to target functionality for the caregiver, whether that's a professional or family member."
Folding chairs keep additional seating on hand in patient rooms, stored on the wall with a low profile until a gathering of family or caregivers warrant use. Guest spaces combine custom-selected modular panels and writing surfaces to give visitors a space to call their own. In addition to receptacles for charging laptops and phones, panel options include flat monitors, tacking surfaces and artwork.
More clinical functionality comes with fully customizable systems that might include a glass writing surface, a shelf and concealed pen storage and clocks that offer facility-wide time synchronization and emergency mass messaging. Communication between service provider, recipient and family caregivers can be facilitated by hand-written reminders directly on the clock.
One of the latest innovations in hanging healthcare tools is highly specific in application and will likely soon be found virtually around the world in clinical settings, regardless of budget: tablets. Nichole Stutzman, of Anthro Corporation, said that while tablet use for documentation and record-keeping is on the rise, knowing what to do with the gadgets when handing them off was still a mostly unanswered question.
"We know that every square inch counts in this business," Stutzman said. "Now there's even more technology clamoring for space." The 2012 'Taking the Pulse U.S.' survey by Manhattan Research reported that the number of physicians using tablets nearly doubled in a year to 62 percent. There's no arguing with the benefits.
Stutzman cautioned: "But the very traits that make tablets so attractive — their compact size and portability — make it really easy for them to walk out the door."
One solution is wall-mounted tablet charging cabinets, which include spacious bays to dock any type of tablet from any manufacturer. The cabinets "future proof" clinicians from being locked into purchasing one style or brand of device. Recognizing a shortage of on-call IT personnel in many medical settings, cabinets ship assembled with instructions and hardware for mounting. Special cords and cables are unnecessary, and position connectors provide the right combination of slack and tension to avoid cord strain. Bays are numbered to ensure ease of tracking at a glance. With an eye on corridor-width rules in hospitals, manufacturers can design the cabinet to be 12-inches deep, but to accommodate more narrow hallways and spaces.
Perhaps even more so now that budgets dictate more be accomplished in less square footage, keeping end-users' needs in mind is paramount in optimal incorporation of wall space. Studies reflect the day-to-day, shift-by-shift needs of staff, patients and family, with mobility and warm, humanized touches often topping the list, paralleled with state-of-the-art medical technology.
Author: Tracy Morris is a freelance consumer health writer based in Houston, Texas.
Posted May 5, 2013
More Articles: