Subscribe Now
Keep up with the latest news with our magazine and e-newsletter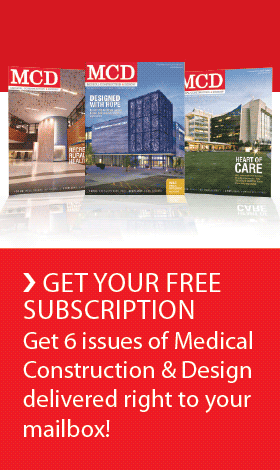 Subscribe to our E‑Newsletter
Today's building products come from international companies with manufacturing plants in many countries and cultures. This global sourcing has important implications as the composition of the air in buildings falls at the receiving end of worldwide commerce. Let's explore formaldehyde, one of the controversial indoor air quality chemicals associated with interior fitout in healthcare, and how a singular initiative in California gained international reach.
In 2009, formaldehyde was produced by 12 companies and subsidiaries at 39 U.S. plants and, internationally, by 152 suppliers in 25 countries. Formaldehyde is a naturally occurring volatile organic chemical, nearly colorless, with a pungent odor, synthesized for use in binders, plastics and preservatives; it is also used as a disinfectant or antimicrobial agent in cosmetics, as medical treatment for some skin conditions and as a tissue preservative for pathologists and embalmers. Diluted formaldehyde, known as formalin, is a bactericide, tuberculocide, fungicide, virucide and sporicide.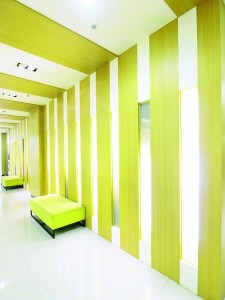 Formaldehyde's main use is in resins (urea formaldehyde, phenol-formaldehyde, polyacetal and melamine-formaldehyde). It's easy to manufacture, effective and inexpensive and, thus, in widespread use in building products. It's difficult to transport and store, so it is usually produced close to the point of use. It's in composite wood — panels made from chips, particles, fibers or pieces of wood bonded together with a resin. This includes hardwood plywood, particleboard, medium density fiberboard, thin medium density fiberboard and furniture and other finished products. Composite wood is found everywhere — in wood flooring and underlayment, in solid doors, cabinetry, nurses' stations, reception areas, flooring, moldings, baseboards, shelving and countertops.
Yet, for the sustainable design community, formaldehyde is a chemical to avoid. It's classified as a known human carcinogen, Group 1, by the International Agency for Research on Cancer. It's on International Living Future Institute's Living Building Challenge "Red List." It has a very strict Chronic Reference Exposure Level of 7 parts per billion or 9 micrograms per cubic meter in air, according to California's Office of Environmental Health Hazard Assessment.
Recognizing indoor health concerns, California's Air Resources Board recently set formaldehyde limits for all composite wood sold or supplied to California. California's "Airborne Toxic Control Measure to Reduce Formaldehyde Emissions from Composite Wood Products," has gained surprisingly widespread recognition, both in the U.S. and internationally. California's regulation impacts a market of 2.5 billion square feet per year. It is one of the most stringent regulations around; because of it, many manufacturers will be ready for the federal rollout, which is expected in 2014.
Currently manufacturers must meet Phase 2 of ATCM and, to do this, they use modified urea-formaldehyde, no-added formaldehyde or ultra low-emitting-formaldehyde resin systems. An NAF product uses resins from soy, polyvinyl acetate or methylene diisocyanate. A ULEF product uses melamine-urea-formaldehyde, phenol formaldehyde or resorcinol formaldehyde resin. (Note: while these new resins are good at cutting formaldehyde, they may not resolve everything. According to the EPA, isocyanates such as MDI cause work-related asthma; some call this a regrettable substitution.)
Check panels or finished goods for tell-tale labels: "California 93120 Compliant for Formaldehyde" or "California Phase 2 Compliant."
The certification has spread like wildfire. ATCM requires third-party testing and certification, labeling, chain-of-custody documentation and recordkeeping. Eight-hundred thirty-one mills are certified as meeting Phase 2 limits. Of these, 443 are in China, 70 in the U.S., 42 in Indonesia, 42 in Malaysia, 27 in Germany, 22 in Russia, 17 in Canada, 17 in Italy, 14 in Vietnam, 12 in France, three in Sweden and three are in Chile. Third-party certifiers are found in the U.S., China, Taiwan, Germany, New Zealand, Indonesia, Austria, Australia, Sweden, Italy, Spain and Poland. ATCM fact sheets are available in Chinese, Russian, Spanish, Portuguese, Indonesian and English. Retailers of finished goods read about it in Chinese, Spanish and English.
The ATCM has specific approved emissions test methods to verify that composite wood products comply with the emission standards on an ongoing basis. This ensures the accuracy of production control and that low-emitting products are sold in California. See "Standard Operating Procedures: Sampling and Analysis of Formaldehyde Emissions."
What does this tell us? Within a very short span of time, the international market embraced a relatively obscure action in California. It was an enlightened move by California's lawmakers. Instead of placing the formaldehyde burden on the architectural design team, they put enforcement pressure on manufacturers, essentially banning the sale of problematic formaldehyde-bearing composite wood in California. The market responded, and, if quality control can be sustained, this is a big success. CARB estimates that the ATCM will reduce formaldehyde-related cancer risk in California by 40 percent. This may be the harbinger of things to come. The industry will be effective in protecting indoor air only if it can keep pace with and control the impact of globalization on the microhabitat: buildings.
Catherine Bobenhausen, CIH, CSP, LEED AP BD+C, is senior industrial hygienist with Vidaris, Inc.
Image: © Kiosk88/Dreamstime.com
Raising the bar for testing
For building products in the U.S., generally emissions tests for formaldehyde (and other VOCs) are based on California's "Standard Method for the Testing and Evaluation of Volatile Organic Chemical Emissions from Indoor Sources Using Environmental Chambers, Version 1.1" (CDPH/EHLB Standard Method V1.1). This method sets the protocol for testing and evaluating building products, and uses California's lists of toxic substances for vapor phase organic chemicals: carcinogens, reproductive/developmental and systemic toxins. View the full document at http://bit.ly/section01350.
Test laboratories are opening new facilities to use this test method (and others) globally. Last December, a U.S. firm responsible for the GREENGUARD indoor air quality emissions certification program (and the Carpet and Rug Institute's Green Label program) opened the Nansha Testing Service Center in Guangzhou, China. Since 2011, Eurofins Scientific, with an international network of 170 labs in 35 countries, acquired two U.S. laboratories to expand its emissions testing footprint into the U.S. market.
The standard method covers composite wood panels, insulation, floor and wall coverings, acoustical ceilings, paints, coatings and finishes, sealants and adhesives. It recognizes the Business and Institutional Furniture Manufacturers Association BIFMA M7.1-2007 test method for office and school furniture (which often includes composite wood with the potential for formaldehyde off-gassing). It has instructions for product samples, emissions testing, indoor concentration modeling and calculation of emission factors and estimating formaldehyde and other VOC concentrations in buildings. Each product category is capped at one half the CREL for each chemical; the exception is formaldehyde, which is the current CREL of 7 parts per billion, or 9 micrograms per cubic meter of air. The reason for this is that formaldehyde's CREL is already very low, relative to typical background levels in air.
Posted May 4, 2013
More Articles: