Subscribe Now
Keep up with the latest news with our magazine and e-newsletter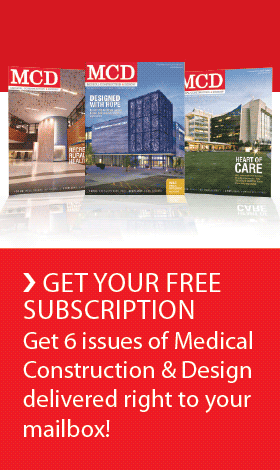 Subscribe to our E‑Newsletter
Identifying key issues in heath systems change, including technology and consumerism, will be the focus of HDR's fifth annual translational innovation colloquium to be held Jan. 31 at The Lodge at Torrey Pines in La Jolla, Calif. The event is sponsored by HDR Architecture, a healthcare design firm helping drive the field of translational health sciences, and co-hosted by Dr. Eric Topol, director of the Scripps Translational Science Institute and author of
The Creative Destruction of Medicine
.
Joining Dr. Topol are co-hosts Dr. Michael Johns, chancellor and executive vice president for health affairs, emeritus at Emory University and Dr. William Brody, president of The Salk Institute for Biological Studies. Among other featured speakers are Dr. Denis Cortese, president and CEO, emeritus of the Mayo Clinic, Dr. Nancy Snyderman, chief medical editor of NBC News, Dr. Elias Zerhouni, former director of the National Institutes of Health and Anne Wojcicki, CEO and co-founder of the personalized genomics company, 23andMe. The full list of speakers is available at www.HDRInc.com/TorreyPines. @HDRarchitecture will live-tweet the event using the hashtag #ResearchToLife.
"Medicine will greatly change through technology; not to diminish the critical aspect of medicine—the intimacy of the doctor-patient connection—but we have a huge opportunity to create technology-driven change," said Topol. The influence of emerging technologies, along with the impacts of global economics, health system reform and consumerism in medical care will be at the center of the colloquium's discussions.
The HDR Translational Health Sciences Initiative was formed to better understand how integrating research, education and clinical care could support improved health outcomes. The focus has been on how organizational structure, culture and the physical environment can lead to development and transfer of knowledge that will accelerate new approaches and therapies for clinical care. HDR has held a series of colloquia, in London (2010), San Francisco (2011), Boston (2011) and with MD Anderson Cancer Center in Houston (2012), connecting thought leaders in many fields to explore and understand how research can be driven to improve care.
For more information, visit www.TranslationalHealthScience.com.
Posted January 21, 2013
More Articles: