Subscribe Now
Keep up with the latest news with our magazine and e-newsletter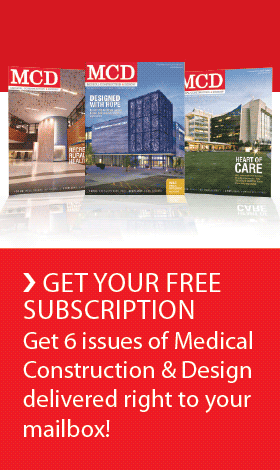 Subscribe to our E‑Newsletter
TROY, N.Y. — St. Peter's Health Partners announced a comprehensive, 13-year master facility plan for its Troy-based community hospitals – Samaritan Hospital and St. Mary's Hospital. The Troy Master Facilities Plan includes a $150 million, three-phased strategic development project that would represent one of the largest private-sector investments in Troy and Rensselaer County history. 
The plan, when completed in the mid-2020s, would include construction, renovation and modernization of inpatient facilities on Samaritan's campus and outpatient facilities on St. Mary's campus. Among the major highlights of the project: construction of a new five-story, inpatient pavilion including an expanded emergency department, and intensive care and progressive care beds; enhancements to cancer services; other infrastructure improvements; and a 500-space parking garage.
The plan, to be implemented over an extended period between 2012 to 2025, would fulfill a key tenet of the October 2011 merger that created St. Peter's Health Partners – improvements to the healthcare facilities and programs in Troy. St. Peter's Health Partners – the region's largest health system – was created by the merger of St. Peter's Health Care Services, Northeast Health and Seton Health. It has a $1.1 billion annual budget and is also the region's largest private employer with 11,700 employees in 125 locations in seven counties of northeastern New York. 
Many projects under the plan will require approvals by federal, state or local government and/or regulatory agencies, and will be dependent on securing capital financing.
The Troy MFP is designed to be practical, forward-thinking and flexible, allowing for the immediate start of final planning and construction on some parts of the plan, while making possible adjustments to Phases 2 and 3 as health reform and market forces change health care needs in Troy and the region. Multiple institutional and state studies have suggested that Troy cannot sustain two full-service community hospitals for the long-term. Due to planning, regulatory and bidding processes, which must be completed before any construction can begin, relocation of certain services from Samaritan to St. Mary's will begin approximately in 2015.
Under the Troy MFP, St. Mary's Hospital will continue to provide inpatient services for the next 10 years as it transitions to become an advanced ambulatory care campus, providing important outpatient services to the community. By 2023, Samaritan Hospital will serve as the single facility for medical/surgical inpatient care in the greater Troy area.
Follow-up on Earlier System Design Study
The Troy MFP builds on a system design study released in 2010 during the process of merging the three health systems. That study outlined how the system's acute care hospitals could be reconfigured or consolidated to provide greater access, efficiency and fiscal sustainability. The 2010 system design study called for establishing Samaritan Hospital as the inpatient facility in Troy with its large bed capacity and larger operating room suites. Samaritan's larger, more flexible site plan and ongoing capital investment have also made the facility more practical for future development. St. Mary's Hospital would become an outpatient services facility over an extended period of time.
Both the 2010 study and the Troy MFP agree that continuing with two full-service community hospitals is not sustainable. The Troy hospitals currently run at approximately 60 percent of licensed beds capacity, and inpatient volume is expected to decline further. Inpatient volume will not be adequate to sustain two aging hospital facilities over the long-term. Further, neither of the Emergency Departments or intensive care units in Troy are adequate to meet current acute care needs.
The 2010 study was performed by Deloitte, a national health care consulting firm, in conjunction with SPHP senior leadership and the Board of Trustees. It took a broad, pre-merger look at market consolidation potentials in preparation for review of the merger by the Federal Trade Commission. The more recent Troy MFP took a much closer look at facilities and program needs. Conducted by FreemanWhite, it included the review of engineering, mechanical, HVAC, plumbing and architectural issues in the facilities to help focus the planning efforts.
In developing a phased approach to facilities development in Troy, the plan answers the questions: what steps to take, in what order to take them, and the timing of those steps.
Posted November 17, 2012
More Articles: