Subscribe Now
Keep up with the latest news with our magazine and e-newsletter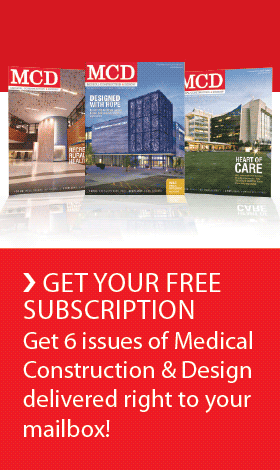 Subscribe to our E‑Newsletter
New results from a recent survey on energy and water consumption by large U.S. hospitals (greater than 200,000-square -feet) were released by the U.S. Energy Information Administration. For the first time, the EIA included water use by hospitals in its Commercial Buildings Energy Consumption Survey.

Data from the EIA's CBECS shows the major fuels (electricity, natural gas, fuel oil, and district heat) consumed by large hospitals totaled 458 trillion Btu, which is 5.5 percent of the total delivered energy used by the commercial sector in 2007, up from 4.3 percent in 2003. For the first time in its 30-year history, the CBECS collected data on water use. Large hospital buildings in the United States consumed about 133 billion gallons of water in 2007, totaling $615 million in water expenditures, with an average of 43.6 million gallons and $202,200 per building.
About 93 percent of 3,040 large U.S. hospitals used one or more daylighting or lighting conservation features, including tinted window glass (80 percent), reflective window glass (39 percent), external overhangs or awnings (47 percent), skylights or atriums designed to provide light (57 percent), automatic controls or sensors that increase or reduce lighting in response to the level of natural light (14 percent), and occupancy sensors that reduce lighting when rooms are unoccupied (46 percent).
The survey results, along with the relevant data tables and graphics, can be found at: http://www.eia.gov/consumption/commercial/reports/2007/large-hospital.cfm.
Posted August 20, 2012
More Articles: