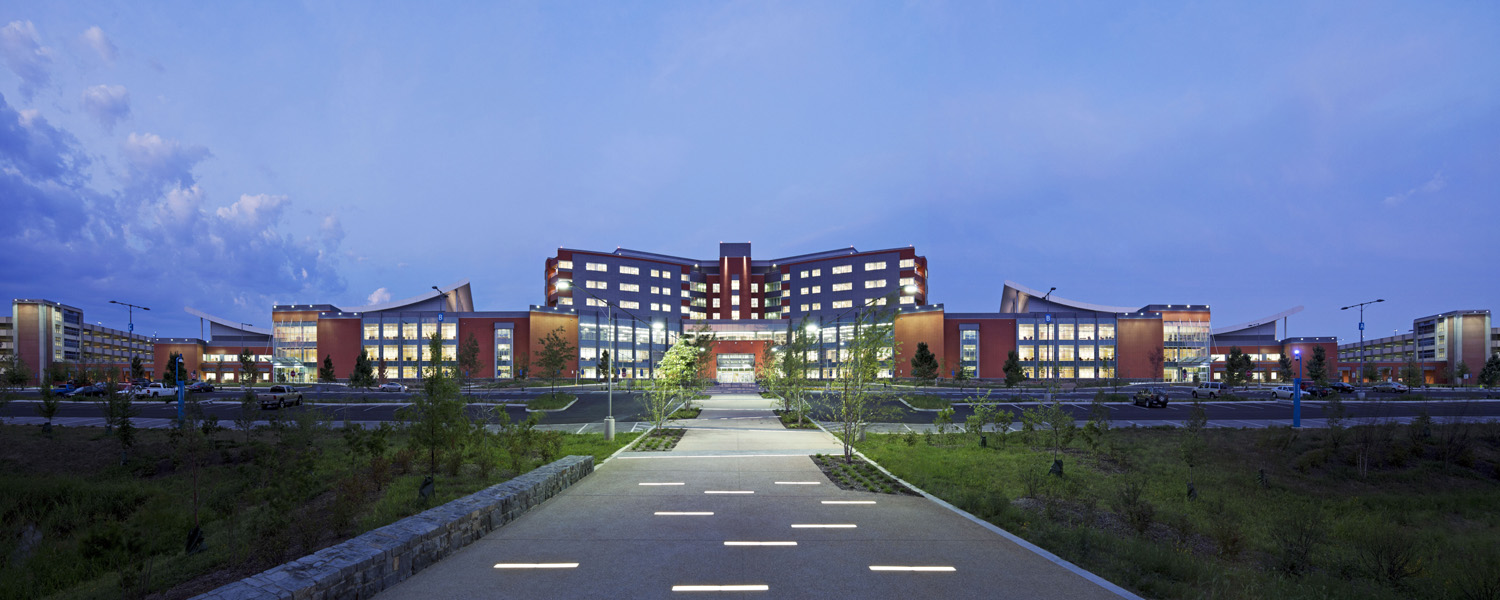 Subscribe Now
Keep up with the latest news with our magazine and e-newsletter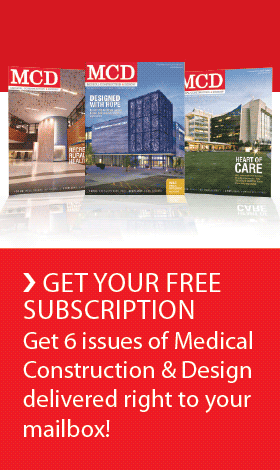 Subscribe to our E‑Newsletter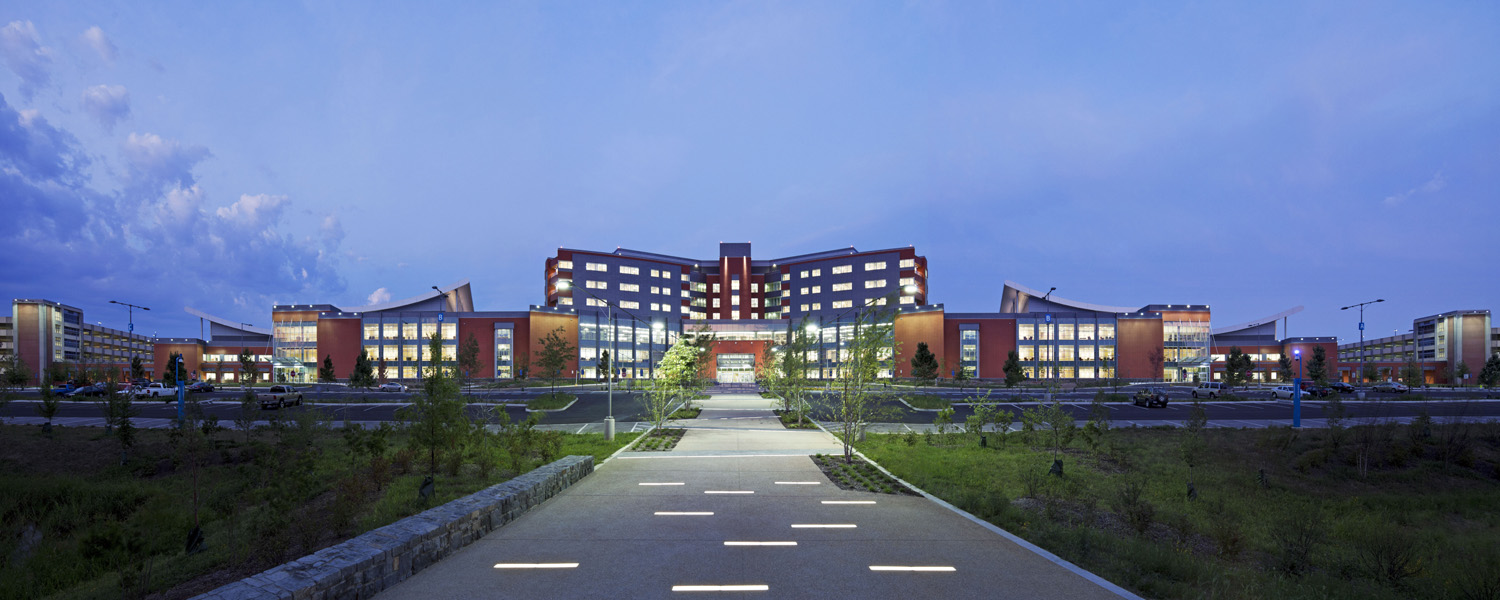 The Fort Belvoir Community Hospital in Virginia recently earned LEED-Gold certification, making the 1.2-million-square-foot facility the largest to earn the rating.

The Fort Belvoir Community Hospital, which opened in August 2011, is the first in a new generation of world-class military medical facilities committed to creating a "culture of excellence." It represents a transformation of the Military Health System as it seeks to use research to improve patient outcomes, increase customer loyalty and achieve higher levels of staff satisfaction. The new $1-billion facility is considered to be one of the world's first hospitals to successfully integrate today's accepted Evidence-Based design principles with LEED requirements.
The design carefully integrates the building with the natural environment, creating a compelling dialog between interior environments and exterior space. A "language" of healing gardens within and around the building provide an uplifting, restful, and restorative environment for patients, families, and staff. The building perimeter is designed to be crenellated in order to maximize exposure to the outdoors and natural light. Outdoor areas are designed to accommodate activities as well as quiet contemplation.
The organization of the building is in three horizontal parts; a northern outpatient center with family care focus, a southern outpatient center with specialty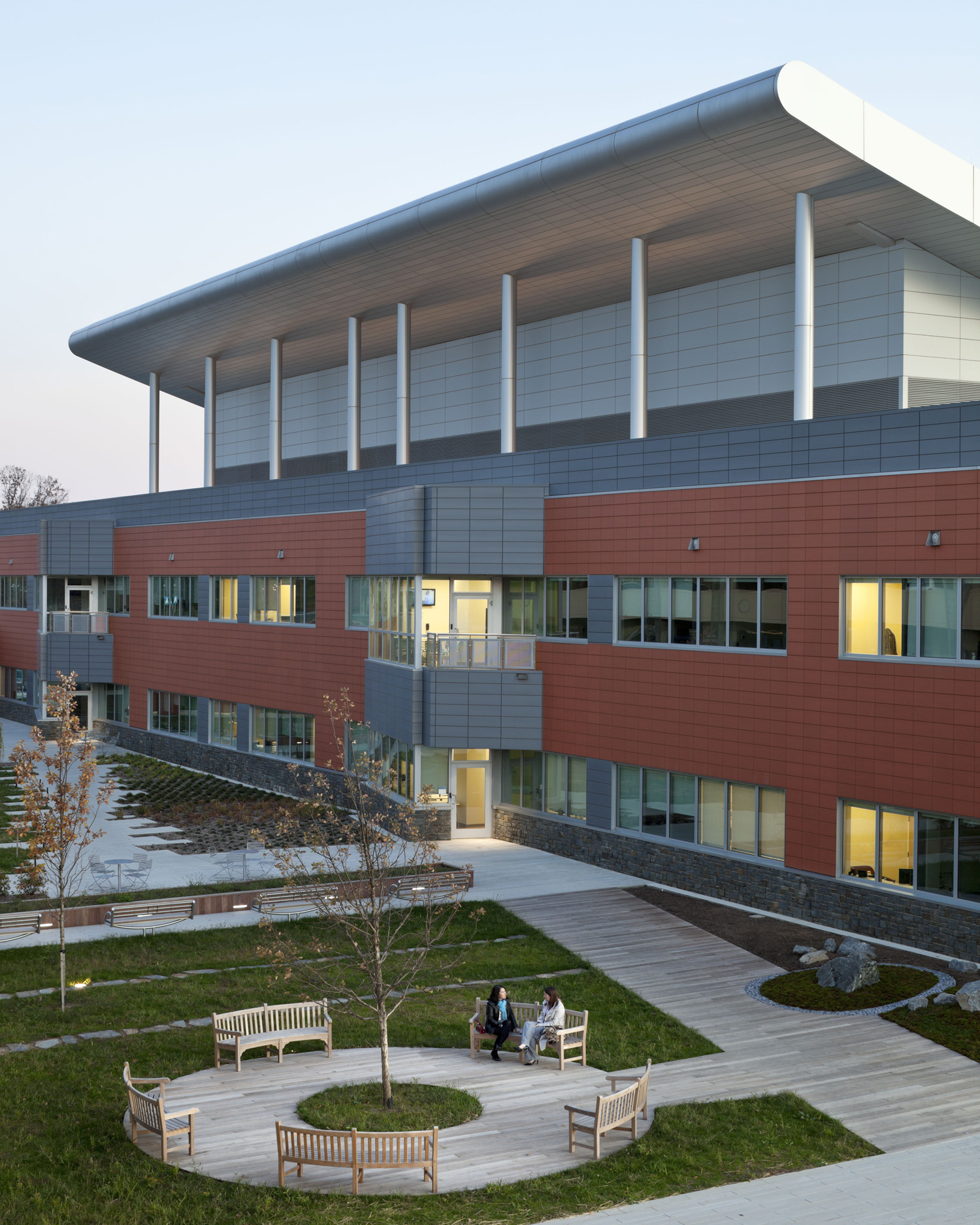 focus, and a 120-bed central inpatient and ancillary zone. The three centers of care are joined by a generous daylight-infused circulation concourse.
Dozens of innovative green design and building strategies contributed to the Fort Belvoir Community Hospital earning the coveted LEED Gold certification.
Location
Because the hospital serves military personnel throughout the DC Metro area, many transportation and service options are available for building users. Two bus lines have stops at the entrance of the hospital, including a bus that connects the Metro rail to the Base. Prime parking spots are available for carpool and low-emitting vehicles. Secure bicycle storage areas and an existing pedestrian trail are beneficial for people with a short commute. It is also within walking distance to many services such as, a coffee shop, library, salon, dental clinic and condominiums.
Site Design
The site design promotes healing and respite, while preserving and restoring the natural environment. The hospital was positioned on the natural high point between existing roads on site, which allows for the continued protection of wetlands both to the northeast and the southwest. Key features include:
The steep wetland swale west of the hospital has cultivated a mature oak forest that has been preserved and is accessible to users by pedestrian sidewalk and trail.
61.9 percent of the site has been restored with native and adaptive plants, restoring local species to the site and reducing irrigation needs.
Green roofs visible from the inpatient tower will capture and treat stormwater, rain gardens and river rock beds will retain water and let it percolate into the ground, and surface parking lots designed with curbless spaces will direct water into depressed planting areas for filtration.
Permeable paving in parking spaces reduces stormwater run-off and minimize heat-island effects of the hardscape.
Water
Curved roofs over the clinics will direct rainwater into drain pipes and into rain barrels. Once the water reaches the rain barrels, yard drains will collect and deliver the water to the underground cisterns.
In addition, condensate will be collected from the air conditioning units during the hotter months of the year and funneled to the cisterns. This will both reduce the amount of potable water used for irrigation, and reduce the quantity and rate of stormwater run-off. It is estimated that 1.6 million gallons of potable water are saved per year.
Dual-flush water closets and sensor activated low-flow sink faucets are in appropriate locations in the hospital to reduce burden on water supply and wastewater systems.

Indoor Environment Quality
Sustainability and evidence-based design (EBD) played an important role in the development of the interior concepts, materials, and finishes used in the hospital. Many noted design features have demonstrated a positive impact on patient, family, and staff health and comfort:
Appropriate colors to promote a calming environment
Soft flooring materials and sound absorbing materials
Indoor air quality plans
High-efficiency particulate arresting filtration and MERV 13 filters
Ultraviolet technology that contributes to infection control
CO2 monitoring
Low-emitting paints, coatings, adhesives, sealants, carpet systems, composite wood, agri-fiber products and furniture
Furniture meets GREENGUARD Indoor Air Quality standards
Green cleaning products, methods and technologies
Views to nature
Individual controls for lighting and temperature
Energy
The building is designed to consume 27.6% less regulated energy than a typical hospital, which equals 15% cost savings or $449,299 per year. It also saves approximately 4,000 tons in CO2 emissions.  Much of the project's energy savings is being achieved by a multistack heat recovery chiller system for reheating, high efficiency variable speed drive chillers, variable air volume devices , an energy efficient lighting design including daylight harvesting, and a rainscreen system.
A whole building energy model, comprehensive energy analysis, and assessment of building systems and configuration was performed for the project. In addition, a commissioning authority was a key member of the project team to ensure the building systems operate as designed.
Materials and Resources
Recycling bins and collection areas are strategically located in close proximity of patients, visitors, and hospital staff spaces for ease of access and to encourage efficient work flow by housekeeping staff. Construction waste materials were diverted from the local landfill by recycling and by minimizing packaging by manufacturers.  The project recycled over 11,500 tons, or 91% of its waste.
Materials with recycled content and that were extracted and manufactured within a 500-mile radius of the project site were specified for the project. Forest Stewardship Council certified wood was also specified.
Life Cycle Cost Analysis and Sustainable Return on Investment Analysis
Both a LCCA and a sustainable return on investment analysis (SROI) were performed during the design of the Fort Belvoir Community Hospital. The primary reason for a LCCA is to demonstrate that the operational savings of a project are sufficient to justify its additional investment cost.
SROI is an enhanced form of LCCA, which incorporates risk analysis and goes even further, providing a triple-bottom line view of a project's economic results. SROI monetizes all reasonable social and environmental impacts related to a given project, and provides the equivalent of traditional LCCA metrics, which are called Financial Return on Investment (FROI) metrics in the analysis. FROI accounts for internal organizational cash costs and benefits only.
The SROI analysis accounts for not only the organizational cash costs and benefits but also the external costs and benefits as well. SROI results demonstrated a clear distribution of benefits associated with project solutions such as economic value of water saved, air pollutants savings, greenhouse gases savings, water bill savings, and energy bill savings.
Project Team
The hospital was designed was designed for the U.S. Corps of Engineers by a joint venture team of HDR Architecture, Inc. of Alexandria, Va., and Dewberry of Fairfax, Va., and was built by Turner-Gilbane, a joint venture comprised of Turner Construction and Gilbane Building Company based in Arlington, Va. The hospital was constructed through an Integrated/Design/Bid/Build (IDBB) procurement process, which allowed construction to start while design was still being developed, turning what would typically be an 8- to 10-year process into a five-year fast-track project. IDBB is an innovative process that uses coordination with a construction contractor during the design phase to increase constructability, and provide accurate cost/schedule impacts of design decisions, resulting in fewer design omissions and errors.
Posted July 19, 2012
More Articles: