Subscribe Now
Keep up with the latest news with our magazine and e-newsletter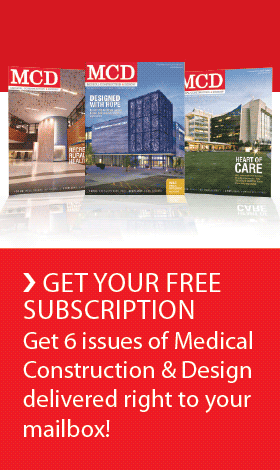 Subscribe to our E‑Newsletter
CONCORD, Calif. — Derek Parker, FAIA, RIBA, FACHA, EDAC, has been named the 2012 Changemaker by The Center for Health Design. Given annually, the award honors individuals or organizations that have demonstrated exceptional ability to change the way healthcare facilities are designed and built, and whose work has broad impact on the advancement of healthcare design.

Parker, an internationally recognized expert in the design of healthcare and research facilities, has designed and planned over 50 major hospitals, diagnostic care centers, hospices and medical research institutes. He was one of the founders of The Center for Health Design in 1993 and is a past member of the organization's Board of Directors. After working at Anshen + Allen, (now a part of Stantec), for 49 years, including as its chairman, he is director of Marin General Hospital, vice chairman of the Laguna Honda Hospital Foundation and a senior advisor at Aditazz, a company that applies computer chip technology design to healthcare design and construction.
Parker believes the healthcare design industry is ripe for major change. "The process of building design has been very slow. It takes about two or three years to design a hospital and about three years to build the structure, during which time, life changes. So by the time you open the doors, the building is already six years old," said Parker.
"What I'm working on now is a technology where we can design, build and operate a hospital virtually, until we get it right, and then we manufacture it." Parker said this new technology will improve the clinical, financial, and satisfaction outcomes in facilities."
Parker will be presented with the Changemaker Award Nov. 3-6at the 2012 HEALTHCARE DESIGN Conference in Phoenix, Ariz., where he is also a keynote speaker.
About The Center for Health Design
The Center for Health Design (CHD) is a nonprofit organization that engages and supports professionals and organizations in the healthcare, construction, and design industry to improve the quality of healthcare facilities and create new environments for healthy aging. CHD's mission is to transform healthcare environments for a healthier, safer world through design research, education, and advocacy. For more information, visit www.healthdesign.org.
Posted July 26, 2012
More Articles: