Subscribe Now
Keep up with the latest news with our magazine and e-newsletter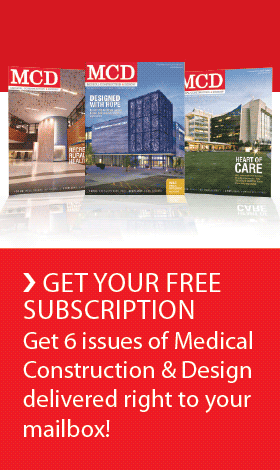 Subscribe to our E‑Newsletter
FORT WORTH, Texas — Texas Health Harris Methodist Hospital Fort Worth will began construction on a new $57.7-million emergency care center that will better meet the growing needs of patients in the Fort Worth area. HKS Inc. serves as the project architect with Balfour Beatty as the general contractor.
The three-story, 75,000-square-foot emergency care center, planned for completion in fall 2013, will be one block south of the hospital's current emergency department and will connect to the main hospital through a sky bridge. The new facility will nearly triple the square footage of the existing department and increase patient beds to 90 from the current 63.
"Our new emergency care center is a culmination of years of soliciting input from multiple city- and county-wide organizations in order to best create a facility that responds to the needs of our community," said Dr. John Geesbreght, the hospital's medical director of emergency services. "I believe Texas Health Fort Worth has done just that."
Last year, the hospital's emergency department cared for 97,309 patients and is on track to care for 100,000 patients in 2012. Having accreditation as a Level II Trauma Center, Primary Stroke Center, Cycle III Chest Pain Center, Heart Failure Center, and holding a Gold Seal of Approval from the Joint Commission in the treatment of hip fractures makes the hospital an exceptional destination for emergency care. MedStar Emergency Medical Services transports more patients to Texas Health Fort Worth than to any other facility in its service area.
"As a major trauma center and tertiary hospital, Texas Health Fort Worth has one of the busiest emergency departments in the Dallas/Fort Worth Metroplex," said Lillie Biggins, president of Texas Health Fort Worth. "This expansion allows us to keep pace with the growing Fort Worth area population and continue to provide our community with access to quality, high level care."
The new facility's plans include a geriatric care clinic for elderly patients who require quick follow-up care after an emergency room visit, such as additional lab work or X-rays. The goal of the clinic is to provide a continuum of care for geriatric patients and reduce unnecessary hospital admissions.
Plans also include a simulation multidisciplinary educational facility that focuses on emergency services. The simulation lab will allow caregivers from all areas of emergency services — including pre-hospital providers, nurses, physicians, medical students, residents, respiratory therapists — to practice working with one another in emergency situations. A mannequin "patient" that talks, bleeds, sweats, and makes lung and heart noises will lead caregivers through different treatment scenarios. Sessions are videotaped so caregivers can debrief afterward and identify opportunities for improvement.
"The mannequins respond physiologically to treatment, and you can perform procedures on them, which makes the scenarios feel more realistic," said Debbie Krauser, director of integration and education for the Fort Worth Emergency Services Collaboration. "The experience teaches caregivers from across all disciplines to work well with one another in high-stress situations and helps sharpen skills across the board."
Posted June 1, 2012
More Articles: