Subscribe Now
Keep up with the latest news with our magazine and e-newsletter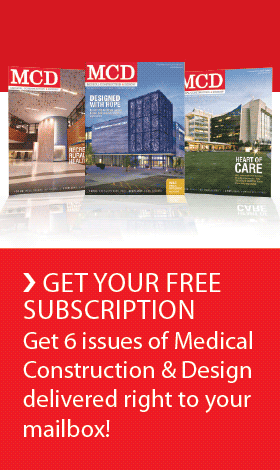 Subscribe to our E‑Newsletter
Michael Graves, the architect and product designer famous for his collection of home products sold at Target, will address the country's top healthcare professionals during a special reception at the 2012 Health Forum and the American Hospital Association Leadership Summit next month. He will give a personal account about how paralysis fueled his desire to improve healthcare design.

Graves, who was recently named the 2012 recipient of the Richard H. Driehaus Prize and applies his design philosophy to designing better hospitals and home care environments, will be the featured speaker immediately following the welcome reception of the 2012 AHA Summit, at the San Francisco Marriott Marquis, at 7 p.m., Thursday, July 19.
In his lecture, "People First: Redesigning the Hospital Room," Graves will discuss his own experience with a sinus infection that left him paralyzed from the chest down and how undergoing hospitalization and rehabilitation in inadequately designed hospital rooms has inspired his healthcare designs.
Graves's talk will focus on design solutions for Stryker Medical, including a collection of hospital patient room furniture that addresses common hospital problems such as infection control, patient falls and clinician back.
"We are thrilled to have such a highly-acclaimed and gifted architect speaking before the healthcare community about ways of improving the hospital setting," said Harold Michels, senior vice president of the Copper Development Association (CDA), the organization hosting the dinner event with Graves.  "This is a can't-miss event that will certainly have hospital CEO's and healthcare advocates talking about way after it's over."
Graves has said that spending months in hospitals during his recovery in 2003 opened his eyes to poorly designed patient rooms, and made him realize the patient experience could be improved by design. He immediately began to sketch ideas for improving hospital buildings, room and furniture.
The event is being presented by CDA's Antimicrobial Copper team, which is working to advance the message that copper surfaces intrinsically kill disease-causing bacteria. On display will be a variety of antimicrobial copper products, which can play a pivotal role in healthcare facilities by killing bacteria that cause hospital-acquired infections and by reducing costs.
Graves is internationally recognized as a healthcare design advocate, and in 2010, the Center for Health Design named Michael Graves one of the Top 25 Most Influential People in Healthcare Design. Graves regularly gives lectures to major healthcare advocacy groups, including AARP, the Healthcare Design Conference, Medicine X and TED MED.
Posted June 19, 2012
More Articles: