Subscribe Now
Keep up with the latest news with our magazine and e-newsletter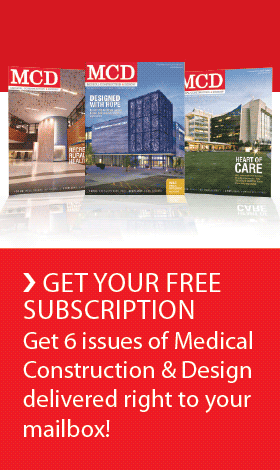 Subscribe to our E‑Newsletter
ROCKVILLE, Md. — Adventist HealthCare officials broke ground on the Aquilino Cancer Center — the first freestanding, comprehensive outpatient cancer center in Montgomery County.
The 50,000-square-foot, three-story building will offer personalized, expert care to cancer patients, with up-to-date technology and support services to treat various forms of cancer. The center is scheduled to open in summer of 2013.

"We are pleased to be a part of this exciting time in cancer care as we break ground on the Aquilino Cancer Center on the campus of Shady Grove Adventist Hospital," says William G. "Bill" Robertson, President and CEO of Adventist HealthCare. "This center will offer local residents a state-of-the-art facility that provides integrated, comprehensive, quality cancer care close to home."
In addition to the latest technology, the center will house clinical services, as well as a range of support services for patients and families, including:
Physician offices
Chemotherapy and infusion
Radiation therapy
Pain and symptom management
Cancer Navigation Team, which includes Nurse Navigators, a Dietitian and a Social Worker
Genetic Counseling
Clinical Research
Education and resource area
Support groups
Rehabilitation
Nutrition counseling
Complementary alternative medicine
Fitness activities
"A cancer diagnosis can be frightening and stressful for patients and their families. The Aquilino Cancer Center will provide a comprehensive and coordinated approach to cancer care for local residents," says Dennis Hansen, president of Shady Grove Adventist Hospital. "We are pleased to bring this important facility to our campus and to the community."
In addition to the numerous services in the building, several physician offices will be located in the Aquilino Cancer Center including medical oncologists, radiation oncologists and others.
"Physicians at the Aquilino Cancer Center will be able to utilize the advances in cancer treatment, including technology and equipment, while also coordinating regularly with other members of the cancer care team on individualized treatment plans for patients," says Dr. Joseph Haggerty, Medical Oncologist and Chair of the Cancer Committee for Shady Grove Adventist Hospital and future tenant of the Aquilino Cancer Center.
The Aquilino Cancer Center was made possible through a generous donation from county resident, Michael Aquilino, whose wife died from cancer in 2004.
"When you're going through cancer, time is so valuable. You don't want to spend that time commuting while maintaining a routine with your family, your work and the hospital," Aquilino said. "I truly believe upper Montgomery County deserves and needs a convenient, high-caliber cancer center like the one that is being built, with all the critical services in one place and top medical researchers in close proximity."
As part of the Shady Grove Life Sciences Center and the Great Seneca Science Corridor in Rockville/Gaithersburg, physicians at the Aquilino Cancer Center will also be able to closely collaborate with local and national research organizations, offering patients an opportunity to participate in clinical trials and research projects.
"By offering a wide range of resources and services at the Aquilino Cancer Center, patients will have access to all of the important services that they need and will receive the very best care delivered in a personalized way that makes their cancer experience more manageable," says Jane Peck, Executive Director of Cancer Care Services for Adventist HealthCare. "In the Aquilino Cancer Center, the latest treatments will be provided in an environment that promotes the healing of the whole person as they battle their cancer."
The cancer center will also have a chapel, retail shop providing services and products specific for the needs of cancer patients and a quiet living room space where patients will have access to the latest educational information related to cancer.
For more information, visit www.YourCancerTeam.com.
Posted June 7, 2012
More Articles: