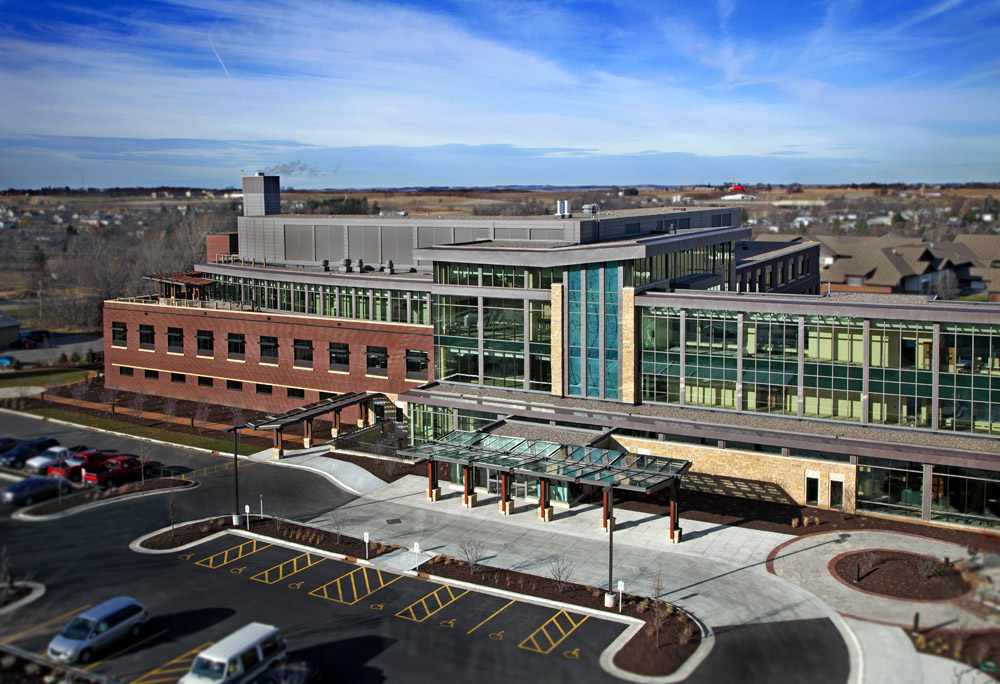 Subscribe Now
Keep up with the latest news with our magazine and e-newsletter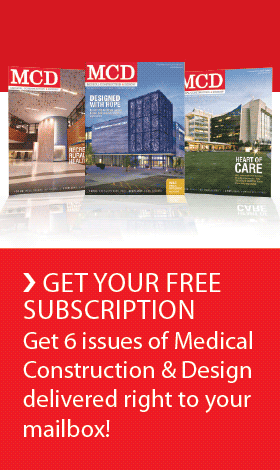 Subscribe to our E‑Newsletter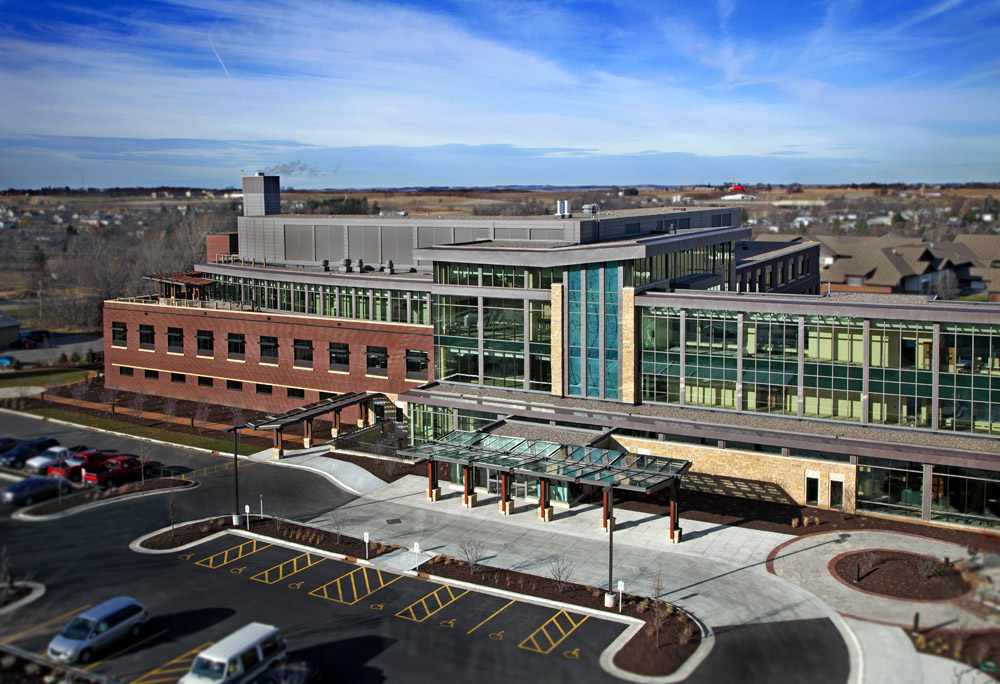 MONROE, Wis. – When the first patients entered Monroe Clinic's new hospital, they found a facility designed to meet the community's needs for generations to come. It's one that offers a warm and welcoming healing environment, implements lean process improvements and Evidence-Based Design principles to increase efficiency and improve patient care, incorporates a variety of features designed to care for the planet and can accommodate future growth.
The 225,000-square-foot, four-story, $83-million facility was designed by Kahler Slater. CG Schmidt was the general contractor. Ring & DuChateau served as the mechanical, electrical and plumbing engineering firm. GRAEF was the structural engineering, civil engineering and landscape design firm.
The hospital includes 50 acute- and critical-care beds, a new and expanded emergency department featuring 18 exam rooms, imaging, a surgery and procedure center, birthing and women's health services, a cardiology department and cardiac rehabilitation services. It replaces the hospital originally built in the late 1930s, with additions in the 1950s and 1970s, which has been renamed St. Clare Center. The St. Clare Center will house a variety of outpatient and support services.
"With a growing community and an aging facility, we needed an immediate solution that would also meet our future needs," said Monroe Clinic President and CEO Mike Sanders. "Our new hospital had to achieve three goals – accommodate growth, help us attract and retain top caregivers and help us continuously improve the patient experience, both in clinical outcomes and satisfaction. This amazing new facility certainly does all of those things."
Dave Sheedy, principal with Kahler Slater, added "Monroe Clinic is a great example of where healthcare needs to go in this country. They are trying to take the waste out of their business, eliminate errors and create an exceptionally safe environment. Every healthcare organization is working on these things, but Monroe Clinic is way ahead of the curve."
Monroe Clinic is aiming for LEED-Silver certification. The hospital will be the first LEED Silver-certified building in Green County.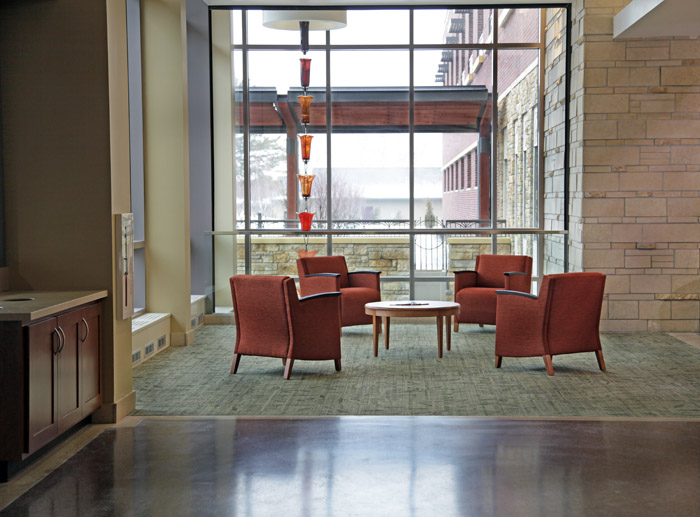 The most visible testament of Monroe Clinic's sustainability pledge is its three green roofs. Two are near patient rooms and the third is accessible to staff, patients and visitors. In addition to providing a beautiful connection with nature, the vegetative roofs will reduce stormwater runoff and help reduce cooling costs.
Lean process improvement studies and Evidence-Based Design principles laid the foundation for creating a safe and efficient healing environment. For example, inpatient rooms were designed as "same-handed" rooms, meaning caregivers always approach the patient from the same side, leading to quicker staff response time and improved patient safety. The rooms are set up identically for standardization of process, equipment and supplies, which helps eliminate waste.
Charting areas in alcoves outside each room allow staff to observe, chart and consult with other caregivers without disturbing patients and guests. Access to electronic health records is available in both alcoves and patient rooms.
Décor Inspired by Nature, Community Culture
Elements of the hospital's décor were inspired by the landscape, people and Swiss heritage of the Monroe area.
"They wanted it to be a 'Swiss wow,'" said Kahler Salter Project Manager Chris Oddo. "The community has a conservative culture. The space had to be special, but not over-the-top."
Such elements as a chip carving, created by local artists and placed over the fireplace in the café, and modern graphical interpretations of local plants and the cheese-making industry remind people they're in Green County, remind them this is their community hospital and make them feel welcome, Sheedy explained.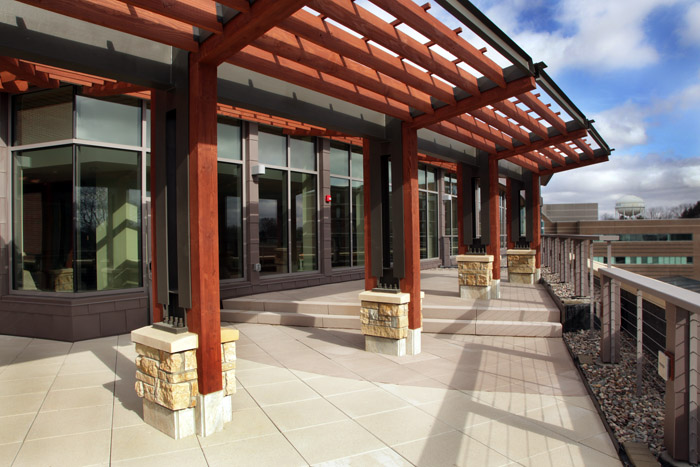 The Garden Terrace café includes outdoor seating and offers spectacular views of the surrounding landscape.
The new chapel offers access to the rooftop garden. The gentle sound of trickling water over beautiful copper plates near a natural stone wall also provides a calming backdrop for meditation and prayer.
More than 200 paintings, murals and sculptures — including many created by regional artists — are on display, and Monroe Clinic is collaborating with the Monroe Arts Center to rotate new exhibits into four gallery spaces on a regular basis. The color palette and artwork in the facility were chosen based on Evidence-Based Design concepts and the effects of color and art on the healing experience. 
Monroe artist Suzanne Miller created two murals for the facility. A bright morning sun in the nursery and a piece in the family waiting room t burst with the colors of local landscapes and regional wildflowers.
Collaborative Effort
Hospital employees were integral members of the design team, with more than 200 employee volunteers from all areas of the hospital working closely with architects and designers.
Six "champion teams" researched best practices in healthcare and other industries and made fact-finding visits to other hospitals and clinics. The c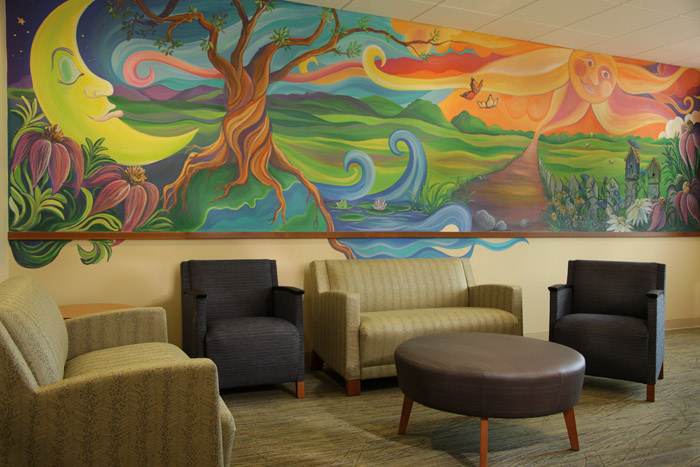 hampion teams included: Evidence-Based Design/healing environments, innovation advantage, operational efficiency, sustainability/green/LEED, technology and unit configuration. Twenty-four "design teams" then folded the champion teams' recommendations into the final plans for the new facility.
Room to Grow
Approximately 18,000-square-feet of the facility remains unfinished to accommodate future growth, including space strategically nestled within many departments and a space that could house new programs.
Tags:
Posted April 4, 2012
More Articles: