Subscribe Now
Keep up with the latest news with our magazine and e-newsletter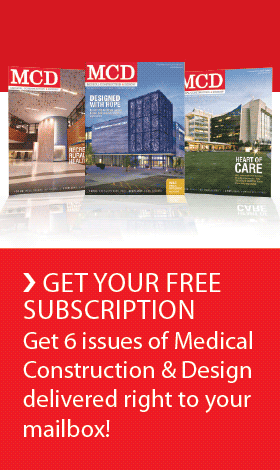 Subscribe to our E‑Newsletter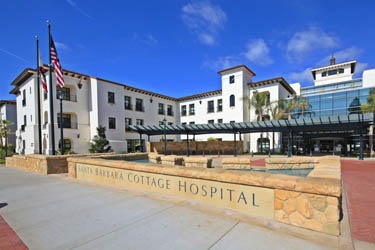 SANTA BARBARA, Calif. — McCarthy Building Companies Inc. recently completed Phase 4 construction of the Santa Barbara Cottage Hospital replacement project. The $300-million project is part of a six-phased inpatient facility construction replacement program for Cottage Health System at the Santa Barbara Cottage Hospital site, totaling approximately $700 million and spanning 750,000-square-feet.

The 370,000-square-foot Phase 4 project included construction of a diagnostic and treatment pavilion and two, three-level patient pavilions with a basement and a new main entrance. McCarthy also built a helipad for emergency air transportation atop the D&T Pavilion. Construction of the patient pavilions ensures the hospital's compliance with Senate Bill 1953, which requires seismic upgrades for all acute care facilities before the 2013 deadline.
Prior to beginning Phase 4 work, McCarthy built a new 28,476-square-foot energy center, two parking structures for employees and visitors with space for approximately 1,133 vehicles and a culvert around the hospital to protect the surrounding neighborhood by reducing flood risk.
The new patient pavilions feature 164 private patient rooms, which will ultimately reach 304 private rooms after the final phase of construction and renovation is completed in 2017. The new hospital facilities also house state-of-the-art technology such as imaging services, wireless technology and minimally invasive and robotic surgical services.
Designed by Lee, Burkhart, Liu of Marina del Rey, Calif., the hospital's architecture is both patient- and family friendly and representative of the Spanish Colonial Revival style predominant in the Santa Barbara community. The facility combines inpatient and outpatient services in unique ways to provide a seamless continuum of care. The design focuses on creating a healing environment including therapeutic courtyards for staff, patients and visitors with numerous meditation areas and gardens including a "River of Life" flowing through the interior courtyard along with cloisters and art. Every patient room has a family area with furniture that converts to beds for overnight guests.
In keeping with the Spanish colonial design, the steel-framed structure was built with clay tile roofs, broad expanses of rough plaster walls, ornamental iron balconies, vertical divided-light windows and pergolas. All are connected for efficient circulation by a glazed spine corridor and lobbies with a contemporary flair.
"Creating a 21st Century medical center that is housed within a historically accurate 17th Century Spanish colonial architectural idiom presented unique design challenges, as did the requirement to reduce the scale of the medical center to conform to city height, mass and density mandates," said Erich Burkhart, principal-in-charge at Lee, Burkhart, Liu. "These requirements led us to create a facility that incorporates nature in ways that enhance and speed the healing process. In addition, we were tasked with finding new methods of incorporating patient-focused care within a hospitality oriented environment that makes family members an integral part of the healing process."
Striking a balance between environmental stewardship and effective healthcare demands, the new facility was built and designed with sustainable features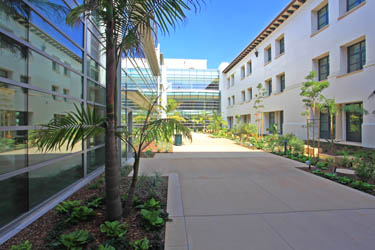 equivalent to LEED-Silver certification standards. Some of the project's eco-friendly features include the reuse of an existing urban site; erosion and sediment controls; maximum use of natural lighting; partial use of reclaimed water for irrigation and increased green space.
Further environmentally sensitive highlights include: the use of sustainable new construction building materials and the reuse of building materials generated from the demolition of existing buildings; creation of bicycle rider facilities with lockers, storage, showers and riding lanes to encourage alternative commuting options; state-of-the-art mechanical and electrical and plumbing systems with monitoring and control programs to reduce energy consumption; energy-efficient lamps and ballast; multi-switching controls for public lighting; highly reflective roofing and provisions for robust recycling systems within the facility.
"Building on an operational medical campus is always a challenging undertaking," said McCarthy project director John Birch. "At the Santa Barbara Cottage Hospital, we were building adjacent to the hospital emergency department and needed to tie all of our mechanical, electrical and plumbing systems into the existing facility. We were able to alleviate disruption to existing operations through proper planning, detailed scripting and close coordination with the hospital.
Further challenges entailed fairly limited site access for lay-down of materials, which required strategic scheduling of construction work and deliveries. During the project's peak, approximately 440 workers needed to access the site. Off-site parking was provided and vans and busses were used to minimize parking inconveniences and traffic during construction.
To further aid in the construction process, the project team used Building Information Modeling to create a 3-D model of the project before construction began. The virtual model helped to detect and avoid any system clashes before construction began, which saved time during the building process and enhanced the quality of construction.
Posted April 19, 2012
More Articles: