Subscribe Now
Keep up with the latest news with our magazine and e-newsletter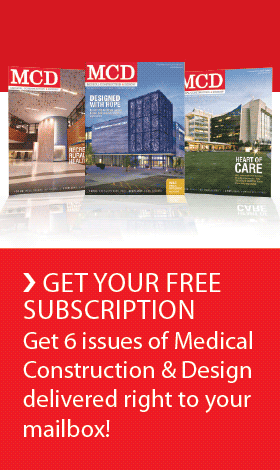 Subscribe to our E‑Newsletter
West Penn Allegheny Health System officials announced the opening of a new 18-bed intensive care unit at The Western Pennsylvania Hospital in Bloomfield, Pa., representing another major step in the hospital's rebirth as a full-service healthcare provider.

The new West Penn Hospital ICU provides critically ill patients with access to state-of-the-art treatment capabilities and comes just a few weeks after the Feb. 14 reopening of the hospital's emergency department and return of other medical and surgical services. According to Duke Rupert, West Penn Hospital's president and CEO, the ICU is a significant investment that will further advance the hospital's capacity to care for all patients, including those in need of the highest levels of care.
"The transition from our much older intensive care facility to this fabulous new ICU is in many ways analogous to the broader transformation taking place at West Penn as we return the hospital back to its roots as vibrant and vital community resource," Rupert said. "We are extremely grateful to the leadership at West Penn Allegheny and Highmark for their support of this critical initiative and for the keen vision they have displayed in positioning West Penn to be a formidable component of the region's healthcare system."
In November, Highmark and WPAHS announced an affiliation agreement between the two organizations that, pending regulatory approvals, will considerably strengthen the health system and establish it as the center piece of a new and innovative integrated healthcare delivery network. Among the consequences of WPAHS' recent financial difficulties was a significant downsizing of West Penn Hospital, including the closure of its emergency department and most inpatient services.
The new West Penn ICU was conceptualized with significant input by physicians and nurses from the hospital's surgical and critical care programs. Design elements intended to optimize patient care, family comfort and the staff's work environment were all driven by patient caregivers, Rupert said. The unique aesthetics of the unit, blending warm pastel color schemes, hardwood floors and ample natural lighting, are a stark contrast to the cold, sterile environment typical of traditional hospital ICUs.
For longtime West Penn critical care physician Joseph Rossi, MD, the new ICU facility is the perfect combination of highly advanced technological resources wrapped in a décor that reflects the hospital's proud tradition of compassionate care for patients and their families.
"Technology is wonderful, but what has always truly distinguished West Penn Hospital is the incredible dedication and exceptional skills of those who take care of patients at the bed side. It is extremely gratifying to see that our new ICU and indeed all of the changes being implemented at the hospital are consistent with that mission," said Dr. Rossi, who will serve as Medical Director of the ICU. West Penn Allegheny critical care specialist Mark Vanderbilt, MD, will also help oversee intensive care services at the hospital.
Additional plans for West Penn Hospital moving forward include expanding the hospital's overall capacity to 300-350 all-private patient rooms; further expansion and renovation of its labor and delivery facilities; the return of cardiovascular services; remodeling of the hospital's lobbies and waiting rooms; and renovation and reorganization of the hospital's Mellon Pavilion to accommodate more physician practices and better coordinate patient care services.
Other existing services at West Penn that are expected to also grow as the hospital transitions back into a full service hospital include its nationally recognized Burn Center and bone marrow transplantation program, Institute for Pain Medicine, Sleep Disorders Center, radiation oncology program, breast diagnostic program, pelvic floor disease center, Jones Institute for Reproductive Medicine, Lupus Center of Excellence and Joslin Diabetes Center.
Posted March 28, 2012
More Articles: