Subscribe Now
Keep up with the latest news with our magazine and e-newsletter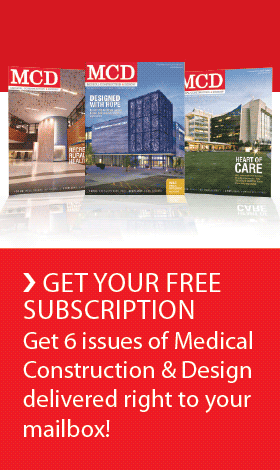 Subscribe to our E‑Newsletter
The Johns Hopkins Hospital's new home, set to open on May 1, will redefine the very essence of the hospital experience. Cutting-edge technology designed to improve care, streamline workflow and encourage efficiencies will play a central role.

The new building grew out of an urgent need to modernize the hospital's infrastructure to a level that matches the institution's scientific and medical expertise.
The 1.6-million-square-foot structure embodies the Hopkins ideal for the future of healthcare: the latest evidence-based, most scientifically advanced therapies, delivered safely, efficiently and appropriately in a setting that makes the patient experience as pleasant as possible.
"Our new home represents our vision for healthcare," says Edward Miller, M.D., dean and CEO of Johns Hopkins Medicine. "It has the space and technology to match our researchers' scientific knowledge, our faculty's medical acumen, and our staff's clinical skills, but it also adds the patient experience as the fourth critical dimension in this equilibrium."
The building comprises two 12-story towers that rise from an eight-story base. The towers, The Charlotte R. Bloomberg Children's Center, and the Sheikh Zayed Tower, feature 560 private patient rooms, 33 ultra-modern operating rooms, and adjacent adult and pediatric emergency departments with shared trauma areas.
Technology will enhance care in three ways: greater precision and safety, better patient experience and improved coordination and smoother workflow to save time and resources.
Precision and Safety
At the new Hopkins hospital, the latest imaging technology will offer a level of detail that will enhance the precision and safety of many procedures.
A 3-D navigational imaging system will help surgeons thread through complex brain structures during delicate neurosurgical procedures. The system uses MRI images and works as a surgical GPS that allows surgeons to determine their location in real time and in a three-dimensional space, explains pediatric neurosurgeon Edward Ahn, M.D.
In the new pediatric cardiac catheterization lab, where cardiologists perform many procedures with minimally invasive techniques, three-dimensional technology will provide high-definition images to ensure accuracy and improve results, says pediatric cardiologist Richard Ringel, M.D. For example, Ringel says, patients with congenital heart disease often require periodic work on their pulmonary arteries, whose complex anatomy is not well captured on standard X-ray images.
Three-D imaging allows better planning and execution of procedures like stenting and dilation of narrowed pulmonary vessels, Ringel says.
All radiation-based imaging equipment, such as X-rays and CT scanners, will use the newest techniques to reduce the applied radiation dose to a minimum. In addition, using the most sensitive, highest-speed CT scanners will eliminate the need for sedation in many young children who tend to fidget.
"If we can get an image in 5-10 seconds instead of 1-2 minutes, we may no longer have to sedate the child," says Thierry Huisman, M.D., director of pediatric radiology.
Inside the neurosurgery operating rooms, a powerful intraoperative MR scanner suspended from the ceiling on rails can slide easily between two rooms to give instant, on-the-spot feedback in real time. For example, a patient's brain can be scanned immediately after tumor removal, while the patient is still on the operating table. In mere seconds, the surgeon will know if more brain tissue needs to be removed.
All 33 operating rooms are equipped with cordless, tank-free booms for medical gases and suction. The configuration will eliminate clutter on the floor and the need to haul heavy tanks with nitrogen, oxygen and carbon dioxide in and out of the ORs.
Each operating room is outfitted with large flat-screen monitors and an audio-visual integration system that allows seamless interaction between radiology and surgery. Thus, OR staff will be able to pull up any image any time from the radiology database. A surgeon performing a spinal operation, for example, will be able to reference past MRIs or X-rays without leaving the room.
Enhanced imaging capabilities in the pediatric and adult emergency departments will eliminate the need to shuffle patients to radiology for imaging and back to the ED. Radiologists will be located on site in the pediatric emergency and adult departments with enhanced hours, and most of the imaging will be the done on the spot in the ED. Round-the-clock ultrasound and MRI will ensure responsible imaging by allowing the most appropriate examination to be used in every case,  providing the best diagnostic information at the lowest possible  radiation exposure, says Jonathan Lewin, M.D., radiologist-in-chief at The Johns Hopkins Hospital. For example a child's suspected appendicitis can often be easily confirmed with an ultrasound but because many ERs do not have an ultrasound specialist at all times, CT scans are often used as the first line of imaging.
"Use of the right imaging modality can mean the difference between wrong and accurate diagnosis," says Douglas Baker, M.D., director of pediatric emergency medicine. "While CT scans can be very helpful, other radiation-free testing options are often just as useful diagnostic aids. Our emergency medicine physicians and pediatric radiologists will continue to work together to identify diagnostic plans that minimize risk to patients while maximizing accuracy of care."
Collaboration through Consolidation
All pediatric cardiac services — from consultation and diagnostics to imaging, catheterization and minimally invasive procedures — are, for the first time, consolidated under one roof at the Helen B. Taussig Congenital Heart Center. The proximity and integration will ensure smoother flow and more collaborative care for patients of all ages, from babies diagnosed in utero with heart disease to adults with congenital heart disease.
All adult heart and vascular services are located in the new hospital building and will occupy the entire fifth floor, spanning both towers. These include the cardiac care unit, the progressive cardiac care unit and the cardiac surgery intensive care unit, as well as the cardiac catheterization and electrophysiology labs, and operating rooms exclusively for cardiac and vascular surgery patients. There will be a combined prep/recovery unit for surgery patients and those undergoing interventional procedures. In addition, an echocardiography and vascular imaging lab will provide one-stop service for patients who require different types of ultrasound imaging. Minimally invasive aortic valve replacement and complex removals of implanted cardiac devices will be performed in "hybrid" rooms that can be turned into ORs if the need arises. One of the new electrophysiology labs is designed to accommodate magnetic resonance-guided ablation of abnormal heart rhythms, a technique that is on the horizon.
Child Centric
Each of the 10 pediatric operating rooms is designated to accommodate specific types of surgery, including general surgery, cardiac, neurological, renal, urologic, airway/ENT, orthopedic, plastic, pulmonary, head-and-neck and eye surgery. For example, the airway disorders OR features equipment in all pediatric sizes, from newborn to teen, to handle anything from foreign body obstructions to congenital disorders to airway malformations.
Instruments designed for different patient sizes will allow surgeons to perform procedures on even the tiniest of babies. For example, pediatric surgeon Jeffery Lukish, M.D., has developed a device that allows him to perform minimally invasive corrections of a congenital heart defect on babies as tiny as 550 grams (1.2 pounds) via 3-millimeter incisions in the chest.
The pediatric neurosurgery OR has two anesthesia circuits built in for simultaneous surgeries in the same space, such as conjoined twin separations.
Burn patients, who often cannot regulate their body temperature, will be treated in an operating room outfitted with heating capabilities that allow the temperature to go up to 110 degrees.
In addition to the 10 pediatric ORs, a separate pediatric GI suite and a minor-procedure room offer space for more straightforward cases that require minimal intervention. A scope-cleaning station located immediately next to the GI suite will allow technicians to wash and sanitize equipment promptly.
An operating room dedicated strictly to emergencies will be open 24/7 to handle unexpected cases and avoid the need to reschedule or delay planned surgeries.
All pediatric radiology staff and equipment are, for the first time, located within a centralized area immediately next to PICU, ORs and surgery prep and recovery areas. The proximity will minimize the need for transporting and handling critically ill or otherwise vulnerable patients. All imaging modalities will be in close proximity. Ultrasound will be located immediately next to the CT scanner.
"All of our imaging equipment and technology will be where all the action is and where we're needed the most," Huisman says. "The pediatric ORs literally open into pediatric radiology."
An MR-compatible incubator for critically ill newborns will allow a baby to be imaged without ever leaving the safety of the incubator and without the need to detach and reattach the baby to life-support equipment. Also, because MR machines are several degrees cooler than room temperature, staying inside the incubator allows the baby to remain warm, which is particularly important for newborns, as they cannot regulate their body temperature yet.
Smoother workflow, better efficiencies
A real-time locating system with radio-frequency and infrared technology can track equipment throughout the building. The same system will be used to track the location of staff on inpatient units.
The tracking system also plays an integral role in the automated towline that hauls supplies and waste materials through a subterranean tunnel and out to the hospital's loading dock, a quarter mile away from the patient care areas. The system uses a chain drive buried in the floor, much like a car wash. 
"The chain-drive technology is decades old and was chosen for its simplicity and reliability. But the new twist is the radio-frequency ID system," says Michael Iati, senior director for architecture and planning at Johns Hopkins.
When a cart of supplies is introduced to the towline, its RFID tag is registered into the system along with its ultimate destination. From there, the system monitors its progress and as the cart gets to various intersections along the route, the system reads the cart's ID and routes it to the proper destination, Iati says.
A separate patient tracking system in the ORs and procedure rooms will allow staff to time-stamp patient movement throughout the perioperative process and to communicate the location and status at any point, from check-in through prep and surgery to recovery, explains Becky Qualey, a systems development manager for the Department of Surgery.
A "status" camera in each operating room will allow coordinators at the OR control desk to instantly check the stage and progress of each case. This will improve flow and save time by letting coordinators know when exactly to send in a cleaning crew and prep the room for the next case.
Surgical staff will have quick and easy access to blood supply for planned and emergency transfusions. The blood will be stocked and refilled daily in a set of vending machines, or blood safes, strategically positioned in OR hallways.
Operating Theater Goes Virtual
The AV integration system will allow surgeries to be telecast to other locations in the hospital, providing fellow surgeons and trainees the chance to observe a surgery remotely and to ask the surgical team questions in real time.
Technology Redefining the Patient Experience
Repeated alarms, beeps and overhead pages have become a defining feature of daily hospital life. Yet incessant noise does not only interfere with workflow by distracting staff and desensitizing them to alarms, but a growing body of research suggests it may impede patient recovery. Noise-reduction has become a central component in improving the patient experience.
The new building offers a quieter, more tranquil environment with the use of noise-reducing and noise-eliminating innovations. For example, decentralized nursing stations will diffuse the din that tends to occur when many people converge at a central hub. Instead of a central nursing station in the middle of the floor, nursing alcoves are sprinkled throughout the floor and positioned between patient rooms.
Sound-absorbing ceiling tiles reduce noise, while strategically positioned sound dispersers, called acoustical soft fits, are suspended from the ceiling to intercept sound as it travels down the hallway. In addition, rubberized floors in the neonatal intensive care unit (NICU) muffle walking sounds and noises generated by equipment moves.
Instead of overhead paging, nurses and physicians will be contacted via in-house mobile devices. Patients will be able to summon their nurse by calling directly. Should the nurse be unavailable, the call will be triaged to the front desk. The emergency room will remain the only area with overhead paging.
Convenience and Safety
All-private patient rooms will not only afford comfort and seclusion but reduce the risk of pathogen transmission and infection, especially important for premature or critically ill newborns.
In the Bloomberg Children's NICU, each room will have its own refrigerator for storing formula and breast milk. This will reduce the risk for mix-ups and allow the nurses to remain closer to patients by eliminating the need to walk to a central refrigerator to fetch a baby's food.  All specialty formula and fortified breast milk will be prepared in the pediatric nutrition room, reducing the risk for contamination.  The milk will then be delivered in batches, ready to feed to the patient. New milk warmers will allow nurses to warm up baby's food precisely to body temperature. In addition, the milk-warming system provides a barrier between water and food bottles, further decreasing cross-contamination risk.
"Our current warming system is quite archaic and involves putting a bottle of milk in a glove then in a Styrofoam cup filled with warm tap water," says assistant NICU nurse manger Mike DiJulia.
The new warming system has a plastic bag with separate water and milk pockets. The water gets heated during the warming process, but never comes in contact with the milk bottle.
Posted March 29, 2012
More Articles: