Subscribe Now
Keep up with the latest news with our magazine and e-newsletter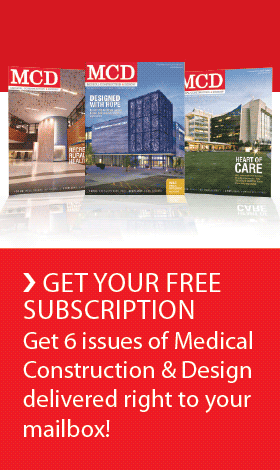 Subscribe to our E‑Newsletter
NORWALK, Conn. — Norwalk Hospital has received a $10-million gift from The Harold W. McGraw, Jr. Family Foundation, Inc. and the McGraw Family to begin construction of a new ambulatory pavilion to meet Fairfield County's growing need for outpatient care.

Collectively, this transformational gift was made by the McGraw family in honor of their parents' commitment to community, healthcare and Norwalk Hospital.  The gift will establish The Anne P. and Harold W. McGraw, Jr. Center for outpatient care, and in particular the new emergency department. The McGraws are longstanding friends and supporters of Norwalk Hospital. In 1997, they made a leadership gift in support of the Hospital's then new Emergency Department.
The McGraws have always been committed to ensuring that all members of the community have access to high quality medical care, regardless of their ability to pay. After their parents' deaths, Sue, Terry and Bob McGraw have carried on the family tradition to generously support many local and national causes.
"Our parents had a lifelong commitment to helping others. Their commitment to Norwalk Hospital, through volunteer work and philanthropy, was a guiding example to us as family and to community members. They had the greatest respect for the Emergency Department staff and their knowledgeable, calming service delivery. They received wonderfully compassionate care when they were patients there. We are both pleased and proud to honor our parents and their legacy in this special way," shared Sue McGraw.
New Ambulatory Pavilion
The new ambulatory pavilion will include a new cancer center, an expanded emergency department, a state-of-the-art Center for Digestive Diseases, and updated facilities for ambulatory surgery. The project entails 90,000-square-feet of new construction and 40,000-square-feet of renovations to the existing campus. A new parking garage, which opened earlier this month with 200 additional spaces, was a prerequisite for the new building. The groundbreaking for this major addition to Norwalk Hospital will take place early in the fall and will be completed in early 2015.
Highlights
Emergency Department
Renovated ten years ago to treat 25,000 patients annually, the George and Carol Bauer Emergency Department currently treats twice that number. The newly designed space will double in size and be able to triage and treat 65,000 patients a year. The expansion will significantly increase the number of exam rooms, offer flexible space to accommodate surges in patient volumes, enhance patient privacy and offer dedicated space for pediatric, behavioral health and urgent care patients.
Cancer Center
The Whittingham Cancer Center will relocate to the new Pavilion and feature peaceful, serene treatment areas with private and shared chemotherapy suites. It will house a CT simulator for treatment planning, a new linear accelerator for radiation therapy and space to expand the collaborative research and clinical trials underway with nationally-recognized cancer research centers. Patients will take comfort having chemotherapy, radiation therapy, advanced clinical trials, complementary therapies, genetic counseling and extensive support services centralized in one convenient location. Additionally, the new Cancer Center will continue to offer the community early detection and prevention programs, educational programs, a navigator program and new survivorship program.

Center for Digestive Diseases
Norwalk Hospital is nationally-ranked among the top hospitals for the diagnosis and treatment of disorders of the digestive system including esophagus, stomach, intestinal, liver and pancreatic diseases. These services, currently located throughout the Hospital, will be consolidated in the new Pavilion to enhance patient access and accommodate additional space for new, innovative technologies. Patients will benefit from state-of-the-art diagnostics and treatments, many of which are only available at Norwalk Hospital. The Center also serves as a major teaching site for the Yale School of Medicine and conducts clinical research studies designed to improve care for patients.
Ambulatory Surgery
Given the growing demand for outpatient surgical procedures, surgical services will be upgraded to enhance patient privacy with additional renovations to include new pre- and post- operative space, as well as redesigned recovery and family waiting areas. From registration through discharge, patients will enjoy an enhanced outpatient experience, getting them back home and on the road to recovery.
"The McGraws' incredibly generous gift, the largest Norwalk Hospital has ever received, and among the largest gifts to a Connecticut Hospital, will truly transform our ability to deliver the most compassionate, advanced medical care to our community," shared Dan DeBarba, Norwalk Hospital President & CEO. "A gift of this size is unprecedented and will have a profound impact on the patients and communities we serve for years to come. We are so grateful to the McGraw family for this extraordinary act of kindness."
Posted March 30, 2012
More Articles: