Subscribe Now
Keep up with the latest news with our magazine and e-newsletter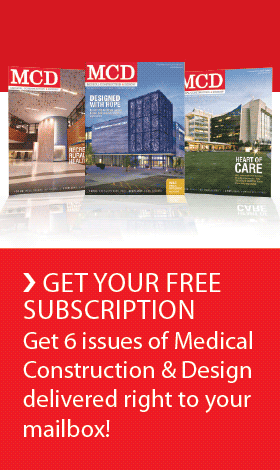 Subscribe to our E‑Newsletter
HKS Selected for Baylor Medical Center at WaxahachieHKS, Inc. will be the architectural firm responsible for the proposed new hospital for Baylor Medical Center at Waxahachie in Texas. One of the primary goals given to the architectural firm is to design a hospital that is both comfortable for patients and easy to navigate for families and staff.

On Nov. 30, 2011, Jay Fox, president, Baylor Medical Center at Waxahachie, announced the land purchase for the new hospital at the northeast quadrant of I-35 East and US Highway 287, site of the former St. Gobain glass factory.
"This is the initial step in Baylor's process for final approval to build the new hospital campus," says Fox. "We now enter the design phase of the project. HKS will develop detailed renderings of the building and floor plans that are actual construction drawings and will allow us to have an accurate cost on the development project." Once these steps are complete, Baylor Waxahachie administration will seek final approval from the Baylor Health Care System board of trustees to build the new hospital campus.
Baylor Medical Center at Waxahachie provides acute medical care and has been serving the residents of Ellis County for more than 96 years. Thomson Reuters recently named Baylor Waxahachie as one of the top 100 hospitals, based on their overall organizational performance in ten 10 areas including: (no colon) quality of care, patient satisfaction and financial performance.  The hospital has been part of Dallas-based Baylor Health Care System since 1983. For updates on the project, visit www.BaylorHealth.com/Waxahachie.
"The firm's goal is to work with user groups from the current hospital and stakeholders to develop effective care delivery models that provide comfortable, therapeutic environments for patients, loved ones, friends and staff," said Marc Budaus, AIA, design principal, HKS, Inc. "The hospital will incorporate advanced technology including telemedicine, digital imaging, remote patient monitoring, electronic medical records and computer patient records. Most important, the new facility will be organized within a chassis created to facilitate flexible growth and change in the future – while maintaining a clear patient pathway."
HKS, ranked among the top healthcare-specialized architectural firms by Modern Healthcare and BD World Architecture, understands and embraces holistic healthcare. Operating from 29 offices throughout the United States, Latin America, United Kingdom, Middle East, India and China, the firm focuses on innovative design, process and delivery. Through a focused visioning approach, HKS collaborates with each client to evaluate transformational concepts that support and improve the patient and family experience, operational efficiency, the latest in technology and future flexibility. For more information, visit www.hksinc.com.
Posted March 16, 2012
More Articles: