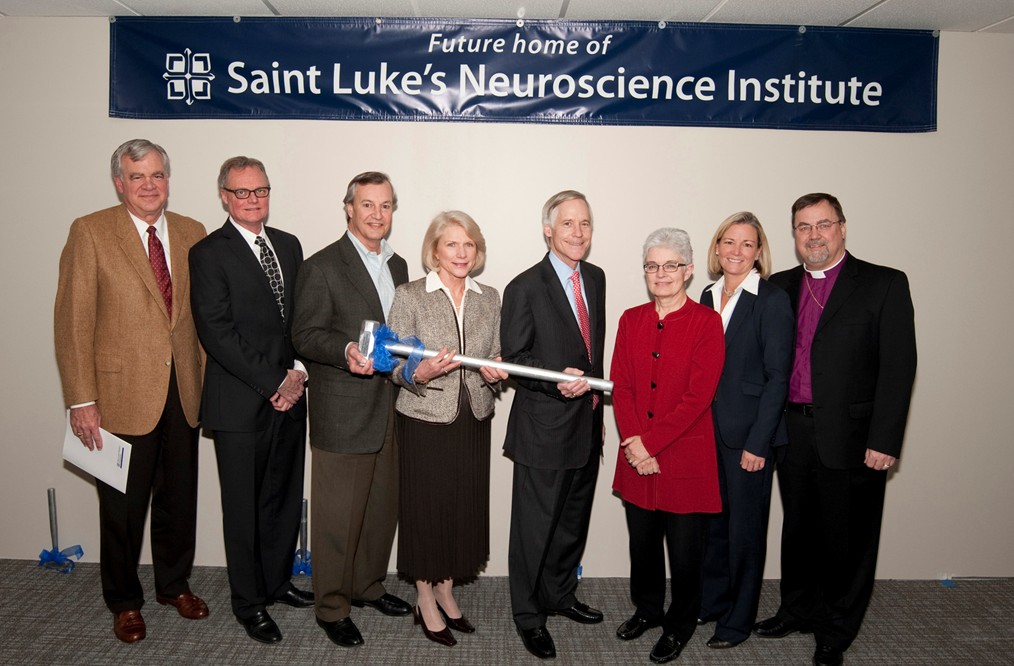 Subscribe Now
Keep up with the latest news with our magazine and e-newsletter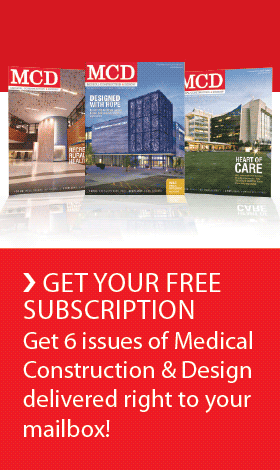 Subscribe to our E‑Newsletter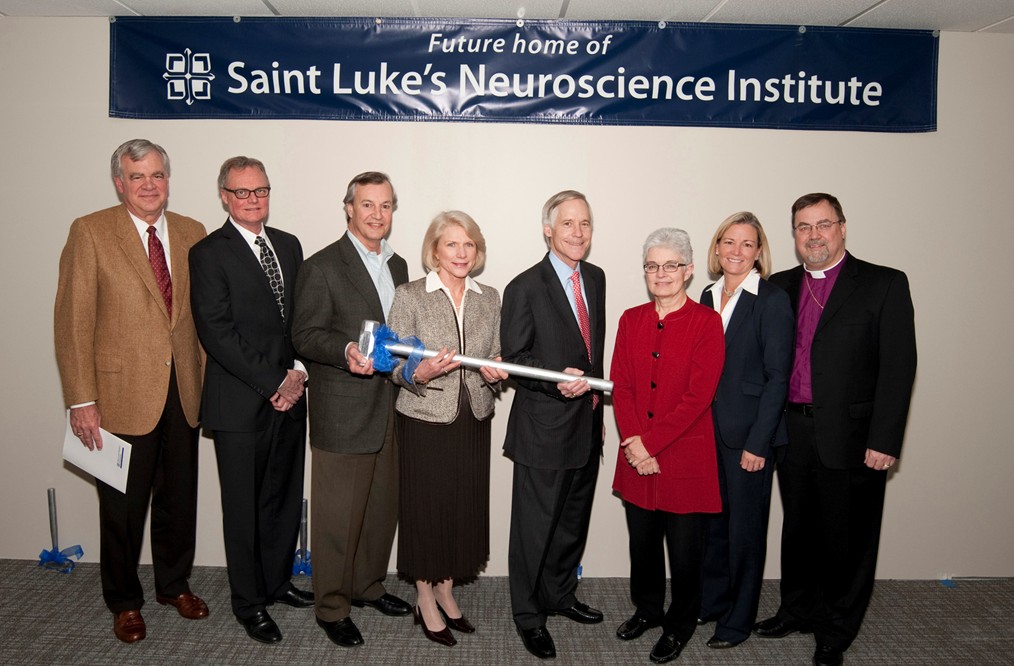 KANSAS CITY, Mo. — Saint Luke's Hospital of Kansas City will soon have a dedicated neuroscience facility to house its renowned stroke and neuroscience programs. Formerly known as Saint Luke's Brain and Stroke Institute, its new name – Saint Luke's Neuroscience Institute – reflects the program's growth and vision to become one of the leading neuroscience centers in the country.
Leaders of a $20 million fundraising campaign for Saint Luke's Neuroscience Institute kicked off renovations with a wall breaking ceremony on Tuesday, Jan. 24, on the first floor of the former Saint Luke's Mid America Heart Institute building. The campaign is chaired by Marilyn Rymer, M.D., Neuroscience Institute medical director, and community leader John MacDonald. Honorary chairs are Marshall H. Dean Jr. and Graham Hunt.
Saint Luke's Neuroscience Institute anticipates moving into the Heart Institute's previous space by the spring of 2013. Following the Heart Institute's successful model of integrated care delivery, the neuroscience program will consolidate its diagnostic, surgical, interventional, intensive care, and other services into one neuroscience tower with approximately 88,000 square feet. The $26.7 million renovation project will upgrade the 30-year-old structure and allow for expansion of the Neuroscience Institute's centers of excellence; provide facilities for new programs, such as the minimally invasive spine center; and provide an even higher level of comfort and quality patient care.
"In addition to new space for intensive care and state-of-the-art monitoring capability, such as continuous EEG, the real story is the concentration of clinical expertise," said Dr. Rymer. "All neuro patients needing intensive care will be in the same space, with nurses and physicians who are experts at taking care of these patients. This will give us the opportunity to develop a neuro critical care service that is the model for best practices across the country.  Being in the same space facilitates communication, learning and optimal outcomes."
Saint Luke's Neuroscience Institute has made a profound difference in the health of Kansas City residents and the region, including being recognized as one of the top stroke programs in the country. Its pioneering work with the clot-busting drug tPA and mechanical clot-removal devices have garnered attention from national media and policy makers.
"This new facility is part of a renaissance taking place on the Saint Luke's Hospital campus," said Julie Quirin, hospital CEO. "Saint Luke's Neuroscience Institute already has an impressive track record and we envision an even brighter future. This dedicated building will provide our neuroscience team with a facility that is equal to the clinical, education, and research efforts taking place within."
The campaign for Saint Luke's Neuroscience Institute will enable it to make a quantum leap in diagnosis and treatment of neurological and spinal disease, including not only stroke, but brain tumors, aneurysms, epilepsy, Alzheimer's, and Parkinson's disease. The campaign seeks to make this possible by raising $5 million for equipment and renovations and $15 million for programs and endowment.
Specific capital improvements include:
•    Four dedicated, state-of-the-art neurosurgical operating rooms (an increase from one to four)
•    Three dedicated neurointerventional laboratories (including one new "bi-plane" imaging system)
•    Expanded epilepsy monitoring unit
•    State-of-the-art neurodiagnostics laboratory
•    Expanded private rooms and 18 ICU rooms to accommodate the latest equipment
•    Expansion from 27 to 48 private beds to support existing and growing service lines, such as epilepsy, brain tumor, and aneurysm treatment.
Additional program support will enable the creation of the following:
•    Endowed chairs and professorships in neurosurgery and neuro-oncology
•    Neuro-intensivist program
•    Neuropsychology program
•    Neuroscience training fellowships
•    Expanded research in all neuroscience centers of excellence
National Leader in Neuroscience Care
Over the past 15 years, Saint Luke's has embraced the revolutionary advances taking place in neurology and neurosurgery to quietly construct one of the most comprehensive and effective neuroscience programs in the country. Saint Luke's is shaping brain, stroke, and spine care nationally today:
•    Stroke patients presenting at Saint Luke's Hospital are nearly 10 times more likely to receive a critical stroke intervention than patients at other hospitals nationwide.
•    Stroke patients who've received care from Saint Luke's neuro-rehabilitation and physical medicine team have an 80 percent chance of returning home to resume normal, productive lives. This is 14 percentage points higher than the national average.
•    Saint Luke's operates the region's only adult Level 4 Comprehensive Epilepsy Center, the highest designation established by the National Association of Epilepsy Centers. The designation reflects the hospital's depth of services, including advanced, continuous EEG monitoring and surgical treatment of epilepsy.
•    When it comes to brain tumor treatment, Saint Luke's is the region's only hospital with a fellowship trained neuro-oncologist on staff. It is also the only facility testing a novel vaccine for aggressive brain tumors.
•    Saint Luke's is one of the only regional providers with an updated 3-Tesla MRI to produce the highest-quality imaging of brain tumors. Its Novalis shaped beam system can use these images to sculpt radiation around the precise contours of a tumor, delivering maximum cancer-killing X-rays while minimizing damage to healthy tissue.
•    Saint Luke's Brain Fitness Center is one of the first in the country to combine the latest in neuro-targeted brain fitness technology with wellness guidelines, stress reduction, physical fitness, and diet. The "brain gym" helps those with cognitive dysfunction, from slight mental declines to severe limitations stemming from stroke, head trauma, brain tumor, or disease.
•    Saint Luke's Midwest Ear Institute, which is affiliated with the Neuroscience Institute, is a pioneer in cochlear implant surgery and a nationally-recognized center of excellence. It participates in nearly all FDA clinical trials of cochlear implant devices, offering patients the latest advances in treatment.
•    This year will see the launch of the minimally invasive spine center and the movement disorders program.
The impact of Saint Luke's Neuroscience Institute's work goes far beyond the city limits. Working in tandem with referring physicians, the Neuroscience Institute has extended the reach of its life-saving stroke reversal capabilities via a network of more than 80 hospitals in Kansas and Missouri. Its nursing staff has written the national standards for stroke nursing care. And doctors from around the country—and the world—visit every year to model its successful programs.
Saint Luke's Hospital is a member of Saint Luke's Health System, which consists of 11 area hospitals and several primary and specialty care practices, and provides a range of inpatient, outpatient, and home care services. Founded as a faith-based, not-for-profit organization, our mission includes a commitment to the highest levels of excellence in health care and the advancement of medical research and education. The health system is an aligned organization in which the physicians and hospitals assume responsibility for enhancing the physical, mental, and spiritual health of people in the metropolitan Kansas City area and the surrounding region.
Tags:
Posted February 6, 2012
More Articles: